Kevin Feige Opens Up About Spider-Man Leaving The MCU: 'It Was Never Meant To Last Forever'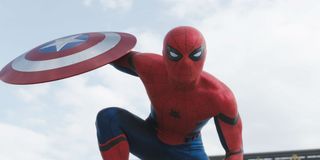 Earlier this week, Disney and Marvel Studios lost Spider-Man. The news broke after the two studios failed to reach an agreement that many thought pertained to profit distribution. But the situation is far more complicated than that. Luckily, MCU architect Kevin Feige and Tom Holland cleared things up for disappointed fans (including a desperate Jeremy Renner) while speaking with several outlets at the D23 Expo happening this weekend.
In a recent interview with Entertainment Weekly, Kevin Feige expressed his gratitude toward Sony for allowing Marvel to explore the character within the context of the story they fought so hard to tell.
He seems to have a positive attitude toward what happened, so that's reassuring. Hopefully, there's no bad blood between the two studios.
Conflicting reports, coupled with "mischaracterizations" of the disappointing development, have clouded the truth. Sony says one thing. Marvel says another. It has all devolved into a "this producer said, that producer said" disaster that has many confused about where each studio actually stands on the issue. But as you read above, Kevin Feige has finally opened up, and his comments serve as further confirmation that Spider-Man has officially left the MCU.
But that doesn't at all mean Tom Holland has left the role, either. Holland confirmed he would still be portraying the popular character and that he wasn't going anywhere anytime soon. However, he did acknowledge that things would be different going forward, but that is to be expected. He also publicly appeared at D23 to tell his fans how much he loves them. This is quite the shake-up for both companies and it will be interesting to see how the rest of this plays out. One thing is clear, though: these comments confirm that MCU Spidey is no more and that any hopes for a last-minute compromise may be futile.
Despite these upsetting developments, business continues to boom for Feige's cinematic universe. The recent projects announced at D23 are enough to have self-respecting Marvel fans beside themselves with excitement. Disney+ is already proving to be one heck of a streaming service, and fans can expect even more exciting developments as we inch closer to the service's November launch.
What do you think? Are you upset about Sony ripping Spidey away from Disney? Are you indifferent? Sound off in the comments below!
Your Daily Blend of Entertainment News