Marvel And Sony's Spider-Man Deal Has Reportedly Come To An Abrupt End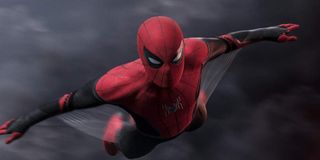 After years of Sony delivering standalone Spider-Man movies to the masses, the studio finally teamed up with Marvel Studios to bring the Wall-Crawler into the Marvel Cinematic Universe. Tom Holland's Peter Parker subsequently appeared in five MCU movies, and given the critical and commercial success of Spider-Man: Far From Home, it seemed like Marvel and Sony would continue working closely together in the coming years.
However, word's come in that this arrangement has come to an abrupt end. According to Deadline, Marvel Studios president Kevin Feige will not produce any future Spider-Man movies. This move comes after Disney and Sony were unable to come to a new agreement that would have seen the Mouse House getting a co-financing stake with future Spidey movies.
This shakeup reportedly boils down to, as so many things in Hollywood do, money. Disney apparently wanted a 50/50 co-financing arrangement on the MCU-set Spider-Man movies, a significantly boost from the current arrangement where Marvel received 5% of first dollar gross. There were discussions of having this new deal extend to the other non-MCU Spider-Man movies in development, but Sony immediately turn down that offer and wanted to keep things the same. Disney refused that counteroffer.
UPDATE: A Sony representative who spoke with io9 says that this disagreement is over a producer credit, and negotiations are still ongoing between Marvel and Sony. Furthermore, Variety has heard from its own source that a deal could still be made.
As things stand now, there are reportedly two more live action Spider-Man movies in the works, with Tom Holland reprising the role and Jon Watts returning as director. That said, should one or both of these movies move forward, it's unclear what exactly this means for the MCU.
Obviously Tom Holland's Spider-Man is firmly rooted in this shared universe, some unless there are some major reality-altering shenanigans on the way, that's not going to change. What's more likely is that from this point forward (and assuming Marvel and Disney don't kiss and make up), the character can't cross over with any MCU characters. So while he previously got to hang out with folks like Iron Man and Captain America, that's off the table.
Conversely, perhaps this means that Tom Holland's Spider-Man will now be absorbed into Sony's separate Marvel universe, which kicked off last year with Venom. There's been a lot of talk about if this version of Spidey and the symbiote-powered anti-hero could cross paths, and now that the Marvel and Sony's relationship is over, this opens the door for that to happen without worrying about how it'll affect the MCU.
But Venom is just the tip of that iceberg, as Sony also has Morbius on the way and movies centered on Kraven the Hunter and the Sinister Six in development. The MCU's loss can be Sony's gain, as this live action Wall-Crawler will finally be able to interact with the entirety of his villains and supporting cast lineup. In a way, it's like Sony's circulating back to what it was working on before the Amazing Spider-Man franchise was scrapped.
It's been an eventful 12 months for Spider-Man in film. Last December, the animated Spider-Man: Into the Spider-Verse dropped in theaters, received critical acclaim and went on to win the Best Animated Feature categories at the Golden Globes and the Academy Awards. This was a strictly Sony project, and following Into the Spider-Verse's success, not only is there a spinoff and sequel in the works, but producers Phil Lord and Chris Miller signed a five-year deal with Sony Pictures Television to create animated Marvel shows, including possibly one based on Into the Spider-Verse.
As for Tom Holland's Spider-Man, after turning to dust in Avengers: Infinity War, he and half of all life in the universe were resurrected in Avengers: Endgame. A few months later, Peter Parker was back in action for Spider-Man: Far From Home, where he went on a class trip to Europe and crossed paths with Quentin Beck, a.k.a. Mysterio, who, contrary to his initial depiction, was just as villainous as his printed page counterpart.
Like 2017's Spider-Man: Homecoming, Spider-Man: Far From Home earned a lot of positive critical reception, but it truly shined at the box office. With its worldwide total currently at $1.109 billion, Far From Home is the highest-grossing Sony movie of all time, surpassing 2012's Skyfall, not to mention being the first Spider-Man movie to cross the billion dollar mark.
It was announced yesterday that an extended version of Spider-Man: Far From Home will hit theaters next week, and given how successful the original cut of this movie is, it's been expected that a threequel will get the green light, one which follows up on Spidey's new status quo following that shocking mid-credits scene. As mentioned earlier, it looks like that will indeed happen, but the Disney/Sony shakeup throws a wrench into the works.
There's always the chance that Marvel and Sony could resolve their differences and come up with a new deal, but for now, this is the end of an era. For a long time, Spider-Man fans wanted the character to be able to interact with other Marvel heroes, just like he does in the comics. And they got that for a little over three years across five movies.
Now, just months after the X-Men and Fantastic Four came home to Marvel Studios, Spider-Man is back to be a standalone entity on the silver screen. And since Sony isn't up for sale like 20th Century Fox was, Marvel and Disney won't be able to secure the Spider-Man film rights for themselves, so any attempt to bring Spider-Man back into the MCU will need to be done in a way that meets with Sony's approval. For now, that's not going to happen.
Clearly Sony feels confident enough to handle future live action Spider-Man movies without Marvel's aid now following Spider-Man: Far From Home's success, and I imagine the critical acclaim of Spider-Man: Into the Spider-Verse and the commercial performance of Venom factored into this decision as well. At the very least, I'm curious to see how the next Tom Holland-led Spidey movies will compare to the ones where Marvel Studios was creatively involved.
Stay tuned to CinemaBlend for more updates on Spider-Man's film future as they roll in. For now, keep track of what's on the MCU calendar with our handy guide, as well as what movies are coming out later this year in our 2019 release schedule.
Connoisseur of Marvel, DC, Star Wars, John Wick, MonsterVerse and Doctor Who lore. He's aware he looks like Harry Potter and Clark Kent.
Your Daily Blend of Entertainment News
Thank you for signing up to CinemaBlend. You will receive a verification email shortly.
There was a problem. Please refresh the page and try again.