Would You Rather See A Flash Or Cyborg Solo Movie?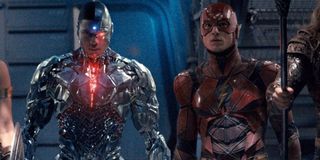 In the remnants of what was once known as the DC Extended Universe, there are some unexplored possibilities that could still yield some surprising and exciting films that deepen our understanding of the two most unsung members of Justice League: Ezra Miller's Flash and Ray Fisher's Cyborg. Were the DCEU to have progressed on schedule, both would have had their own solo films off and running by now. But alas, history took a different turn, leaving both still dormant and waiting.
The DC Comics/Warner Bros movie machine has gained steam, what with Wonder Woman and Aquaman both delivering solid hits into the studio's superhero canon, and as the future becomes clearer, more projects will need to be revealed as in the works.
Which brings myself, and my colleague Adrienne Jones, to debate which solo movie would be the most exciting follow-up: a solo story for the Scarlet Speedster or a movie made for the melancholy machine. We'll start with Adrienne's case for why Barry Allen should return:
Adrienne, In Defense Of The Flash
All the way back in late 2014, we heard tell of the beginnings of the DCEU. All of the biggest heroes in DC comics were finally going to be joining forces on the big screen, and among them were The Flash and Cyborg. Along with appearing in what was then two planned Justice League movies, and both having very brief cameos in Batman V Superman: Dawn of Justice (and Flash quickly appearing in Suicide Squad), Flash was also set to get his own solo film in 2018, with Cyborg on pace for his solo film in 2020.
Fans were excited! I mean, we had never seen The Flash in his own major motion picture before, and the seeds were already planted for the story of that film to be pretty epic. And, aside from appearing in animation a number of times over the years, we'd never seen Cyborg at all, and certainly not in a live-action movie.
As we all know by now, though, The Flash has not been able to get off the ground. While star Ezra Miller has remained committed to seeing the project through, and Warner Bros. is still trying to give fans the Flash movie they want, we are still pretty far away from having our dreams come true. The same can also be said for Cyborg.
There have been so many (so very, very, very many) hiccups, starts, stops, scripts and, oh yes, directors involved in the potential Flash movie that it's positively maddening. Meanwhile, any plans that were being made for Cyborg have simply dried up. We hear, quite often, about Warner Bros. and its many attempts to right the sinking Flash ship, meaning that it's clearly still a priority. But, aside from star Ray Fisher saying in the past year that he'd still love to have Zack Snyder direct Cyborg and, hell yeah, release that Snyder Cut of Justice League, there's been nothing from Warner Bros. on the movie.
So, right now, if I have to choose between The Flash or Cyborg, I'm going with The Flash.
Like I said, it's pretty clear that any real plans for Cyborg have fallen by the wayside. But there's also the little matter of what we've seen so far from the character. Justice League ended up being a terrible place to try and bring more of Victor Stone to life in live-action. Snyder had some pretty cool ideas for what he wanted to do with him there and in his solo movie, but a lot of Stone's backstory ended up on the cutting room floor.
We were left with an intriguing character played by a good actor who made little impact in the finished product. While that sucks out loud for Ray Fisher, Joe Morton (who played his father Silas Stone) and anyone else who might have been involved in Cyborg, it's just a fact.
At the opposite end of the spectrum, we got Ezra Miller's funny, jittery, fast-talking Flash, who ended up being pretty perfect and had a much larger part to play in Justice League.
I'm not saying that this is right, even. I don't believe anyone really thinks that Flash deserved the screen time and Cyborg didn't (except, obviously, those who put together the final cut of the movie). But there's a big difference between being left with a feeling of "I guess I could watch a whole movie with that guy," and "I can't wait to see what they do with this character for a whole movie!," and, to me, that's the main thing separating my feelings toward Cyborg and Flash by the end of Justice League.
That, combined with the continued news of plans for The Flash that still have me intrigued about exactly what the hell that movie might be whenever it's finally finished, mean that The Flash needs to go forward. I have no such thoughts about Cyborg, as things stand right now.
The DCEU as we once knew it, all dark, interconnected and frequently less than satisfying, has now been replaced by separate stories that aren't looking to bring our favorite heroes together in any significant way. And the movies have been better for it, as Aquaman and Shazam! showed us.
The fact that Warner Bros. hasn't been able to get The Flash off the ground sooner, along with them not knowing what to do with Superman in the past three films (which ranged in quality from "Alright, sure" to "Fuck it, I guess that was a movie"), says that they're still getting their shit together. And, that's fine. But, it also means that Warner Bros. isn't ready for the Cyborg jelly just yet.
Keep working on The Flash. Deliver a great product and some more goodwill, and then take on Cyborg by rebooting his whole story on screen. I'm even down for keeping Ray Fisher in the lead, so long as we give his Victor Stone a fresh start somehow. But not right now.
Mike, In Defense Of Cyborg
When it came down to the bottom line of the film that eventually became Justice League, The Flash and Cyborg were probably the two most interesting characters in the film. Part of that mystique came from them being emotional notes in a superhero caper that needed them, with Barry Allen being the jokester and Victor Stone playing a more serious role. Having to choose between the two of them, the vote is very easily cast in the case of the latter.
Despite the earlier whisperings that the DCEU wouldn't have jokes, Ezra Miller's performance as The Flash certainly brought a lot of them to the table. Meanwhile, Ray Fisher's Cyborg was a creation mourning his lack of humanity and remembering what once was. The only problem was, most of "what once was" lay on the cutting room floor once Justice League was released to the public.
Not only is that missing footage a good starting point for a Cyborg standalone film, it's also a good reason as to why both of these characters are the main options we're discussing for such a treatment. Both have a lot missing from their stories due to the editing process that trimmed Justice League into the film we currently know it as.
However, even when limited to those two characters, Cyborg is the one that probably suffered the most, as his character arc is reduced to a greater extent than that of The Flash. We get a cute point A to point B story that was supposed to set up Flashpoint, with Barry going from a loner who doesn't know what brunch is to racing Superman.
With Flashpoint looking as if it's no longer going to be a concern, and The Flash undergoing some severe director's chair turnover, it's probably a good idea to just take a breath and see if Barry's solo adventure needs some reconfiguration. And that leaves a great gap for Cyborg to become the next DC Comics movie hit.
Between the excised footage from Justice League, as well as some writing work that can not only fill in the gaps, but also give Victor a complete story to be told, Cyborg could be off the ground in no time flat. Without all of the drafts and red tape that comes with a project as delayed and passed around as The Flash has been, Cyborg can become a clear, straightforward vision that pulls out all the stops.
Even better, the fantastic work put in by Ray Fisher doesn't have to be wasted, as his acting in the role of Victor Stone, as well as his Cyborg persona, showed a lot of potential. To not fully cash that in is a crime.
Most importantly, when it comes to The Flash and Cyborg's chances for being full-fledged members of the DC cinematic world, one character has been used way more than the other. Barry Allen's Flash was indeed introduced in Batman v. Superman: Dawn of Justice, and was also featured in a cameo during Suicide Squad, before stepping into the team of Justice League's central plot.
All we really got from Victor's story is one appearance in Batman v. Superman, and that was it until the big team-up. Warner Bros has been trying to make The Flash happen for quite a while now. It's time to stop forcing the issue and switch gears to something new and exciting in the service of a woefully underused character.
There you have it: two opposing viewpoints discussed, debated and delivered to your very eyes. That's not where the fun ends though, as we want to know how you, the audience, feel. Would you rather see The Flash or Cyborg headed to a theater near you in the near future? Take our poll below to let us know, and don't forget to show us how and why you voted in the comments at the end of the story.
This poll is no longer available.
Your Daily Blend of Entertainment News
Senior Movies Contributor
CinemaBlend's James Bond (expert). Also versed in Large Scale Aggressors, time travel, and Guillermo del Toro. He fights for The User.