Justice League's Ray Fisher Still Wants Zack Snyder To Direct A Cyborg Movie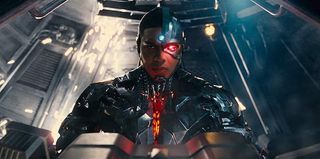 The DC Extended Universe landscape has changed a lot in the last four years. In late 2014, Warner Bros announced its initial slate of movies for the franchise, and a Cyborg movie was intended to be released in 2020. Fast-forward to now, it's looking increasingly unlikely that Cyborg will arrive in 2020, but actor Ray Fisher is interested in having Zack Snyder helm that standalone movie if it ends up moving forward. In Fisher's words:
Thus far, Ray Fisher has appeared in two DCEU movies as Cyborg, both of which were directed by Zack Snyder. Since Fisher had a good time working with the director, I can't blame the actor for wanting to collaborate with him again, especially since Snyder had mapped out what was going to happen with Cyborg post-Justice League.
This is certainly an interesting prospect that Ray Fisher brought up during his interview with DC World, but the chances of it actually happening are questionable. Although he's attached as a producer on various upcoming DCEU movies, Zack Snyder currently isn't attached to direct anything in the franchise, and as of this past May, he's expected to work on an adaptation of Ayn Rand's The Fountainhead next. So unless there are some massive shifts behind the scenes of the DCEU, I doubt this will happen, at least anytime soon.
Although Cyborg had ties with the Justice League in the comics pre-2011, for the first three decades of his existence, he was best known as a member of the Teen Titans. But when the New 52 reboot changed the DC universe's history, Cyborg was established as one of the Justice League's founding members, a plot element that was retained Justice League: War (the first entry of the DC Universe Animated Original Movies series) and the DCEU.
We were introduced Victor Stone in the DCEU through video footage on Lex Luthor's metahuman files in Batman v Superman: Dawn of Justice. There, we watched as Victor's father, Dr. Silas Stone, tried desperately to rebuild his son after a horrible accident and failing with each attempt. It was only when he merged Victor with one of the three Mother Boxes left on Earth after Steppenwolf first tried to conquer Earth that Silas had any luck, although the transformation was definitely painful for Victor.
When we reunited with Victor in Justice League, he was a full Cyborg, although he subsequently had to hide from the world and grew frightened of his abilities. Victor wasn't initially interested in working with Batman and Wonder Woman, but after Silas was kidnapped by Parademons, he teamed up with them. With Aquaman, Flash and Superman (at the tail end of the movie), the six of them formed the Justice League, Earth's new team of enhanced defenders.
Like the rest of its starring heroes, Justice League left Cyborg in a place that set the stage for a standalone adventure. In his case, he'd made amends with his father and adopted a look closer to that of his comic book counterpart's while exploring what he's capable of at S.T.A.R. Labs. Had the DCEU evolved as originally intended, we would have gotten Cyborg's movie in early 2020, followed by Green Lantern Corps a few months later.
As things stand now, there are two DCEU movies scheduled for 2020: Birds of Prey will come out on February 7 and Wonder Woman 1984 will come out on June 5, having previously been slated for November 1, 2019. It's possible that Warner Bros might release a third DCEU movie in 2020 (although the studio would need to work fast to start production), but judging by the lack of updates concerning Cyborg, it's unlikely it will fill that slot.
We also can't forget that what Zack Snyder originally envisioned for Justice League wasn't what we ended up seeing on the silver screen. During post-production, Snyder stepped down from directorial duties and Joss Whedon, who'd already been hired to rewrite some of the movie's scenes, was tasked with overseeing reshoots. The end result was a Justice League that felt like a Frankenstein creation, and while Ray Fisher has previously said that Snyder envisioned Cyborg having a "twisted, apocalyptic look," that was sacrificed for the final product.
After Justice League received mixed reviews and underwhelming at the box office, the DCEU went through restructuring and Snyder's future plans were set aside, including presumably what was supposed to happen with Cyborg. Had Snyder's original vision remained intact, supposedly Justice League would have been the third movie in a five movie run (Man of Steel and Batman v Superman: Dawn of Justice being the first two), and his future plans included Darkseid coming into play and killing off Batman.
So even if we were still traveling down this path, Zack Snyder likely would have been keeping busy with the Justice League sequels rather than working on Cyborg's movie, thus requiring someone else taking the creative reins. But as mentioned earlier, things have changed and now the DCEU is adopting a more standalone approach with its movies.
As for Ray Fisher, despite some of Cyborg's material being cut out of Justice League, he was happy with how the movie turned out and is obviously still interested in Victor Stone getting the spotlight to himself, even though he's admitted that would be a costly endeavor. Both Fisher and Joe Morton, who plays Silas Stone, have kept the Cyborg movie conversation going, and who knows, maybe down the line Warner Bros and DC will decide that a Cyborg movie is worth making after all, even if Zack Snyder isn't the one who directs it.
Stay tuned to CinemaBlend for all the latest and greatest updates concerning Cyborg and the rest of the DCEU. If you're interested in learning what else this franchise has in development, look through our DC movies guide.
Your Daily Blend of Entertainment News
Connoisseur of Marvel, DC, Star Wars, John Wick, MonsterVerse and Doctor Who lore. He's aware he looks like Harry Potter and Clark Kent.