IT And IT Chapter Two Totally Screwed Up 'Beep Beep, Richie,' And That Sucks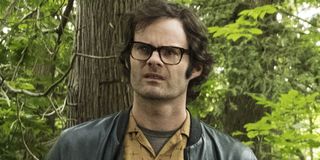 There are many things that are brilliantly done in Andy Muschietti's big screen vision for Stephen King's IT. For starters there is the fact that every single character featured in the two time periods is brilliantly cast, but then there are also just sequences that are perfectly translated to the new medium – be it young Georgie's fateful encounter with Pennywise, or adult Beverly having a disturbing encounter with the creepy Mrs. Kersh in her old home. Together, IT and IT Chapter Two culminate as one of the greatest King adaptations ever made.
Unfortunately, though, there does exist one very minor area in which the films falter, and it concerns a repeated line of dialogue: "Beep beep, Richie." To those new to the material, these three words are probably meaningless, but they arguably mean a lot to longtime IT fans. And now that we've seen both IT and IT Chapter Two, we can now say that the movies totally screwed up the memorable phrase, and that really kind of sucks.
Those who have read Stephen King's novel and/or have seen the 1990 miniseries version know that "Beep beep, Richie" was one of the most common things said by the members of The Losers Club when they were kids. This is because – as seen in both Finn Wolfhard and Bill Hader's performances in the films – Richie has an issue running his mouth when he really shouldn't, and "Beep beep" is the effort by his friends to politely let him know that he should shut the hell up.
What we're talking about here clearly isn't deep stuff, but there is a reason why it resonates with an audience. It's a common experience growing up and sharing little codes with your friends – tantamount to secrets that draw you together. "Beep beep" is a simple yet perfect example of this, and it's a part of what makes the portrait Stephen King paints of the adolescent experience in IT so realistic and wonderful.
As mentioned, the 1990 miniseries properly implemented this element of the book, with the phrase regularly said to hush the Seth Green and Harry Anderson versions of Richie… but such success would not be found 27 years later in Andy Muschietti's IT and IT Chapter Two. It's true that both movies do employ the quote, so that's something, but they do so in a way that when examined from a macro perspective doesn't really make sense at the end of the day.
Of course, it's worth noting at this point this this obviously isn't totally a new revelation, as this all is something that Stephen King fans have been thinking about since September 2017 and the debut of the first movie. In that half of the adaptation, "Beep beep, Richie" wasn't used by any of the members of the Losers Club, but instead was only said once, and by Pennywise The Dancing Clown of all characters – specifically when the kids are in the house on Neibolt Street for the first time.
Why would Pennywise say "Beep beep, Richie" after jumping out at the bespectacled child in a room full of clown dolls? I've been thinking on this for more than two years now, and watched the movie many, many times, and I'm still nowhere near a totally reasonable explanation. It would be one thing if Pennywise were quoting Richie's friends when he said it, taunting the kid with his intimate knowledge of him and his friends, but as previously established, it's not a line that was said by any character either prior or post the ghoulish reading from Bill Skarsgard.
It's likely that the real reason why it's said in the moment in the movie is because it's supposed to just be a callback to the book that fans will recognize and smile at – despite the fact that there is no real logic behind it.
But really, that was fine. It was kind of a bummer to see IT not get "Beep beep, Richie" quite right, but it was a very minor thing in the grand scheme of things given the incredible quality of the rest of the film. However, IT Chapter Two decided to double down on the whole thing and make the situation so much more confusing.
Like the previous film, "Beep beep, Richie" is only said once in the sequel, and it actually is said by a member of the Losers Club. The confounding part is that Jessica Chastain's Bev delivers it in the same spirit as the original book, which is to say to quiet down Bill Hader's Richie when he becomes too much. Again, this wouldn't be at all weird if it were something that was commonly said by the friends when they were kids, but without that context it's tremendously strange.
By saying the line, is Beverly quoting Pennywise – despite the fact that she was waiting outside the house on Neibolt Street when Richie had his encounter? Is it a part of her special visions that came as a result of her seeing the Dead Lights? And if she is directly quoting IT, why did hearing those three words again not send a crazy chill down Richie's spine?
Together, the way in which IT and IT Chapter Two employ the most quote-worthy part of Stephen King's book just doesn't make sense, and it's a bummer. You'd think it would be a pretty simple thing for the movies to use, as there are many points in the two films beyond the aforementioned moment in the follow-up where it could have been used to clap Richie's trap, but the horror movies made a misstep in that arena.
It's a bugaboo trait, but, as stressed throughout this piece, the larger takeaway is that what has been delivered with IT and IT Chapter Two is arguably the best, most faithful big screen adaptation we'll ever see of the material… at least until the six hour-long supercut is released (which, if we're lucky, will be sooner rather than later). Perhaps some of the new footage that's added can fix this really weird mistake.
Your Daily Blend of Entertainment News
Assistant Managing Editor
NJ native who calls LA home and lives in a Dreamatorium. A decade-plus CinemaBlend veteran who is endlessly enthusiastic about the career he's dreamt of since seventh grade.
Your Daily Blend of Entertainment News
Thank you for signing up to CinemaBlend. You will receive a verification email shortly.
There was a problem. Please refresh the page and try again.