IT Chapter Two Box Office: Pennywise Is Back, And Scares Up Some Big Numbers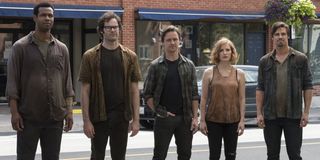 Movie fans will long remember the opening weekend for Andy Muschietti's IT, as it was kind of revolutionary. The idea of a film earning more than $100 million in the month of September was previously seen as ludicrous, as the record-holder for biggest debut - Genndy Tartakovsky's Hotel Transylvania 2 - didn't even eclipse $50 million. However, the movie not only stole that title by making $123.4 million in its first three days, but went on to become the highest grossing R-rated horror title of all time. Needless to say, the last two years waiting for the follow-up, IT Chapter Two, have been pretty painful, but now Pennywise is back, and while the release was unable to quite match its predecessor, it still manged to scare up some big numbers.
Check out the full Top 10 below, and join me after for analysis!
With an early reported gross of $91 million domestically, it appears that IT Chapter Two is the seventh biggest release of of 2019 - falling just behind Guy Ritchie's Aladdin by $500,929, and beating out Jordan Peele's Us by nearly $20 million. Clearly it's a fair bit behind the shocking numbers that the first IT made, but it still looks damn impressive when you consider what is typical for a September release. The success of the original didn't exactly lead to an outpouring of massive movies during the month, as while Corin Hardy's The Nun was a big surprise last fall, it still only barely managed to surmount the aforementioned $50 million milestone with a total of $53.8 million. A total of $91 million is excellent for this time of year.
Ultimately that's really only looking at half the picture too. Two years ago, IT found its worldwide gross pretty evenly split between domestic and foreign contributions by the time it was done with its theatrical run, respectively adding approximately 47 percent and 53 percent to the pot. It already looks like the sequel is on track to put up a similar performance. The $91 million made in North America this weekend was matched and added to by countries abroad, all together spending $94 million on tickets to see the blockbuster horror feature. Needless to say, a $185 million start puts the movie is a pretty comfortable place, and while it may not quite hit $700 million, it's not off the table that it will make north of $600 million.
Of course, we'll have a much clearer picture of its trajectory next week, which will be interesting to see. As I've written in previous installments of this box office column, this has been a rough year for Hollywood in regards to second weekend drop-off for what were expected to be hotly anticipated titles. And it seems there is equal chance for IT Chapter Two to either follow that trend, or avoid it. From a critical perception standpoint, the sequel has definitely not received the same kind of warm reception as its predecessor, with many agreeing that its a step down in terms of overall quality, but still overall opinions have mostly swung positive. As for audiences, the CinemaScores for both titles are exactly the same - "B+" - so it's possible that the new release will wind up with a drop-off mirroring the 2017 movie, which was 51.3 percent.
Regardless, IT Chapter Two is on its way to become of the biggest films of 2019. In just three days it has already established itself as #26 on the worldwide grosses ranking, and in just a few days it will be surpassing both Mike Mitchell's The LEGO Movie 2: The Second Part and Dexter Fletcher's Rocketman.
With every other studio fully aware that IT Chapter Two would be the movie to see this past weekend, no other company had a title in wide release to act as either direct competition or counter-programming. As a result, the box office mostly remained stagnant outside of the horror sequel, though there definitely are some notable surprises that deserve mention.
The first is the move by Tyler Nilson and Michael Schwartz's The Peanut Butter Falcon, which made its debut in the Top 10 this weekend after having been available in limited release for the last five weeks. Your initial instinct may be to assume that this is the result of the film being given a massive expansion, but that's actually not the case. This weekend the Shia LaBeouf-starring dramedy only played in 61 more theaters than last week, and it actually made about 25 percent less. It's basically had the benefit of moving up while everything else around it has moved down, but at the same time the feature has legitimately been doing well on the big screen, to date earning over $12 million.
The persistance of Jon Favreau's The Lion King also remains damn impressive. This is a blockbuster that first came out in mid-July, and while there was a point in late August where it looked like it was starting to slip, the reality of the situation is that it has yet to leave the Top 5 since its opening. Things will probably change when December rolls around and J.J. Abrams' Star Wars: The Rise Of Skywalker starts playing on screens globally, but right now the feature has an exceptionally firm grasp on its second place positioning on the 2019 worldwide grosses chart, having to date made $1.6 billion.
It's incredibly likely that IT Chapter Two will once again be the headlining title when I write this box office column next week, but it is worth noting that there are a couple of interesting new titles that are making their way into wide release. The first is Lorene Scafaria's Hustlers, which stars Jennifer Lopez and Constance Wu, and has been getting some very positive early buzz. The other (weirdly a Warner Bros. release like IT) is John Crowley's The Goldfinch, which is based on the best-selling novel of the same name and features a stacked cast that includes Ansel Elgort, Nicole Kidman, Sarah Paulson, Finn WOlfhard, Luke Wilson, and Jeffrey Wright. How will these releases wind up shaking things up on the Top 10? Tune in next Sunday to find out!
Your Daily Blend of Entertainment News
Assistant Managing Editor
NJ native who calls LA home and lives in a Dreamatorium. A decade-plus CinemaBlend veteran who is endlessly enthusiastic about the career he's dreamt of since seventh grade.