James Gunn Updates Fans And Shut Down Rumors For The Suicide Squad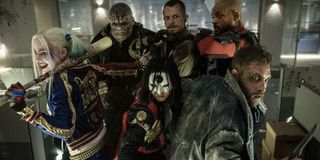 We're just short of two years out from James Gunn's new Suicide Squad movie, and while a lot can happen in that time, just ask James Gunn, it seems that The Suicide Squad is moving along a bit faster than might be expected. The writer and director taking over the DC property has recently responded to a handful of fans on Twitter, which has given a bit more insight into the state of the film, including some casting details.
The biggest question about a movie like this is, quite simply, who's in it? A number of actors have been revealed, but few of them have roles attached. Beyond that, we just don't know how big the cast of the new Suicide Squad is going to end up being. James Gunn says that these questions will be answered sooner rather than later.
We know that Margot Robbie, Jai Courtney, Viola Davis, and Joel Kinnerman will all be back reprising their roles from the first movie. Beyond that, it's been reported that Idris Elba, David Dastmalchian, and Daniela Melchior are all on board. While these names are essentially confirmed, and some of them even have roles attached, most of them haven't been confirmed through any official studio source.
Most recently we've been told former Doctor Who star Peter Capaldi is joining the cast in an undisclosed role. John Cena has also been rumored for a part, but it hasn't been reported that he's actually signed on.
To help back up the fact that casting announcements are close is the report, direct from James Gunn, that the table read of the script happened on Monday of this week.
Generally speaking, table reads don't happen if the core cast isn't there, which would seem to indicate that most of the major speaking roles have, in fact, been cast. The fact that Gunn says that some casting related issues are still being sorted out might mean that some deals haven't been finalized, so perhaps somebody was missing for the table read, or possibly showed up to it even though their deal hasn't been finished quite yet.
When casting for The Suicide Squad is officially announced, however, don't expect to hear of anybody being cast as DC's resident magician Zatanna. While there was a rumor going around that the character might appear, James Gunn put that rumor to bed. Not only is she not in the movie, she was never even considered.
At this point, we could still be a year away from The Suicide Squad going before the cameras, but it sounds like we're a lot closer to learning more about the movie itself.
CinemaBlend's resident theme park junkie and amateur Disney historian. Armchair Imagineer. Epcot Stan. Future Club 33 Member.
Your Daily Blend of Entertainment News
Thank you for signing up to CinemaBlend. You will receive a verification email shortly.
There was a problem. Please refresh the page and try again.