How Joaquin Phoenix Imagines His Joker Would React To Meeting Batman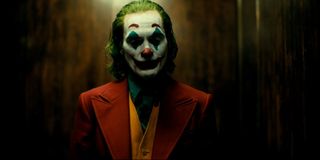 The relationship between Batman and the Joker is one of the greatest, most fascinating dynamics in pop culture. Personified chaos vs. a symbol of order and justice? Sweet! Count us in! Unfortunately, in Todd Phillips's highly anticipated standalone Joker film, the two won't cross paths at all (or will they?). But if reviews for the film are to be believed, that fact won't matter. The film is reportedly incredible.
But the exclusion of Batman doesn't dissuade people from broaching the topic. Asking hypotheticals and immersing oneself in a world or a character are the hallmarks of good, passionate fans, and there's plenty of that going around. Especially among comic book fans. Speaking with celebrity interviewer Jake Hamilton (who asked a fun question about where Batman fits in Phillips's mythos), Joaquin Phoenix discussed Batman and whether or not his version of the Joker would be enthused to meet him.
On the big screen, we're just beginning to scratch the surface with these two characters. But DC and the talent they hire have given us so many different portrayals and interpretations that there's still plenty to enjoy. Of course, some of these portrayals haven't worked so well (Jared Leto's Joker and Ben Affleck's Batman being two of the most recent examples), but overall DC has killed it with its casting.
Given that Todd Phillips's Joker is a character study about the Clown Prince of Crime and how he came to be, bringing in Batman would shift the focus in an unwelcome way. Joker needs to focus on its subject and keep that focus there. Sure, it would be amazing to see Joaquin Phoenix's Joker come shoe-to-boot with the Caped Crusader, but it seems like his character was built to be his own thing, in his own world. Luckily, it seems that Phillips and co-writer Scott Silver knocked it out of the park here. You can learn more about the film when ReelBlend's exclusive interview with Phoenix himself hits the web on October 4.
Set to be unleashed upon the world next month, Joaquin Phoenix's Joker is already shaping up to be one of the more controversial versions of the character (even though his performance has been lauded time and again). I'm excited to find out if I love or hate his portrayal (probably the former, honestly).
What do you think of Joaquin Phoenix's comments? Would his Joker be excited to meet Batman or would he see him as a threat and nothing else? Sound off in the comments below and stay tuned for more updates on Todd Phillips's Joker. The film is scheduled to hit theaters on October 4.
Your Daily Blend of Entertainment News