Sad! How Downton Abbey's Ending Could Have Been More Tragic For One Character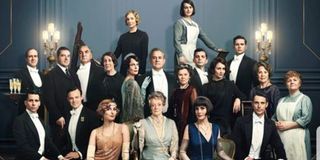 Julian Fellowes' latest update on the Dowager Countess and co. featured a lot of different interwoven plotlines, which also means a lot of spoilers for Downton Abbey can be found in this article! If you haven't caught the movie yet, this is certainly not the first article you should read on the topic.
Instead, perhaps you should amuse yourself with our newbie's take on the movie if you've ever wondered how it would be for someone who never watched the TV show to pop in and watch the movie.
In the meantime, if you have actually caught Julian Fellowes' lush and intriguing big screen take on a slew of characters we've grown to know and love, you probably already know that the movie accomplishes quite a lot in its two hour and three minute runtime. One of the storylines that ended on a moment of hope, however, very nearly ended up being more "tragic."
In a new interview, Downton Abbey's own Rob James-Collier, along with Julian Fellowes, detailed how Thomas Barrow's new love-related plotline was originally very different. An extra scene was even put together, and while Rob James-Collier has not spilled the beans regarding what happened in the scene, it sounds like the ending for the character was very different. He said:
Here's where stuff really starts to get spoilery, if you did not heed my initial warning on the topic. He also told EW he agrees with the decision to keep the movie "focused" and "happier to a certain extent," although I think it is worth pointing out not everyone in Downton Abbey saw a happy ending. The Dowager Countess, in particular, had a bittersweet one, when she revealed in her final conversation with Mary that she is terminally ill. What a masterful scene that was, and not exactly happy -- although I wouldn't call it sad exactly, either.
As for Thomas, during the course of the series, we saw him face downturn after downturn in both his personal and professional lives. Although he worked his way up to butler by the time Carson retired at the end of the Downton Abbey TV series, he did this despite having to hide his sexuality and having a personality that was not always well-respected by the other characters. More changed for Thomas than the character simply finding a potential partner and kindred spirit. This time around, we even saw Lord Grantham gain a little respect for Thomas when he refused to cede the lead to Carson, with Hugh Bonneville's character mentioning he didn't know Barrow had it in him.
Later, he met a person who ended up being a friend and more to him during a long night out in London, although that storyline briefly resulted in his arrest. That could have gone poorly for the longtime servant, but ultimately he was helped out of the scrape with no one the wiser and a new love interest on the horizon to boot. It was a happy ending for Thomas Barrow, and happy endings also abounded with members of both the upstairs and downstairs staff.
More importantly, Julian Fellowes felt like the sad ending for Thomas Barrow that was initially put together but later removed from the film didn't ultimately make sense for a character who had grown and changed over the years. He also mentioned the changes, noting why the movie ultimately gave Barrow a happier ending.
Honestly, I was pretty happy with Thomas Barrow finally finding a person he could open up to and be himself with in a way that seemed to have longterm potential. If he had a downer moment and the Dowager Countess had a downer moment, you might as well have called the big screen venture Downer Abbey. (This is the only bad pun I will make, I promise.) The ending Thomas Barrow got fits in better tonally with the other plotlines that were all playing out during the course of the film.
The movie has only been out for one week, and we've already heard quite a bit about how the movie changed and fleshed out over time. One amazing ballroom dancing scene between Allen Leech's Tom Branson and Tuppence Middleton's Lucy Smith that producer's bet big money would never make the film ultimately came together last minute. The two actors learned the heard dance and avoided pitfalls on the balcony so that they could get the shot, and it was one of the loveliest moments in the whole movie, if I do say so myself.
It's always kind of fun to hear how movies could have gone in different ways had a a different pitch or argument prevailed. I'm sure more stories will be coming out of the Downton Abbey set in the coming weeks, particularly given how much traction the movie is getting. (It even won the box office this past weekend!) Ultimately, however, it seems people are generally pretty happy with the movie they got.
This week, Downton Abbey will compete in theaters with the recently released Rambo: Last Blood and Brad Pitt's Ad Astra, not to mention newcomers Abominable and Judy. The new animated feature is actually expected to beat the period drama this coming week; then again, Downton Abbey had a higher-than-expected opening week as well. As always, we'll be sure to keep you updated regarding how the battle of the box office pans out. The best news is this movie is well on the way to its own box office happy ending.
Reality TV fan with a pinch of Disney fairy dust thrown in. Theme park junkie. If you've created a rom-com I've probably watched it.
Your Daily Blend of Entertainment News
Thank you for signing up to CinemaBlend. You will receive a verification email shortly.
There was a problem. Please refresh the page and try again.