There's A Major Downton Abbey Scene Producers Bet Big Money Would Never Make The Movie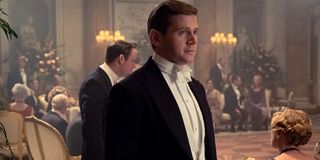 Warning: spoilers for Downton Abbey are in play. If you've not caught the film that debuted this week, we'd invite you to wait in the drawing room on the front page until you've done so.
One of the most beautiful shots of the ending to Downton Abbey's first big movie is when Tom Branson (Allen Leech) finally gets to dance with a woman he's been slowly falling for throughout the film, Lucy Smith (Tuppence Middleton). Tom and Lucy's story closes with a beautiful dance on a torch-lit terrace, in a moment that couldn't be happier written any other way. Make no mistake, this scene was not written into the script of writer/creator Julian Fellowes' return to the series that made him famous; there was even a bet between two of the producers that it would never see the light of day.
First, it's important to note this romance could lead to a greater fate for Tom and save the Downton family fortune -- as Lucy happens to be the true heiress to a fortune that seems like it should go to Hugh Bonneville's Lord Grantham -- and it also gives director Michael Engler's film a gorgeous moment of romance to use in the run up to its happy ending. But it really wasn't super easy to get the scene to come together.
A lot of thought, and even more work, was required to make this grand scene happen; and the story behind it includes a romance for the ages, a sweetener for Downton Abbey's grand cinematic transition, and a £500 bet over whether those results would be included in the final film. The best part is, I got to hear the entire story from Allen Leech himself. During an interview on behalf of CinemaBlend, I was able to speak with Mr. Leech, and in that conversation, I mentioned how lovely that particular scene was, which led to the story unfolding over an exciting couple of minutes, starting with the details behind the genesis of that scene:
Humorously, while Downton Abbey was in production, they knew there would be work entailed in order to film that scene, and there was still some doubt as to whether or not this romantic event would wind up in the final cut, Easter egg or no. Which meant that, as one could expect in this sort of situation, a wager was to be had.
The bet makes a good amount of sense, given that by the end of Allen Leech's time shooting Downton Abbey, the scene hadn't yet even been filmed. Which was probably a good thing, as Leech then had somewhere else to be after he'd wrapped production. It wasn't just any random function either, it was the big premiere of another film he played a part in.
If you can remember back that far, Allen Leech was also in Bohemian Rhapsody last year, in the role of Freddie Mercury's former manager/lover, Paul Prenter. So obviously, that necessitated that he be able to attend the premiere and celebrate the hard work everyone, himself included, had done on the film. Which makes the next part of this £500 story all the more interesting:
Allen Leech isn't kidding about the killer nature of this turnaround either, as Yorkshire to London is roughly a three and a half/four hour train ride, one way. Even after a normal day of relaxed activity, that's a long haul. But when the night before more than likely included some celebrating at the premiere of a hotly anticipated film that eventually became a landmark success, that train ride was probably a slog and a half.
It certainly didn't bother Leech too much though, and his time and travel was rewarded in the end, as he himself confirmed:
Goodwill and last minute miracles are definitely something that help any production, and Downton Abbey usually finds quite a bit of both to play to its favor. Of course, that doesn't mean it was an easy day's work making Tom Branson and Lucy Smith's big scene ready for the potential final cut.
The details about what went into making this lovely happening a reality continue the path of this story from Allen Leech. As you could predict, based on his condition after a lengthy train ride and a big premiere, he was a bit tired out during the proceedings. Which just goes to show that with the right crew and co-star, anything is possible. Leech's story continued, as follows:
It's interesting to think of Tom and Lucy's dance toward the end of Downton Abbey as an mid/end credits scene. On the one hand, it could have been a bright and happy tease toward any potential sequels in the offing. On the other hand, such a moment for Tom Branson shouldn't be hidden, especially after the history of loss and love he's had in the series.
The cliff's notes version is this: after losing his first wife/youngest daughter of the Crawley family, Sybil, in childbirth, Tom was a wreck. But later in the series, after time, a brief brush with an obsessed ladies' maid, and caring for his daughter Sybbie (a nickname from derived from her proper name, which was also her mother's), Tom had attempted a new romance with schoolteacher/fellow political firebrand Sarah Bunting. However, the former chauffeur turned member of the upper class was unsuccessful in that pairing, as Miss Bunting's values bristled against that of his family, and a new job took her away from Downton. Really, fans were kind of owed this moment of change, and they ended up getting it in spades.
While that £500 bet probably wasn't the deciding factor in including that dance into Downton Abbey's finale, it probably didn't hurt. It certainly didn't spoil the film's fortunes at the box office, as the past two weekends have brought in almost $62 million in worldwide grosses; roughly half of that coming from what became Focus Features' biggest domestic opening ever. So yeah, since everyone's probably doing well right now, it's a good time for Gareth Neames to pay Liz Trubridge to settle the bet. Especially since we'll need everyone to get along for a sequel, and which looks like more of a sure thing after this most honorable debut.
Downton Abbey is currently in theaters, and whether you're a new fan or a die-hard Downton addict, it's an experience you'll want to share with an audience.
Your Daily Blend of Entertainment News
Senior Movies Contributor
CinemaBlend's James Bond (expert). Also versed in Large Scale Aggressors, time travel, and Guillermo del Toro. He fights for The User.
Your Daily Blend of Entertainment News
Thank you for signing up to CinemaBlend. You will receive a verification email shortly.
There was a problem. Please refresh the page and try again.