Downton Abbey Box Office: Blimey! Movie Reunion Nabs Record Win Over Brad Pitt And Rambo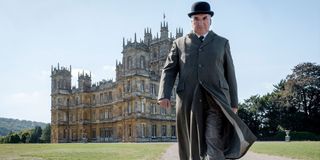 Well! Maggie Smith's Downton Abbey Dowager Countess once famously asked "What is a weekend?" The answer is now "The perfect time to kick Rambo and Brad Pitt's asses." I am amazed that Downton Abbey even got a theatrical release, and now I am astonished that it easily topped both Ad Astra and Rambo: Last Blood. The bountiful Brits even gave Focus Features its best opening of all-time.
How many TV producers will look at these weekend box office results and wonder if this gives their shows hope for a theatrical movie? Could Downton and the upcoming Breaking Bad movie mark the start of a trend ... that Hollywood quickly runs into the ground? I don't want to get negative out of the gate, but brace yourselves. Check out the numbers for Downton Abbey, as well as the rest of the domestic box office Top 10, below, and join me after for analysis!
Swipe to scroll horizontally
| Movie Title | Weekend Amount | Total Amount | Chart Position Last Week | Number of Screens |
| --- | --- | --- | --- | --- |
| Downton Abbey* | 31000000 | 31000000 | 0 | 3079 |
| Ad Astra* | 19210000 | 19210000 | 0 | 3460 |
| Rambo: Last Blood* | 19015000 | 19015000 | 0 | 3618 |
| IT: Chapter Two | 17245000 | 179165563 | 1 | 4156 |
| Hustlers | 17000000 | 62553213 | 2 | 3525 |
| The Lion King | 2572000 | 537592304 | 5 | 1978 |
| Good Boys | 2510000 | 77305605 | 4 | 2025 |
| Angel Has Fallen | 2400000 | 64689679 | 3 | 2505 |
| Overcomer | 1500000 | 31567203 | 7 | 1818 |
| Hobbs & Shaw | 1460000 | 170613810 | 6 | 2391 |
This was an interesting box office showdown. Not too long ago, I might've guessed Rambo: Last Blood would take the top spot. It's neck-and-neck with Ad Astra, and if they didn't cancel out each other's target demos, one of them might've been able to top Downton Abbey. They both played on more screens than the PBS series adaptation.
When it became clear that Downton Abbey was going to rule the weekend, Sylvester Stallone shared a new Rambo: Last Blood ad poking fun at the Brits' movie and taking shots at Rambo V's critics. Did Rambo's bad reviews hurt the opening box office? Eh. Probably not, since fan word-of-mouth has been strong, and controversy sells.
Ad Astra could've gone either way at the box office. Speaking of polarizing, it's basically enjoying the opposite story of Rambo: Last Blood -- Rambo has bad reviews from critics but raves from many fans; Ad Astra has raves from critics and worse reviews from fans. They both made roughly the same money, though, so they cancelled each other out on that front too.
Ad Astra got a B- CinemaScore from moviegoers polled on opening night vs. the B for Rambo: Last Blood. Meanwhile, Downton Abbey fans gave the movie an A. Critics loved the film, and fans rated it even higher on Rotten Tomatoes. It's a win. And, as Deadline noted, its $31 million opening easily defeated the $22.7 million of 2015's Insidious Chapter 3 to set a new record as Focus Features' best opening of all-time.
If Downton Abbey had meh or bad reviews and low audience scores, we'd probably be seeing a very different outcome. It's like what we were saying last week about The Goldfinch, which had one of the worst wide openings ever. It was a bad sign for dramas in the marketplace, but a good drama can still find an audience on the big screen without having to stick to a streaming service or TV.
One interesting thing about this Downton Abbey movie win is that it didn't just come from TV fans, but older female TV fans. Per Deadline, 74% of the opening audience was female, with 32% of all the Downton moviegoers over age 55. That's pat of what I mean about Rambo V and Ad Astra maybe cancelling each other out, since Brad Pitt has talked about Ad Astra's focus on masculinity and Rambo V is dripping with testosterone. Maybe one of them should've held its opening till next weekend.
This is potentially a good sign for the Breaking Bad movie, though. We already knew it would be coming to Netflix even before arriving on AMC, but it's also getting a theatrical release. The cinema is reclaiming its turf!
IT: Chapter Two ruled the box office charts last week and for its debut the week before. This week, the IT sequel had to settle for #4 on the September 20-22, 2019 chart, per Box Office Mojo. Jennifer Lopez's Hustlers is still doing well, and I swear The Lion King just won't quit. It's at $1.6 million right now worldwide. Hobbs & Shaw looks like it's about ready to drop off the top 10 list. The Fast and Furious spinoff is still crushing overseas, though.
The Goldfinch somehow did even worse this weekend. It's not on the domestic chart above because it took #15 in its second weekend, dropping 71.3% last week to make only $770,000 this weekend. Since the movie is still (for some reason) playing on 2,542 screens, it had a per-screen average of just $303. Compare that to the $10,068 per-screen average for Downton Abbey.
What's coming out next? Abominable, Judy, and 21 Bridges. And then Joker in early October. What, if anything, did you head out to see this weekend?
Your Daily Blend of Entertainment News
Gina grew up in Massachusetts and California in her own version of The Parent Trap. She went to three different middle schools, four high schools, and three universities -- including half a year in Perth, Western Australia. She currently lives in a small town in Maine, the kind Stephen King regularly sets terrible things in, so this may be the last you hear from her.
Your Daily Blend of Entertainment News
Thank you for signing up to CinemaBlend. You will receive a verification email shortly.
There was a problem. Please refresh the page and try again.