The Most Memorable Sad Astronaut Performances, Ranked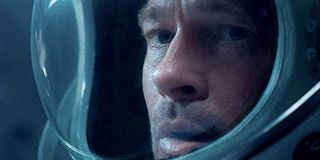 (Image credit: (Fox))
Oh, to be sad in space! We've all been there, or at least felt like we've been there, and know the heavy-breathing clouding astronaut's helmets and tears filling them up. Looking out into the great and beautiful unknown of the stars and far-off galaxy during a long reflection of existentialism. It's not exactly what Star Wars cracked it up to be, is it? Over the years, lonely space movies have become an intriguing subgenre filled with memorable explorations of humanity, incredible cinematography, visual effects achievements and some of the best showcases from starring actors we've seen in any genre.
In honor of Ad Astra's recent release, let's venture through the cold vacuum of space and take a look at the best somber astronaut performances. Each one of these is a solid offering. This was a tough one to rank – you'll be in good hands and feel all of the emotions with each one of these movies. However, as just about all space movies have taught us, you can never leave with the crew you came with. There can only be one number one. He's a look at the saddest of the sad astronaut performances on the big screen.
10. Keir Dullea, 2001: A Space Odyssey
Yes, the benchmark space flick of space flicks is at ten. Remember, this list is based on acting performances. If the judgement was on the film itself 2001: A Space Odyssey may have a place at the tip top. But, Stanley Kubrick's 1968 incredible filmmaking and ideas is the star of this classic and unforgettable film. Now Keir Dullea, who plays Dr. Dave Bowman plays a role in executing his vision, but another actor could have done the job. Still, Dullea's moments probing defiant HAL robot and transcending space and time are nothing short of epic.
9. Robert Pattinson, High Life
Earlier this year, future Batman star Robert Pattinson delivered one of the best performances of his career with a really weird sci-fi film to remember him by. At its heart, High Life shows Pattinson playing a young father raising his daughter in space. It also highlights his immense talent in ways that far outstretch his Twilight days. His performance stands out among the movie's shocking twists and turns led by French filmmaker, Claire Denis' twisted direction. If you like a compelling performance, try out this vastly underseen space ride.
8. Jodie Foster, Contact
Robert Zemekis' 1997 space flick Contact is based on a book by a legendary astronomer of television, Carl Sagan. The movie follows Jodie Foster's Dr. Ellie Arroway as she finds evidence of life outside of Earth and travels to the great beyond to find its source. It poses grand questions to the audience about science, religion and humankind, all while Foster comes out on top with a convincing performance – even with some not-so-great effects by today's standards.
7. Matt Damon, The Martian
The winning element of Ridley Scott's The Martian is Matt Damon's on-screen charisma as his astronaut character is stranded on Mars. He makes a dire and complicated situation into a highly engaging and entertaining one. He's a sad astronaut for sure, but he uses a flair of sarcasm and wit to elevate the often-somber genre into something with more levity. Damon's performance has a deft touch as he sits with the audience, explaining the science. You'll be with him the entire way.
6. Brad Pitt, Ad Astra
Space's newest recruit is Brad Pitt in James Gray's Ad Astra (alternative title Sad Astra). The sci-fi drama explores a new corner of the genre as the slow-burn visual spectacle shares a message focused on someone's personal mental health journey. Pitt's character ventures "to the stars" when his famous astronaut father is said to be the cause of a universe-threatening surge. Brad Pitt gives an expertly-restrained performance where little needs to be said in order for the audience to understand his pain and realizations.
5. Tom Hanks, Apollo 13
"Houston, we have a problem." Those words alone are enough to send us back to the memorable performance of America's Sweetheart, Tom Hanks in Apollo 13. Ron Howard's 1995 movie is a crowd-pleasing classic that really is that good every time. In it, Hanks plays Astronaut Jim Lovell, alongside Bill Paxton and Kevin Bacon's real-life portrayals of the space mission gone wrong when the spacecraft suffers internal damage and threatens their ticket home. The Hanks performance is both memorable and emotional enough to land it smack dab in the middle of this list.
4. Ryan Gosling, First Man
In stunning contrast to the standing ovations and supbeat soundtrack of Apollo 13 is Damien Chazelle's First Man. The solemn drama tells the story of famous figure Neil Armstrong by delving into the man he was, and what the history books never filled in for us. Ryan Gosling disappears in the role as an awkward astronaut quietly grieving the loss of his young daughter. Gosling's heartbreaking performances reveals Armstrong's personal journey to the moon that redefined the previously romanticized space mission.
3. Matthew McConaughey, Interstellar
Christopher Nolan's venture into the world of space sci-fi may have involved a confusing time-traveling bookcase plot, but Matthew McConaughey was the 2014 film's secret weapon. McConaughey showed off a different side to his typically laid-back on-screen persona as Interstellar's unwavering hero: a NASA pilot and engineer. The actor gives an emotional performance as his character Cooper greatly feels the stretch of space and must leave his children behind. It's a stunning study on parenthood and is among Matthew McConaughey's best work.
2. Sam Rockwell, Moon
Coming at runner-up for the best sad astronaut performance is Three Billboards Oscar winner Sam Rockwell for 2009's Moon. The indie film was made on a really low budget of $5 million and made just under $10 million in movie theaters, but wow is it an impressive entry to this genre. Rockwell carries the film on his own in a weighty role revolving around a man who has spent three years completing a mission on the moon. For all its grand twists and scientific questions, Sam Rockwell is the heart of the movie and expertly pulls on the audiences' heartstrings.
1. Sandra Bullock, Gravity
At number #1 is Sandy Bullock in Alfonso Cuarón's seven-time Oscar winner, Gravity. It's a no-brainer really. She's incredible in this role. Take away the breathtaking visuals of this once-in-a-lifetime moviegoing experience and we'd still be talking about her acting achievement. She says a lot with so little to work with in a way that transcends all other performances like this. When Ryan Stone becomes stranded alone in space on her first mission, she takes us along in her moments of sadness, hope and exhaustion. It's perfect.
Now it's your turn. What's your favorite performance starring a sad astronaut? Leave a comment below and vote with our poll!
This poll is no longer available.
Your Daily Blend of Entertainment News
YA genre tribute. Horror May Queen. Word webslinger. All her writing should be read in Sarah Connor's Terminator 2 voice over.
Your Daily Blend of Entertainment News
Thank you for signing up to CinemaBlend. You will receive a verification email shortly.
There was a problem. Please refresh the page and try again.