A Violet Crawley Prequel And 4 More Downton Abbey Movie Spin-Offs We Really Need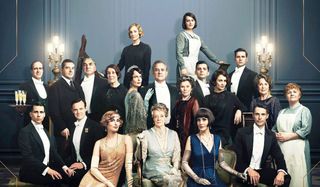 Prior to the release of last month's Downton Abbey movie, the idea that a sequel could happen was a big "let's wait and see." We'll, we've waited and we've seen. We know Downton Abbey has made five times its budget so far, which means it is a financial success. It also leaves the door open for some more potential sequel projects, but given the availability of big names such as Maggie Smith, who plays Violet Crawley on the series, some spin-off stories may be a better fit.
What could stop a sequel? Scheduling would be the biggest thing, of course. But there would be plenty of ways to get around that in the Downton Abbey universe by giving certain characters spin-off stories. For example, if Dame Maggie Smith is not available, perhaps we could devote a full story to Lady Mary and Henry and so on and so forth.
Therefore, we've devised a list of – I'm going to go ahead and say it – great ideas for possible Downton Abbey spin-offs. Some of these would be interesting side projects fleshing out the universe, some might even finish out stories this first Downton Abbey movie was unable to, and some of these are simply fun ideas I just had to flesh out in the hopes they might bring someone else joy. After all, what's better than grabbing a cup of tea and diving into this warm and dramatic world?
There are a few spoilers in these coming paragraphs, but I tried to keep it spoiler light! Thanks for reading.
A Young Dowager Countess Prequel
The Plot: Violet Crawley's youth, leading up to her position as head of Downton household during a time of change in the 19th century. Think of the fashion!
Why It Works: We've been given snippets of backstory (including her brief romance with Russian royalty), and it'd be interesting to see Violet's life as Robert's mother/Downton's matriarch as it unfolded. Also, young Violet is bound to be a figure of such fiery stature, I assume her antics would be amped up exponentially with youth. Beyond all that, the Downton Abbey movie tidily wraps up the Dowager Countess' story, and this would be a way to bring in the character without Maggie Smith.
Whatever Happened To Lady Rose?
The Plot: We know the romantic struggles and choices Lady Rose made during the series, but Lily James didn't come back for the Downton Abbey movie, so we don't have a good indication of what she's been up to recently. While we know a lot about the family she married into, I'm imagining her adjusting to her new life and social community and getting on the same page with the formidable grandmother of this clan, as well.
Why It Works: Maggie Smith is the heart of Downton Abbey, but a period movie with another saucy and appealing elder member would keep the feeling of Downton while expanding into another family and community during the period. Plus, it would give the franchise the perfect opportunity to sign on someone awesome, like Diana Rigg. Finally, people want to know what Rose is up to and this seems like the perfect opportunity for a solo spin-off.
Death On The Track
The Plot: Mary and Henry head to America for a fun weekend jaunt to a racetrack as part of a tour of the States. Only, their idyllic trip to the U.S. turns into one of mystery and danger when a murder happens at the big event. Luckily, a gentlemen detective shows up on the scene, and with her take-charge attitude, Lady Mary is on hand to help in a major way.
Why It Works: Let's be honest, murder mysteries are in right now, with the return of Hercule Poirot on the big screen and Rian Johnson's upcoming Knives Out. Also, I think Downton Abbey fans on this side of the pond would love seeing a narrative set in America. I rest my case.
Thomas Barrow: From Downstairs To No Stairs
The Plot: Getting to know himself better through his new romance, Thomas Barrow's life as a gay man in a very constrained society could see him start accepting himself more and more, and perhaps even leaving service in the end to live a less constrained life. Perhaps this one would simply be called Barrow.
Why It Works: Thomas has come a long way from being the conniving/self-loathing figure he was initially. While the series has had this plot in the background, the movie gave him more to do. Barrow's story ended on a hopeful note, and it feels like there was enough there to follow through into a separate adventure, particularly given how this movie chose to present Thomas' growth. The Downton franchise does like to see change!
Maud And Lucy
The Plot: With the royal visit now concluded, Lady Maud Bagshaw and Lucy Smith return to "normal life" with the Monarchy. Which leads them to discuss Lucy's romance with Tom Branson, and whether or not it's a good idea. There would be plenty of directions this plot could go, Julian Fellowes-style, but it would be a good way to finish out the story of Tom and Lucy without being a specific-to-Downton sequel.
Why It Works: There's new blood in the Downton series thanks to these two, and rather than just give them a prequel, there could be a nice side story that sees mother and daughter fleshed out on the big screen. Two other pros. First, Downton Abbey loves a good love story, so more on this would be great. Secondly, using these characters could mean more royal intrigue could be mixed in and I'm guessing most audiences would find this delightful.
There were plenty of characters that didn't make it into the Downton Abbey movie and could conceivably have a go at a prequel or spin-off at some point. We also considered seeing what characters like Dr. Clarkson were up to, or thinking about a way to tell a story about Matthew Crawley before his untimely death on the original series. The Crawley patriarch's love for dogs could even expand into a separate adventure, although we may be switching up movie genres a little with an animal-centric story.
Regardless, should the creative minds behind Downton Abbey want to go on, there are plenty of different directions they could go in. Let's hope something of this ilk comes down the pipeline, and soon.
I'm sure major Downton Abbey fans have some other great ideas for where these stories could go. If you've thought about this as much as Mike and I have, do stop by for tea and let us know.
This poll is no longer available.
Senior Movies Contributor
CinemaBlend's James Bond (expert). Also versed in Large Scale Aggressors, time travel, and Guillermo del Toro. He fights for The User.
Your Daily Blend of Entertainment News
Thank you for signing up to CinemaBlend. You will receive a verification email shortly.
There was a problem. Please refresh the page and try again.