8 Times Walt Disney World And Disneyland Attractions Went Really Wrong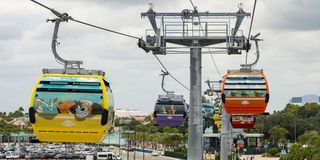 CinemaBlend participates in affiliate programs with various companies. We may earn commission when you click on or make purchases via links.
What in the world is more fun than visiting a major theme park like Disneyland or Walt Disney World? They have fun and exciting rides, great food, and immersive experiences that you simply can't get elsewhere in the world. It's no wonder that millions of people flock to Disney parks every year.
Of course, not every vacation goes quite according to plan. If you've ever walked up to the gate at Disneyland to see a sign telling you that your favorite ride is closed for refurbishment, then you know true heartbreak.
Of course, it could be worse. You could be on your favorite ride when something goes terribly wrong. Here are eight times that attractions failed in spectacular, and sometimes tragic ways, at Disneyland and Walt Disney World.
Skyliner Stall
The most recent example of something going terribly wrong at a Disney park involves the newest addition to Walt Disney World, the Disney Skyliner. The gondola system, which is essentially a fully functional transportation system in the vein of the old Skyway, is designed to help transport guests between four different Walt Disney World resort hotels and a pair of the theme parks.
The Skyliner only opened on September 29, 2019, but less than a week later, on the night of October 5, the system had a pretty serious failure, and the line transporting guests to Epcot stopped moving. An unknown number of guests found themselves frozen in the air, and many of them spent more than three hours that way. Needless to say, that is not how anybody wants to spend any portion of their Disney vacation.
Monorail Door To Nowhere
Long before the Skyliner, the first transportation system that doubled as an attraction was the Monorail. Like the Skyliner, the Walt Disney World Monorail connects Magic Kingdom, Epcot, and three hotels together so you can get around without needing a car. It's a fun way to pass some time and get off your feet if you just want to do the loop, but if you happen to be staying in a hotel on the route, it's incredibly convenient as well.
There have been a handful of times since Walt Disney World opened in 1971 when the monorail has broken down in a less than convenient place. If your train stops between locations, you're as stuck as the Skyliner, and depending on the weather, that can be especially uncomfortable. However, in 2018, things went especially haywire when the problem wasn't that the Monorail stopped, it was that a door came open while the train was moving. Luckily nobody was hurt.
Mine Train Fire
The Seven Dwarfs Mine Train is one of the newest attractions to be added to the Magic Kingdom. It's a fun roller coaster that is low impact enough that will appeal to a pretty broad audience. Because it's new, it's one of the more high demand attractions you'll find at Magic Kingdom; there's usually a long line of guests waiting to get on for the entire day.
One group of guests probably thought they'd received a bit of a bonus ride in 2014 when they found themselves on the Mine Train during the Wishes fireworks show. Most of the coaster is outdoors, so the view is pretty good. Unfortunately, the view got a little too good when an ember from the fireworks landed on the Mine Train track, starting a fire. The ride was reopened within an hour of the fire being put out, so clearly it wasn't a major problem, but it ended up being an extra bonus show for those watching the coaster.
Maleficent Dragon Fire
If you're looking for a safer experience at Walt Disney World, you might consider skipping the rides and just watching the parade go by. However, that's not always going to work for you either. Guests watching the Festival of Fantasy go by at Magic Kingdom in 2018 were treated to an unscheduled extra show when one of the parade floats caught fire.
The fire wasn't an entirely random accident. The float in question was designed to look like the dragon version of Maleficent from Sleeping Beauty, and it had a feature built in that allowed it to breathe fire in front of the guests. Obviously something in that mechanism went sideways and the dragon caught itself on fire. The parade was quickly brought to a close and the fire was put out. The float was brought back some months later and has yet to burn itself down again, so clearly whatever the problem was got fixed.
Big Thunder Derailment
Part of the thrill of roller coasters comes from the feeling that you're completely out of control. Everything goes too fast and you feel like the car you're could crash into something at any second. Roller coasters are inherently dangerous. That's why safety is of paramount importance.
In 2003, Big Thunder Mountain at Disneyland suffered a major derailment that resulted in 10 people being injured and a 22-year-old man dying. Due to what was judged to be improper maintenance, the locomotive of one train actually came loose from the track and became airborne inside one of the tunnels. The locomotive then came down onto the first passenger car, crushing the unfortunate victim.
Mickey's Fun Wheel Freeze
While most Disney attractions are not the sort of thing you'll find at your average carnival, there's certainly a charm to those classic experiences as well. At Pixar Pier at Disney California Adventure, you can find Disney's version of the classic Ferris wheel, the Pixar Pal-A-Round.
In an incident very reminiscent of the recent Skyliner problem at Walt Disney World, the wheel stopped functioning for about 90 minutes back in 2014. Considering that the Ferris wheel is 160 feet tall, that means that getting guests out of most of the cars isn't particularly easy. About 45 people found themselves stuck for the duration of the malfunction. Our hearts go out to the people in the swinging cars especially. Those are worst, even when the ride is functioning properly.
Small World Breakdown
While It's A Small World is one of Disney's most iconic attractions, it's also the one that may have the most detractors. The Sherman Brothers' signature tune is the sort of ear worm that you're going to have trouble getting out of your head after it gets stuck there, and just reading these words, that may have already happened.
I actually kind of love the song, but even I would take issue if I forced to listen to it continuously for an excessive period of time. That's what happened in 2009 when a paraplegic man was riding the attraction when it broke down. He was stuck in the attraction's final room for 30-40 minutes. Because of his disability, he was unable to be evacuated from the ride with the rest of the guests, forcing him to endure "It's a Small World After All" far longer than anybody should have to in a single sitting.
America Sings Tragedy
One of the more tragic attraction problems to ever happen at a Disney park took place back in 1974. The new revolving theater experience America Sings had only been open for a month after replacing the Walt Disney classic Carousel of Progress. The show saw guests seated in a round theater, and the seating area rotated around to view different audio animatronic musical experiences.
While it's still not clear exactly what happened, as there were no witnesses. An 18-year-old, cast member, Debbi Stone, was crushed to death when she somehow got caught between a stationary wall and the revolving stage wall. The attraction closed for cleaning and breakaway walls were added to ensure the accident would not reoccur.
We're Partnering With Disney To Offer Free Disney+ Trials
Some of the incidents were scary and others were absolutely heartbreaking, but considering how long Disneyland and Walt Disney World have been around, how many shows they've put on and how many times ride vehicles have gone around, the safety record is actually pretty impressive. Most people are able to experience every show and ride without incident.
Images courtesy WDWNew.com/DisneylandNews.com
Content Producer/Theme Park Beat
CinemaBlend's resident theme park junkie and amateur Disney historian. Armchair Imagineer. Epcot Stan. Future Club 33 Member.
Your Daily Blend of Entertainment News
Thank you for signing up to CinemaBlend. You will receive a verification email shortly.
There was a problem. Please refresh the page and try again.