The Sad Reason Disney Pulled Starbucks' New Purple Monorail Mug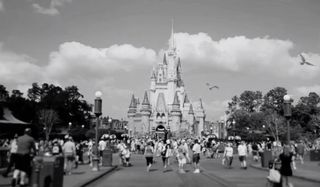 Recently, Walt Disney World and Starbucks released a new line of designer mugs to represent all of the different theme parks in the famed amusement park. But, as the mugs hit the stands, one in particular brought up an unsettling past. The Epcot coffee mug, designed with purple detailing too closely depicted Disney's Monorail Purple which had once been apart of the Epcot park. But after a deadly accident in 2009, that specific color monorail car was retired.
Post by Shop The Magic.
The coffee mug unveiled earlier this month as a part of the Starbucks collection entitled "You Are Here" which depicts stylized scenes from cities around the world usually using just a couple colors. If you've ever been to a Starbucks in the past year, odds are you've seen this type of design depicting whichever city the store is located in. This specific mug which caused controversy features a main icon of the park in the Spaceship Earth attraction with numerous other Epcot landmarks including the Japan Pavillon, the France Pavilion and the Land. The monorail itself ran along the bottom of the mug, and while it probably wasn't intentionally made purple to stir up bad memories, the collaborating companies definitely overlooked this important aspect.
In 2009, the purple and pink monorail crashed into each other, resulting in the death of one of the conductors, a 21-year-old man. The monorail was on its last run of the day, and the trains were each carrying only five passengers and two employees, who went unscathed. It marked the first monorail death in its 38 years of running. According to The Orlando Sentinel, the accident occurred because of a lack of adequate safety protocols and the U.S. Occupational Safety and Health Administration cited disney with four safety violations and ultimately fined the resort $35,200. So, the purple monorail not only brings up the unsettling accident, but also the reality of Disney's fault in the matter. Again, this makes it very difficult to understand how such a blatant color choice was made in the production of the Starbucks product, but alas, the mug only hit the shelves for about a week until it was noticed.
Disney confirmed their mistake, and the design is expected to be redone. There is no official release date for the new design, but it will most likely take a bit of time, to stay clear of the recent controversy the first mug stirred. For now, you can check out the mugs for the other parks, including Disney's Hollywood Studios, Animal Kingdom, Magic Kingdom, Disneyland and Disney California Adventure.
Post by Shop The Magic.
Your Daily Blend of Entertainment News
Thank you for signing up to CinemaBlend. You will receive a verification email shortly.
There was a problem. Please refresh the page and try again.