One Thing Zac Efron Kept Trying To Do On The Greatest Showman That Wasn't Historically Accurate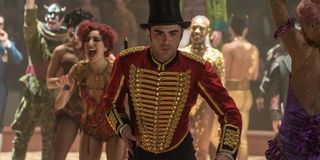 If you saw The Greatest Showman, you probably already know the movie, which stars Hugh Jackman and Zac Efron, takes some liberties with the real-life tale of P.T. Barnum and his famous team of circus performers. However, what you may not know is that the musical spent a lot of painstaking time getting the period details right – particularly when it came to some modern habits from Mr. Efron.
In fact, The Greatest Showman hired Major General Alastair Bruce to handle all of the details in The Greatest Showman. These details made the movie accurate to the period even when it was taking liberties with some of the real-life facts. The Major General recently revealed that one major thing he had to keep an eye on was Zac Efron, who he says kept thrusting his hands into his pockets during production on the musical.
People just didn't thrust their hands in their pockets in the 19th century, mostly because pockets didn't really exist at that time. Although Efron's costume seemingly had pockets, which led to these exchanges, that detail really wasn't right for the period, so they worked around it by keeping his hands out during filming. Apparently, pockets became a major thing a few years later, although it's worth pointing out that pockets used to be more like reticules or pouches and they were invented thousands of years ago. They just weren't commonplace during The Greatest Showman era.
Who knew The Greatest Showman made life so difficult for some of the actors? Well, I guess Hugh Jackman did.
Funnily enough, Major General Alastair Bruce might be an expert when it comes to historical details, but the Scotsman had no idea who Zac Efron was or that he was a major star in the film when The Greatest Showman was coming together. He recounted about admitting he had no idea who Zac Efron was to the former High School Musical star.
He later even recounted to Forces Network that Zac Efron was really nice about the whole thing, in particular the fact he called the actor "Maz" during the entire run of filming.
Major General Alastair Bruce may not know all about major celebrities, but he is a man in demand when it comes to certain period details. His also recently worked on the Downton Abbey movie, making sure the Crawleys' return -- this time on a much bigger screen -- came off just right, at least when it came to details such as pockets and the like.
As for Zac Efron, he's still pretty famous, so if he really wants a break, perhaps Scotland is the right vacation spot. Meanwhile. we'll keep you updated regarding whether or not the musical in question ends up getting a sequel and the original movie is already available on DVD and Blu-ray, to be watched to your heart's content. If the sequel moves forward, perhaps this time there will be no pockets involved.
Your Daily Blend of Entertainment News
Reality TV fan with a pinch of Disney fairy dust thrown in. Theme park junkie. If you've created a rom-com I've probably watched it.