Zac Efron As Adam Warlock? Marvel Fan Adds Him To Guardians Of The Galaxy 3 Poster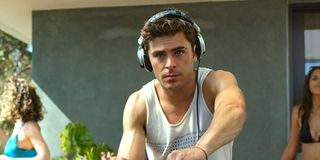 Although the Marvel Cinematic Universe has introduced a lot of characters in the 11 years it's been around, there are still plenty of people from the pages of Marvel Comics who still haven't gotten their due in this franchise yet. One character that is expected to pop up at some point is Adam Warlock, one of the biggest players in the cosmic side of the Marvel universe.
Adam Warlock was teased at the end of Guardians of the Galaxy Vol. 2, and though not officially confirmed, it's a good bet we'll finally meet him in Guardians of the Galaxy Vol. 3. So who will play Adam? There's no word on that just yet, but one of the names that's been tossed around is Zac Efron, and Redditor spideyvegas took it upon themselves to add a Warlock-y-looking version of the actor into a faux Guardians 3 poster.
from r/
Just to be clear, the 'Zac Efron playing Adam Warlock' rumor is just that: a rumor. This didn't originate from any of the major publications, and considering that James Gunn won't be able to film Guardians of the Galaxy Vol. 3 for a long time due to being busy with The Suicide Squad, it's highly unlikely that casting for the threequel has already begun.
Still, as we wait for news about what's in Guardians of the Galaxy Vol. 3, it's fun to imagine Zac Efron playing Adam Warlock. Word spread about Efron being tapped to bring the character to life back in May, and shortly thereafter, artist BossLogic posted this picture of how this version of Adam could look.
We'll have to wait and see who ends up being cast as Adam Warlock in the MCU, and even if it's not Zac Efron, perhaps there's still a role he could take on elsewhere in this continually-expanding franchise, whether it's in a movie or Disney+ show. Regardless, as far as Adam is concerned, it's not so much a matter of if he shows up, but when.
A lot of fans believed Adam Warlock would participate in Avengers: Infinity War and/or Avengers: Endgame due to his importance in the original Infinity Gauntlet storyline, but those movies came and went without any sighting of the gold-skinned cosmic being. Which makes sense, as those movies were already packed with characters old and new, and events unfolded in a way that didn't require his presence.
So Guardians of the Galaxy Vol. 3 is the next logical place for him to debut, particularly since James Gunn teased that he was coming in Guardians of the Galaxy Vol. 2. Incase you need a refresher, one of the sequel's mid-credits scenes showed Ayesha, fresh off being bested by the Guardians yet again, showing one of her minions a golden cocoon containing a being named Adam, who will serve as the next step of the Sovereign race's evolution.
Granted, with other cosmic MCU movies like Thor: Love and Thunder and Captain Marvel 2 on the way, it's possible that Adam Warlock could be saved for one of those tales. But it'd be weird to pick up on a plot thread left behind in a Guardians of the Galaxy movie elsewhere, especially since Vol. 3 will be the last one that James Gunn directs, and thus likely serve as the final installment putting these characters front and center. Why not help end things with a bang for the Guardians by throwing Adam into the mix?
Stay tuned to CinemaBlend for more details concerning Guardians of the Galaxy Vol. 3, which will likely be part of the Phase 5 slate. Find out what else the MCU has coming up in our handy guide.
Connoisseur of Marvel, DC, Star Wars, John Wick, MonsterVerse and Doctor Who lore. He's aware he looks like Harry Potter and Clark Kent.
Your Daily Blend of Entertainment News
Thank you for signing up to CinemaBlend. You will receive a verification email shortly.
There was a problem. Please refresh the page and try again.