Buckle Up, Disney's Mulan Reportedly Going Through Reshoots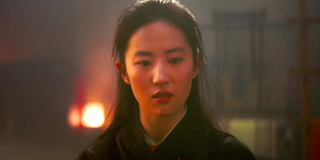 (Image credit: Trailer)
When Disney announced in 2015 it was giving Mulan a live-action remake, fans probably didn't expect to have to wait five years to see it. But since Disney began work on adapting the beloved 1998 animated classic, it's hit a handful of snags in development. And now, Mulan is facing yet another setback on its journey to the big screen, because the studio has decided the 2020 movie needs some reshoots.
On October 18, 2019, The DisInsider reported that Mulan is set to undergo months of reshoots, which are expected to last into February 2020. Alternate sources have since reached out to CinemaBlend to say that the reshoots will be much shorter -- weeks, not months. The rumors reported by The DisInsider claim that the reshoots will focus on the reworking some of the film's major battle scenes.
Throughout its production, several aspects of the film's adaptation have been met with skepticism. The teaser trailer sparked interest when it was released in July 2019. And it even received enthusiastic approval from the voice of the original Mulan, Ming-Na Wen. But eagle-eyed fans noticed the conspicuous absence of one iconic Mulan character -- Mushu. And they weren't exactly thrilled.
According to The DisInsider, that may have been one reason for a recent test audience's tepid response. But they also noted that the film's original music seems to have been pared down, and it won't be sung by the film's stars. This is a notable difference from other Disney live-action adaptations, which have called on its stars to recreate some of the studio's most legendary tunes with varying degrees of success.
The film's controversies aren't limited to the quality or content of the adaptation, either. Fans who worried about Disney whitewashing Mulan early on were relieved when they cast Chinese actress Liu Yifei as the titular heroine. But the film's star has come under scrutiny since filming initially wrapped. In August 2019, the actress weighed in on the ongoing political unrest in Hong Kong, and expressed her support for the Chinese government. Her position drew criticism from fans around the world and sparked a Twitter #BoycottMulan hashtag. When the first Mulan footage was screened at the D23 Expo a few days later, Liu Yifei did not make an appearance. But Disney ultimately remained mum on the backlash.
Reshoots are nothing new on any major production. They happen for movies that work perfectly well, and on movies that turn out to be a disaster. These reshoots, as well, are hardly the first setback Mulan has faced. Disney searched far and wide before it was able to find an actress who could convincingly portray Mulan. And though it was originally slated to be released in 2018, the film's premiere was pushed back more than a year and a half. Mulan's production team will no doubt have their work cut out for them once these scheduled reshoots wrap. The film is still currently scheduled to be released worldwide on March 27, 2020.
Your Daily Blend of Entertainment News
Your Daily Blend of Entertainment News
Thank you for signing up to CinemaBlend. You will receive a verification email shortly.
There was a problem. Please refresh the page and try again.