Mulan: Everything We Know About Disney's Live Action Remake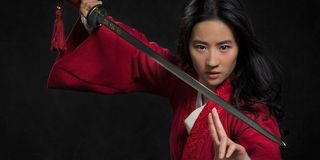 Following a long-running history of successfully bringing legendary tales to life through animation and music, Disney just couldn't resist a little reflection on their classics. The studio's live-action remakes started with 2010's Alice in Wonderland and has since turned into a full-blown creative venture to recreate much of the library of its animated films including Cinderella, The Jungle Book and The Beauty and the Beast.
With the incredible success of these massive live-action releases, Disney, of course, isn't stopping there, with tons of the company's familiar stories hitting the screen in the future, including a new iteration of the legendary Chinese folktale first explored by the studio in 1998's Mulan. Disney's upcoming live-action Mulan is set to be a full-scale martial arts epic, which looks to position itself further from its animated classic than the live action remakes that came before.
Curious about what the House of Mouse has in store for the upcoming Mulan? It's not as mysterious as the dark side of the moon. We've got you covered with this guide on everything we know so far about the live-action Mulan below:
What Is Mulan's Release Date?
When a live-action Mulan was originally announced back in 2015, it was given a November 2018 release date. The project moved a bit slower than initially expected and was pushed back a full year and a half in early 2018. Disney's Nutcracker and the Four Realms took its spot, with Mulan now set to charge theaters on March 27, 2020. With 2019 incredibly packed with live-action Disney releases, and two other '90s films, The Lion King and Aladdin, being revisited over summer, it's a clever move for the studio to place Mulan there instead. Currently, the Disney film will open next to Hasbro and Paramount Pictures' planned G.I. Joe reboot. Considering the badass warrior's track record, I think she can take on a few soldiers opening weekend, don't you?
What Will Mulan Be Rated?
Disney's recent live-action remakes have been consistently PG to cater to the entire family and still allow some leeway for elements such as fantasy action and some frightening sequences. Mulan is a Disney Princess that needs to be marketable to children of young ages and the studio's formula for live-action PG flicks have worked quite well for them so far. Considering Mulan has its titular heroine in the middle of a historical war, the film could potentially become the first PG-13 film of its kind if Disney chooses to. A grittier PG-13 Mulan from Disney would certainly be an interesting and exciting sight to see, and it would still draw large audiences. The studio does go for PG-13 ratings for its Marvel and Star Wars endeavors, though Mulan's rating is more likely to be PG.
Who Will Direct Mulan?
Disney's new Mulan found its director in early 2017 with New Zealand filmmaker Niki Caro at the project's center. Caro first gained prominence for her work on Whale Rider in 2002, which was a story about a young Maori girl who aspires to be the chief of her tribe. She helmed North Country in 2005, which scored Charlize Theron and Frances McDormand Oscar nominations, and most recently made The Zookeeper's Wife in 2017. The director worked with Disney before on 2015's McFarland, USA, a Kevin Costner-led sports drama about a high school cross-country team. With Mulan, Caro becomes the second female director to be hired by Disney to direct a movie exceeding a $100 million budget, after Ava DuVernay's A Wrinkle in Time. Caro has a highly-impressive resume as a director and having a woman's eye on a legendary female-fronted tale is a good move by the studio.
Who Is Writing Mulan?
The live-action Mulan recruited a team of four writers for the upcoming release, with Rick Jaffa, Amanda Silver, Lauren Hynek and Elizabeth Martin penciled in as screenwriters. Jaffa and Silver have collaborated on huge box office hits such as 2015's Jurassic World and the most recent trilogy of Planet of the Apes movies. The pair are an exciting choice for Mulan as they have successfully brought beloved franchises into the present and on a larger scale. Hynek and Martin are also a screenwriting pair, though lesser-known, since they have only penned a 2018 Lifetime Christmas movie called Christmas Perfection. The blend of these talents is definitely a unique combination, though for a film so embedded in Chinese culture, it may be worth noting that none of them are of Asian descent.
What Is The Live-Action Mulan Story?
At its core, Mulan will follow a story we are familiar with -- a young woman who disguises herself as a male warrior to take her father's place in battle in order to save him. Unlike other live-action remakes, Mulan looks to be changing up quite a few key elements found in the 1998 film, which is contrary to the live-action retellings we've recently seen from Disney. The upcoming film will not have the heroine facing off against the leader of the Hun Army, Shan Yu, or falling in love with her captain, Li Shang. She will instead be up against a powerful witch and find love with a fellow solider in her unit, along with there being a new Commander character created for the film to serve as her mentor.
Will Mulan Be A Musical?
Disney animated classics such as Mulan will always be remembered for catchy and memorable songs such as "Reflection" and "I'll Make a Man Out of You," although, so far, only the live-action Beauty and the Beast has opted to be a full-fledged musical. When Niki Caro originally said that there would be no songs in the live-action Mulan many fans on Twitter were outraged. This wasn't the final word from Caro about the music, though, and she later confirmed that music will play a role in the movie, but how much? Considering how Mulan seems to be veering quite a bit from the animated classic, don't expect to see the whole soundtrack back on screen. But, it would be tough for the studio to pass on an opportunity to implement a beautifully iconic song like "Reflection" and / or introduce some new ones, as well.
Mulan
After a team of Disney casting directors conducted a year-long search, traveling across five continents and seeing nearly 1000 candidates, Chinese star Liu Yifei (also known as Crystal Liu) won the role of Hua Mulan. The 31-year-old actress has had a career in both China and America as an actress, model and brand ambassador. Liu is fluent in English and has been in Hollywood films, including 2008's The Forbidden Kingdom opposite Jet Li and Jackie Chan and 2014's Outcast which also starred Nicolas Cage and Hayden Christensen. When Mulan began filming a few months ago, fans were given a first look at Liu as Mulan striking a familiar pose. She looks to embody the character well, balancing her strength, beauty and intellect. Early concerns about Disney whitewashing the character or giving the role to any Asian actress arose but with Liu's casting, it looks like the studio did their homework to find a believable Mulan.
Mushu
What's a Disney musical without a cute and quick-witted animal sidekick to ease the tension of their hero's journey? For 1998's Mulan, her sidekick was a pocket-sized dragon named Mushu who acted as her spirit guardian and was voiced by Eddie Murphy. While fans have suggested Murphy resume the role in a dragon suit amongst an otherwise completely racially-correct cast, we don't know too much about Mushu's role in the live-action Mulan. The lovable dragon will reportedly be part of the film, but a voice role for the character has not been cast. (Or revealed?) For a more true-to-life Mulan film, the filmmakers would likely take a more culturally-accurate approach to the character or include him in as an easter egg to the original, such as how the mice in the live-action Cinderella were included.
Yao, Ling And Chien Po
When Mulan finds herself in a military training camp, she encounters a trio of misfit soldiers, the high-tempered Yao, goofball Ling and soft-hearted Po. In the beginning, she rubs them the wrong way when she tries to prove her masculinity by punching Yao in the face, which leads to a camp-wide fight, but they warm up to her as the movie progresses. Each of these familiar characters have also been cast in the new Mulan with Chen Tang playing Yao, Jimmy Wong as Ling and Doua Moua as Chein Po. Tang is a television actor who has appeared in Agents of S.H.I.E.L.D, Grey's Anatomy and Amazon's Bosch. Wong is best known for his role in the digital series Video Game High School along with John Dies in the End and his highly-popular online cooking show Feast of Fiction and Moua has appeared in Gran Torino, Blue Bloods and Iron Fist. Mulan will certainly mark the actors highest profile films to date and will likely bring some comedic relief to the epic.
Li Shang?
Let's get down to business, because this is where things start to sway from the Mulan we know. In the 1998 film, Captain Li Shang is a tough leader of the military unit who challenges the soldiers through a rigorous training process. While Mulan (who first goes by Ping) starts off on his bad side, they start really getting along when she becomes a highly-skilled soldier, only to crush his dreams when he finds out she's a woman. It's a story arc loved by the LGBT community for its hints of bisexuality (which were unintended by Disney), though it is a relationship built on lies and Li Shang isn't exactly a feminist. There won't be a live-action Li Shang in the upcoming Mulan, as it seems he is being split into two characters.
Donnie Yen has been cast as a fresh character named Commander Tung, who will serve as Mulan's mentor and teacher. Yen is best known for his role in Rogue One, the Ip Man films and Crouching Tiger, Hidden Dragon. Yoson An will be playing another new character named Chen Honghui, a fellow soldier who is described as a confident and ambitious recruit to Tung's unit. He will become the most important ally to Mulan and then flourish into a love interest. The actor was recently in The Meg and has a role in the Peter Jackson-produced Mortal Engines.
The Villians
Among Disney's famed antagonists, Mulan's Shan-Yu is one of the most forgettable. The leader of the Hun army is ruthless and intimidating but he was given very little to do and wasn't carefully developed. Perhaps this is why the next iteration of the story will feature completely new villains, with the main antagonist being a powerful witch named Xian Lang, played by Gong Li. The actress also played the main baddie in Memoirs of a Geisha in 2005 to much acclaim. Her inclusion adds an element of magic to Mulan not before seen, perhaps creating new circumstances for the army. Jason Scott Lee is also joining Mulan as Bori Khan who is a warrior leader seeking to avenge his father's death and who aligns himself with Xian Lang. Lee is best known for his portrayal of Bruce Lee in 1993's Dragon: The Bruce Lee Story and his voice role of David in Lilo & Stitch.
The Emperor
Disney has cast Jet Li as the Emperor of China in the upcoming live-action Mulan. Li is one of the most prominent Chinese actors to grace Hollywood, starting with his debut in 1998's Lethal Weapon 4. In the early '00s he made a name for himself as a martial artist action hero, most recently appearing in The Expendables movies. In the studio's first Mulan, the emperor gives the order for one male from each household being drafted into the army and makes a brief appearance in the end of the film, when Mulan and some of the soldiers defeat Shan Yu. Perhaps he will be given a larger role in this film? Li and Liu Yifei (Mulan) have worked alongside each other before, in 2008's The Forbidden Kingdom.
More Mulan Characters
The live-action Mulan looks to be bringing a blend of what we know from the animated classic with some completely brand new story elements and characters. Along with what we've discussed thus far, the movie will also feature Mulan's sister Hua Xiu played by New Zealand born Chinese-Vietnamese actress Xana Tang, a role not found in the 1998 film. Utkarsh Ambudkar and Chum Ehelepola will also play a con artist duo, respectively named Skatch and Ramtish. Ambudkar has held roles in The Mindy Project and Pitch Perfect and Ehelepola is best known for 2012's A Moody Christmas. There's certainly a lot in store for Mulan in 2020, with a jam-packed cast that has loads to offer the Disney live-action remake.
Your Daily Blend of Entertainment News
YA genre tribute. Horror May Queen. Word webslinger. All her writing should be read in Sarah Connor's Terminator 2 voice over.