The Batman Now Has A Composer: Watch Matt Reeves' 'Awkward' Music Proposal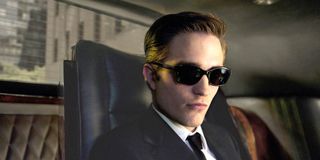 The past week has seen a flurry of casting announcements for The Batman. News about a growing cadre of villains (and a villainess) has helped bring buzz for the film to an all-time high. And director Matt Reeves has just revealed, via a very public proposal, that he's added another exciting member to his crew: an Oscar-winning composer.
Matt Reeves found a unique way of letting the world know that he'd enlisted the help of an old friend. Both the director and composer Michael Giacchino were at an event at the Royal Albert Hall in London on October 18. As part of the show, Giacchino was on stage trading good-natured barbs with fellow composer David Arnold when Reeves joined them. He then dropped to one knee and formally asked Giacchino to score The Batman -- and the composer enthusiastically accepted. The moment was captured by a handful of audience members who, naturally, excitedly shared footage of the successful (if a little "awkward," per the director) proposal on Twitter.
This won't be the first time Matt Reeves and Michael Giacchino have worked together. The composer, a longtime collaborator of J.J. Abrams, wrote the music for Reeve's 2008 film Cloverfield. He's also known for numerous beloved contributions to Disney and Pixar, including the scores for films like Ratatouille, Zootopia, and Up, for which he won an Academy Award for Best Score.
At first, fans weren't sure about Matt Reeves' vision for The Batman, due to his controversial casting of Robert Pattinson. But whether you love The Lighthouse star or can't stand him, you can't argue that Reeves isn't taking every aspect of the film seriously. In addition to assembling an ensemble of highly respected actors, he's enlisted some of the best of the best in Hollywood to help him bring his vision to life. Most recently, we learned that Rogue One: A Star Wars Story's Grieg Frasier will act as the film's cinematographer. In other words, Giacchino will be in good company behind the scenes.
The Incredibles' composer also has plenty of practice setting the musical mood for superheroes: he's lent his talents to Doctor Strange and, most recently, Spider-Man: Homecoming. Even though he cut his comic book teeth in the MCU, the composer seems pretty stoked to be spending some time in Gotham City. Giacchino started dropping hints weeks ago that he'd eventually join The Batman team. On October 19, he tweeted out a very clear signal that he's excited to be on board.
With the cast and crew rapidly being finalized, all of the pieces of The Batman are falling into place. But we'll have to wait a while to see how they all fit together. The film is set to premiere on June 25, 2021.
Your Daily Blend of Entertainment News