Surprise, Edward Norton Is Down For A Return To The MCU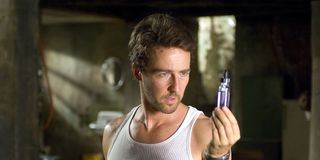 In 2008, after reacquiring the rights to the character, Marvel Studios introduced movie audiences to Bruce Banner with The Incredible Hulk. The film was pretty successful, and star Edward Norton was set to reprise his portrayal of the giant green superhero. But then after alleged disagreements with producers, he exited the franchise, making way for Mark Ruffalo. Some actors might be bitter about losing out on a role in such a successful franchise. But if you ask Edward Norton, he's made peace with his exit. In fact, he'd be totally down to return to the MCU.
The actor-writer-director recently told Total Film that his decision to leave came down to a difference in his vision and Marvel's for where the character should go. According to Edward Norton, he created a script that was much closer in tone to what Christopher Nolan did with The Dark Knight franchise. And when he realized that Marvel was going in a different direction, he chose to bow out.
His zen take on the whole experience is refreshing, but his relationship with those involved hasn't always been this way. Back when he initially left the franchise, the studio released a statement in which they implied that Edward Norton's exit was the result of his unwillingness to collaborate. That prompted a chilly response from the actor's agent, who insinuated Marvel's move had been financially motivated. Then, last year, the actor took a lighthearted dig at MCU scripts.
But these days, Edward Norton is making it clear that he harbors no resentment toward anyone involved with the MCU. He told Total Film, "I couldn't be more happy to have been part of that whole tradition." He was also sure to praise Mark Ruffalo's "unbelievable" performance as Bruce Banner in the subsequent MCU films. And he left the door open for future appearances in the franchise. He would just want to do so under very different conditions:
The prospect of Edward Norton reappearing as a Marvel villain is definitely intriguing. He's shown that he's capable of a truly sinister side in films like American History X and Primal Fear. And after the success of Joker, we know there's definitely still a market for dark and gritty superhero stories. The question remains where he'd fit. Phase Four of the MCU is just getting started, and it promises new chapters for Doctor Strange, Thor, Black Panther, and Spider-Man, just to name a few.
Do you want to see Edward Norton return to the MCU? Any suggestions for his Marvel role? Keep up with everything still heading to the big screen this year with our 2019 movie release date schedule.
Your Daily Blend of Entertainment News