5 Actors Who Would Make Excellent Marvel Villains In Phase 4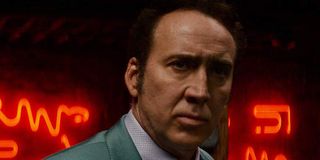 Getting a prominent role in a new Marvel movie is a damn good gig. There is a build-in audience, a ton of cash being thrown in every which direction, and the firm guarantee that your work will be viewed by critics, movie lovers and casual moviegoers alike. That's why it should come to no surprise that the always-busy Kevin Feige has rounded up an incredible roaster of talent to perform key roles inside the ever-expansive Marvel Cinematic Universe.
Whether it's Robert Redford, Michael Keaton, Josh Brolin, Sam Rockwell, Cate Blanchett, Jeff Bridges, Kurt Russell, Mickey Rourke, Ben Kingsley, Guy Ritchie, Michael B. Jordan or, most recently, Jake Gyllenhaal (spoilers?), to name a mere few of the slew of thespians who have provided their talents to their ever-evolving, constantly-interconnecting multi-movie franchise, the Marvel movies have collected an astonishing resume of great actors. And there are even more Marvel movies coming up on the near horizon, securing the possibility of more great actors to introduce to this super-sized series.
Since the future of the Marvel Cinematic Universe is left a bit vague at the moment, with more clarifications expected to come from the company's highly-anticipated Comic-Con panel, we wanted to take a moment to recognize some other great actors who should hopefully find a place inside the Marvel Cinematic Universe. So here are a few suggestions of who they could play if they get a call from the folks over at Marvel headquarters.
Nicolas Cage As Arcade
As an actor, Nicolas Cage can be a very cartoonish, larger-than-life personality. Sometimes, that works wonders. Other times, it's distracting or hammy in the wrong ways. However, as the lead villain in a comic book adaptation, it's hard to think of many actors who would really relish such a spectacular opportunity. The question isn't whether Nic Cage should be in a huge Marvel movie. The big question is, which person should the Oscar-winner play?
The actor has played a number of comic book characters throughout the years. Whether it's in Kick-Ass, Ghost Rider, Teen Titans Go! To The Movies or, most recently, Spider-Man: Into The Spider-Verse, the actor is not only well-versed in the superhero genre, but he's also an avid comic book lover. His son is named Kal-El, for goodness sake. There's no question that he would be perfect for a new Marvel movie. It's simply a matter of trying to find the right part for the actor. And, in my view, one character that could work for Nicolas Cage is Arcade. Particularly when he's wearing a deranged smile.
The character of Arcade is a sinister madman. He's sorta like Walt Disney combined with The Joker. He makes wild, perverse carvel-like attraction and he puts people through the ringer in shocking, grotesque ways. All while smiling and laughing manically. If you've seen several Nic Cage performances, you know that the guy can play a nutso like few others in Hollywood. And to top it off, Arcade has a wild mane of hair, which is certainly fitting for Cage. It might be awhile before we see the character of Arcade in the Marvel Cinematic Universe, but there's reason to believe Nic Cage would nail the part.
Bryan Cranston As M.O.D.O.K.
Bryan Cranston is a thunderous presence, particularly in the right role. The Breaking Bad actor is capable of conveying an array of emotions, both gentle and threatening, and those are great assets when it comes to a Marvel villain. Particularly as the antagonistic character grow more layered and nuanced with each new blockbuster, there is a great opportunity to give this high-grade actor the right meaty, weighted role worthy of his fine talents.
In an interview in the past, Bryan Cranston expressed interest in playing a villain. Particularly a "nasty" Marvel villain, as he explained to Metro.uk. There are a ton of wild and deranged villains he could play, but one that sticks out to me is M.O.D.O.K.
Perhaps I'm basing my opinion off his work in the new Power Rangers movie from a couple years ago, where he was a giant head in the wall, but I'd love to see Bryan Cranston really get a chance to play the looney, deranged M.O.D.O.K., a genius who can make huge math equations in his head in an instant and then use it to kill and threaten the lives of others, all while wearing a sick grin on his face. This character is a madman, and with his looming presence and imposing malice, I think it's a good fit.
Tom Cruise As Magus
It's safe to note that, in the traditional sense, Tom Cruise is one of the last movie stars of his kind. One of the last men in an era when movie star talent was enough to carry over in box office success, there are only a mere few actors who can sell a movie to a wide audience based on their presence. And we will mention a few others later in this list. But Tom Cruise is a star, and there are only a few times when the actor got to play a villainous person.
One of Tom Cruise's finest performances is in Collateral, and it's a shame that no other movie has really captured the actor's lightning rod intensity when he's playing the villain. That would make it a wonderful opportunity for the Marvel Cinematic Universe to flip the script and let this actor's proven star power be seen in a dark, more menacing role. Because, with the exception of the Mission: Impossible movies, the actor's star power is fading, and it would be the perfect time for him to play a bad guy. But who could he play?
There are a number of possibilities for Tom Cruise, but one that springs to mind is Magus. Although Cruise isn't exactly 6'2'', he can convincing portray the anguish and desire for leadership and skill that is key to Magus' character. An intergalactic man who invented a cultish foundation called the Universal Church of Truth, which might hit a little too close to home for the actor, he is a madman who thirsts for power and creation and a character who is sometimes wrestling with the good and bad sides of himself. That mix might make it an almost too good choice for this particularly dense role.
Denzel Washington As Achebe
There are very few genuine movie stars in Hollywood these days. Yet, Denzel Washington is most certainly one of them. The actor has produced hit after hit based on his name and proven talent, and he knows how to sell a movie like few actors in Hollywood can today. The fact that he hasn't been in the Marvel Cinematic Universe yet, or even asked yet (according to Washington), is very surprising. Yet, with Phase 4, the opportunity could be arriving.
While Phase 4 hasn't been announced yet in any official capacity, there is a very good reason to believe that Black Panther 2 is on the docket. The movie was an enormous hit, and it's not only one of the most successful superhero movies in history (critically and commercially) but it's quite handily one of the most profitable movies in MCU history. There is little doubt that Black Panther 2 is on the way; it's guaranteed to be a huge phenomena.
And it would be a great opportunity to bring in a real superstar for a major role. With that, why not bring in Denzel Washington to play Achebe? The role is considered one of the biggest in Black Panther's comic book history. It'd give Denzel Washington a great chance to let it loose and play a major villainous role. He could maybe even channel the dark edge that he found in his Oscar-winning role in Training Day. The possibility is all very exciting.
Jim Carrey As The Green Goblin
Jim Carrey has one of the most expressive faces in Hollywood. The man can contort his face in a multitude of different ways, which is why he was such a great fit for The Riddler in Batman Forever (even if the movie itself is, admittedly, only so-so). After a few years away from mainstream cinema, Carrey is making his return to Hollywood with the admittedly less-than-impressive-looking Sonic the Hedgehog movie, which prompts the notion: could Jim Carrey also play a villain in a comic book movie? And if so, which villain should he play? Admittedly, there are more-than-a-few choices to pick from.
But while I could list literally dozens of characters (including Arcade, who is another one I mulled for Jim Carrey), I feel like there is great potential for the comedy character to make something spectacular out of Norman Osborn, a.k.a. The Green Goblin, in the new Spider-Man movies. At this point, there are no officially announced plans to introduce The Green Goblin into the MCU. But considering that he's such a crucial villain for Spider-Man, it is certainly a possibility down the road. Maybe even in Spider-Man 3. And if that does come to be, then they need a big name to fill in for the villain turn.
While Willem Dafoe was excellent in the role during the Sam Raimi Spider-Man movies, there is a wide array of actors who could take on the part in this extended cinematic universe. And Jim Carrey displays a nice range of maniacal glee and inner turmoil that could work beautifully for a new version of this character. We can't guarantee that he'll get involved, but he did express interest in being part of the MCU back in 2017, according to Bleeding Cool. It could be a great opportunity to see Jim Carrey return to the superhero genre in a major way with this great villain role, one he could most certainly ace.
There are many great actors out there, and there are a wide selection of options for who could play what role. These are only a handful of suggestions and we'd love to hear yours. Be sure to comment with your personal picks for both actors you would love to see in the MCU, and who they could play.
Will is an entertainment writer based in Pittsburgh, PA. His writing can also be found in The Playlist, Cut Print Film, We Got This Covered, The Young Folks, Slate and other outlets. He also co-hosts the weekly film/TV podcast Cinemaholics with Jon Negroni and he likes to think he's a professional Garfield enthusiast.