Suicide Squad Director Clears Up 'Inaccurate' Jared Leto Rumor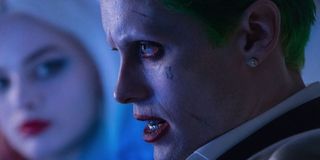 While Joker's been making bank at the box office, there's been a secondary drama brewing around the film's inception. Earlier this week, a rumor emerged that Jared Leto was hurt that Warner Bros. was developing another Joker story without him, and that he tried to stop the film from being made. And now Suicide Squad director David Ayer has spoken up to try to set the record straight.
On October 18, The Hollywood Reporter published a story centering on these allegations. Then, on October 19, a fan responded to THR's tweet about the story and mentioned David Ayer, bringing him into the conversation. "The article says you were unhappy about his performance so you cut him out," the fan told the director. The fan then asked Ayer to "clear up this BS" for concerned fans. Ayer then offered his two cents by tweeting, "That is inaccurate information. Not my words or actions."
David Ayer's response adds another layer to the story, which has been unfolding since the 2016 release of Suicide Squad. Jared Leto featured prominently in early marketing efforts for the film. But when the final cut hit theaters, the actor was allegedly disappointed by how little his infamous character was on screen. Jared Leto later revealed that several of his scenes were cut from the film. And David Ayer has also expressed frustration over the edits he had to make to the final cut of Suicide Squad.
But until now, the director hasn't clarified rumors regarding the Joker's role in the film. His response, however, doesn't fully clear up all the rumors in THR's story. David Ayer can't speak to how the actor felt when he learned Warner Bros. was moving on without him, nor whether Leto asked his team to make an appeal to the studio to stop Joker, as the story alleges. Still, it's important to note that THR did reveal a source from Jared Leto's camp refuted the claims made in their story.
Jared Leto's future within the DCEU was tenuous, even after Warner Bros. greenlit Joker. In 2018, Variety claimed there were plans for the actor to reprise the role in a standalone film. But that's the last we heard about that project. Fans wondered if we'd see Jared Leto's Joker again in James Gunn's The Suicide Squad. But though he enlisted several of David Ayer's ensemble members, he is not including the Joker in his movie. If there are plans to ever bring Jared Leto back into the fold, all parties are keeping them under wraps for now. But at the very least, fans can rest a little easier knowing that the rumors about bad blood between David Ayer and Jared Leto are unfounded.
Your Daily Blend of Entertainment News