One Thing The Downton Abbey Cast Kept Doing That Wasn't Historically Accurate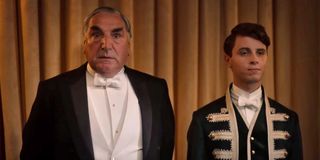 Downton Abbey is very much a fictional movie and TV series with fictional characters. However, even though a lot of fancy and imagination has been involved in the making of the popular movie and its previous TV series, the franchise is a period piece that tries to maintain period details, from the cast's clothing to transportation and even the etiquette of the time.
However, one surprising detail the Downton Abbey cast had trouble getting right over the years was a particular mannerism: touching. In fact, according to detail machine Major General Alastair Bruce, one big thing various members of the cast kept trying to do while acting was showing affection through touching one another. That was a big no-no in the 1920s, and he explained why.
Hugging, holding hands and even touching one another's shoulders are common in this day and age. Then again, we aren't suffering from as many deadly pandemics as were still common in the 1920s. In this day and age, antibiotics are widely available. Downton Abbey is only a few short years past the 1918 Spanish influenza in the timeline. Of course, there's still some kissing and I do believe I remember Carson and Mrs. Hughes holding hands, but apparently touching had to be kept at a minimum during the making of Downton Abbey's TV and movie.
In addition, characters like Cora Crawley, Lady Mary, Lady Edith and more are living in a time before penicillin and other drugs came onto the market. In short, families were much less touchy-feely at that time, and with good reason. Although there is a part of me that wonders about class stuffiness during the period, as well.
Regardless, luckily Downton Abbey had Major General Alastair Bruce on hand to talk about period details such as touching when they arose. A military man, Bruce also is involved in projects to make sure characters do things like holding weapons correctly.
Downton Abbey specifically works to get a lot of period details right. In the movie, major attention to detail is given to a royal parade scene featuring plenty of pomp and circumstance. In fact, Downton Abbey's director Michael Engler previously told CinemaBlend the most expensive part of the movie happened to be the royal parade, which involved hundreds of extras (and in extension hundreds of hotel rooms), not to mention attention to period details.
So, if you happen to be a 1920s expert, perhaps there are some details in the show and movie that aren't quite right for the period, but have no fear that the minds behind the characters are working excessively hard to get it all right, down to simple gestures.
If you'd like to see the cast of Downton Abbey (mostly) not touching, you can catch the popular film currently in theaters right now. Or see what else is coming before the end of the year with our full schedule.
Reality TV fan with a pinch of Disney fairy dust thrown in. Theme park junkie. If you've created a rom-com I've probably watched it.
Your Daily Blend of Entertainment News
Thank you for signing up to CinemaBlend. You will receive a verification email shortly.
There was a problem. Please refresh the page and try again.