The Emotional Reasons Why Tyrese Gibson Felt He Had To Be In Black And Blue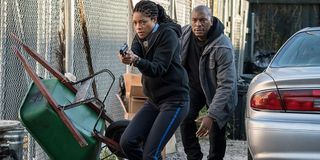 When you think of actor Tyrese Gibson, it's hard not to think of the two largest franchises credited to his career: Michael Bay's Transformers movies, and, of course, the Fast and Furious series. It's a fact that makes his casting as Mouse, the low-key and introspective character in director Deon Taylor's Black and Blue all the more surprising, as Gibson trades in bombastic action and quips for a much more subdued experience.
The difference is on display so well in the film that during my conversation with Deon Taylor and Tyrese Gibson while I attended the Black and Blue press day for CinemaBlend, I had to ask why Gibson wanted to jump into the change of pace that Taylor offered him with this film.
The answer was not a simple soundbyte, as both parties had a complex answer to just how important this film was to them. But when it came to Gibson's reasoning regarding why he wanted to make Black and Blue, it was because of the following lesson he feels the film has to impart to its audience:
Fear of the other is a subject that Black and Blue tackles with all of its humanity and narrative strength, as a good portion of the plot is centered around Naomie Harris' Alicia West hiding out from the corrupt officers she's avoiding. With evidence of their wrong doing captured on her bodycam, and both cop and criminal trying to recover it from her by any means necessary, she'll have to rely on Milo "Mouse" Jackson, Tyrese's character, who lives in a neighborhood known as Kingston Manor.
It's an area of Black and Blue's New Orleans that's so neglected that unless a police officer is in trouble, law enforcement won't respond to calls in that area. That particular plot detail not only hammers home why Deon Taylor's film basically had to set its climactic action scenes in that location, but it also touches on Tyrese Gibson's very sentiment.
As he rattled off the real life incidents that Black and Blue is inspired by, as well as some others that set the story into a more grounded context, Gibson began to get emotional in his response. It's hard not to with these heavy themes and very real examples of such injustices in the mix, but if anything it reinforced just why Tyrese Gibson had to play Mouse.
Not only was the actor looking for a switch from roles like Roman Pearce, a part we'll see Gibson reprise in the near future with Fast 9, but he was also ready to make a statement. And it was not only Deon Taylor's conviction that won him over to playing the role of Mouse, but it was also Naomie Harris' shared intent to get Black and Blue right that brought Tyrese into the mix.
While Tyrese Gibson approached Black and Blue with an attitude of doing a civic duty and enlightenment, that doesn't write this film off as a mere "message movie." The powerful statement in writer Peter A. Dowling's script is potent, for sure; and it should have moviegoers thinking as they leave the theater. But that's only part of what's meant to bring eager fans into the theaters, as there's a good dose of action entertainment that's included in the overall package.
While Black and Blue is a film with a powerfully social message, it's very much a film that operates as a claustrophobic action thriller. And to hear Tyrese speak towards that half of the equation, you can watch the video below from our recent conversation to find out:
Naomie Harris' Alicia is put through the wringer throughout this film's harrowing narrative, as we see her combat training from military service overseas come into play as she winds through Black and Blue's tense day and a half in her life. Throughout it all, Mouse is her best hope of getting out alive, and he backs her call after his own run-in with officers who turn out to be in on the conspiracy visit the convenience store he works at.
In that scene, Tyrese Gibson's character is frisked and questioned forcefully, before the cops realize he's the person who made the call they're responding to. That moment mirrors an earlier run in that Alicia has at the opening of the film, and it also plays to central point that Gibson feels is crucial to selling Black and Blue authentically:
As much as Mouse learns that he shouldn't merely ignore a police officer asking for help, Black and Blue wants to encourage those who want the world to change to start making those corrections themselves. It's very humbling to see someone like Tyrese really taking those lessons to heart, especially when such emotion is present as he tells his story.
It's one thing when a film inspires an audience, but it's a totally different level when one of the artists creating that film becomes inspired themselves. Tyrese Gibson was truly touched by the part he had to play in Black and Blue, and much like Naomie Harris' attention to detail with her character, his conviction to help bring this call for peace and understanding to the big screen is part of what ultimately works best in this film.
Black and Blue is in theaters this weekend, ready to invite its potential audience to the table. You can see it in early showings starting tonight, with the full rollout starting tomorrow. Should you want to look at the other films being offered in theaters nationwide, head over to our 2019 release schedule for more details.
Senior Movies Contributor
CinemaBlend's James Bond (expert). Also versed in Large Scale Aggressors, time travel, and Guillermo del Toro. He fights for The User.
Your Daily Blend of Entertainment News
Thank you for signing up to CinemaBlend. You will receive a verification email shortly.
There was a problem. Please refresh the page and try again.