How Robert De Niro Felt Watching His De-Aged Self In The Irishman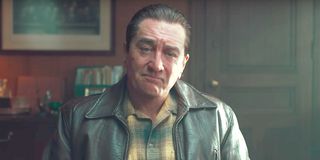 There's a lot that's buzzworthy about The Irishman. The film is Martin Scorsese's second foray into Netflix's massive streaming platform. It's the first collaboration that brings together the esteemed director and longtime friends Al Pacino and Robert De Niro. And there's the fact that the film uses CGI technology to de-age the actors. Even the often guarded Robert De Niro had something to say about the special effects.
The 76-year-old actor opened up about his experience making The Irishman when he walked the red carpet for the film's premiere. When ET asked what he thought about watching himself through the de-aging technology in the film, he chuckled before giving his honest answer:
Of course, The Irishman is not the first film to use de-aging computer graphics. It's been used, to varying degrees of effectiveness, in everything from Gemini Man and The Curious Case of Benjamin Button to franchises like Terminator and the MCU (of which Scorsese is admittedly not a fan). This time around, Netflix seemingly spared no expense to make sure that the effects looked as convincing as possible. For his part, Robert De Niro hasn't been shy about the fact that he's a little bit skeptical of special effects. He previously admitted that he thinks technology can take things too far in cinema, and could make films more "cartoony." However, it's clear that the actor was willing to take a risk this time to help an old friend realize his vision.
The Irishman -- which follows De Niro's Frank Sheeran into the world of Jimmy Hoffa's Teamsters -- was in development for roughly 15 years. Martin Scorsese always envisioned his ensemble of actors portraying their characters through the multiple decades it would take to tell their story. Though production delays had more to do with scheduling than anything else, it was lucky that he had to wait as long as he did -- because in the meantime, de-aging technology was able to advance to a point where everyone was satisfied. And that seems to be the case.
When ET brought up the idea of a real actor playing a younger version of his character, asking Robert De Niro if he knew which star he'd pick, De Niro hesitated before saying:
Given the film's rave reviews, it's not a surprise that Robert De Niro seems to have few regrets. The Irishman opens for a limited cinematic release on November 1, and hits Netflix on November 27.
Your Daily Blend of Entertainment News