Robert De Niro Thinks Technology Like De-Aging Could Make Movies 'Cartoony' Like Marvel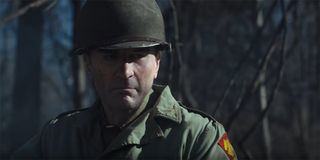 One of the big talking points around Martin Scorsese's The Irishman has been the film's use of advanced (and expensive) de-aging technology to allow its principal actors to play characters in multiple stages of their lives. It's a technology that allowed Martin Scorsese to tell the story the way he wanted to with the actors he wanted to use. But for star Robert De Niro, advances in film technology like de-aging could make movies 'cartoony,' like Marvel, as he explained:
As reported by Screen Daily, Robert De Niro was speaking at a BFI London Film Festival Screen Talk session when a fan asked the actor about technological advances in film. The fan was specifically curious about if and how the de-aging changed the way Robert De Niro and his fellow cast mates approached their performances or their acting styles.
Robert De Niro's view seems to be that technological advancements like de-aging are tools and aids for a film, and although they change some things, they don't ultimately alter how an actor performs. However, if the technology advances to such a point or is used in such a way that the human element of acting is minimized, negated or removed, then it becomes something else; something cartoony, like a Marvel movie.
The word 'cartoony' often carries a negative connotation when it comes to film, but that doesn't sound like that's exactly what Robert De Niro is intending here. My interpretation is that he is saying that when moviemaking technology, like de-aging, gets to the point that the performance no longer has that quintessential humanity, it is basically a cartoon. He likens such a quality to comic strips, comic books and Marvel movies.
It doesn't seem quite like a slight, just that the use of advanced technology in such an overt way is more cartoony, and thus denotes a different kind of entertainment. He doesn't explicitly make a value judgment of one versus the other, he seems to just be delineating between when technology is used to aid in a performance in something like The Irishman versus when the technology makes up a larger portion of the performance, as it does in certain parts of Marvel movies.
Like when Spider-Man is swinging around in Spider-Man: Far From Home, Tom Holland isn't actually wearing a mo-cap suit and using his web shooters inside a soundstage in front of a green screen. What you're seeing onscreen is essentially a cartoon, and in that way, Robert De Niro's point is well taken. It's an interesting take because he is coming at in from an actor's perspective and how he views a performance.
Performance capture performances like Josh Brolin's Thanos or Mark Ruffalo's Hulk are obviously a bit different, and we don't know where Robert De Niro draws the line between forms of entertainment for something like that and his part in The Irishman. And, of course, you could also argue that due to the uncanny valley, some de-aging looks even more cartoony than an entirely CGI character.
The Irishman director Martin Scorsese has been raising the ire of comic book movie fans with his recent comments about Marvel movies, but Robert De Niro did not explicitly weigh in here on whether or not he believes that they qualify as real cinema. He does, however, seem to believe that the kind of advanced technology in both The Irishman and Marvel movies is limited.
The Irishman opens in limited theatrical release on November 1 and drops on Netflix on November 27. For everything headed to theaters the rest of this year, check out our 2019 Release Schedule.
Your Daily Blend of Entertainment News
Nick grew up in Maryland has degrees in Film Studies and Communications. His life goal is to walk the earth, meet people and get into adventures. He's also still looking for The Adventures of Pete and Pete season 3 on DVD if anyone has a lead.