Recasting The Original Star Wars Movies With Current Day Actors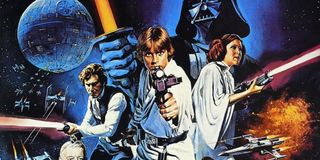 CinemaBlend participates in affiliate programs with various companies. We may earn a commission when you click on or make purchases via links.
Oftentimes, one of the key factors that come with a great movie is excellent casting. There's a reason why Robert Altman said in 1977, "When casting's done, 90 percent of my creative work is done." For as much as editing, directing, producing, lighting, and a number of other factors play a hand in making a movie work, it's typically because the right people were cast in the right part that a film truly sings. Indeed, one of the main reasons why Star Wars is such an iconic franchise and has remained a cultural phenomenon is because George Lucas and his team cast the film almost flawlessly, though the story, the themes, the futuristic settings, the special effects and everything else obviously contributed to the success as well.
But what if the original Star Wars movie were made today? Obviously, that's not hard to imagine. We have even more Star Wars movies, shows, products and copious merchandise than ever before thanks to Disney's acquisition of Lucasfilm. But if you'll indulge us for a minute, who would play these memorable, beloved roles from a galaxy far, far away nowadays in a re-telling? Who might be cast in the parts that cemented Harrison Ford, Mark Hamill and the late, great Carrie Fisher into pop culture history? Who might play the parts that all we know so well?
With that in mind, let's speculate who might've been cast in the very first Star Wars movie, A New Hope, if they were made today.
Tom Holland As Luke Skywalker
Though he became a lot more mature and grounded in the recent films, Mark Hamill's winning performance as Luke Skywalker was the right mix of sincerity and innocence. He was the ingenu through which we could see this mystique fantasy space world personified through a warm lens, a young man with dream-filled eyes and a burning desire to see the galaxy beyond his humble quarters. The replacement actor would need to have a similar sense of sweet, earnest integrity, and such doe-eyed innocence can be seen through Tom Holland's likable Peter Parker/Spider-Man.
His guileless heroics, matched only by his boyish charms, make him a natural fit for Luke Skywalker. Tom Holland's demonstrated a charming emotional agility which would pay off handsomely in here, while also showing an introspective intelligence representing the depths of his persona. Trade Uncle Ben for Uncle Owen, and you're set. Plus, Peter Parker has already been to space, so it's not a big leap.
Runners-Up: Logan Lerman, Zac Efron, Daniel Radcliffe
Saoirse Ronan As Princess Leia
Known for her sharp wit, daring personality and fierce attitude, it's no wonder that Princess Leia Organa became one of the most beloved feminist icons in pop culture history. The character is determined and strong-willed, and she's always quick with a retort and to stand up to anyone who tries to belittle her. The star working today who can capture that same spark, filled with smart and resolve, is Saoirse Ronan. The exceptional young talent has proven herself in multiple roles that are layered and dynamic, showing her piercing wit with a fine sense of dramatic vulnerability. She would be a wonderful fit for Princess Leia. There's no doubt that the bright and talented actress knows what she's doing.
Runners-Up: Shailene Woodley, Billie Lourd, Zendaya, Anya Taylor-Joy, Elle Fanning
Richard Madden As Han Solo
Celebrated for his rogue charm and charismatic stride, Han Solo is a bad boy with a heart of gold (and a quick trigger finger). It's the role that turned Harrison Ford into one of the biggest movie stars on the planet, and for good reason. The character oozes captivating mystique and appeal. He certainly toes the line between good and bad, but ultimately follows his conscious and tries to do the right thing, even when it might cost him everything.
It's safe to say this part would be the hardest to recast by modern standards. It's hard to imagine anyone besides Harrison Ford in the role, even when we had Alden Ehrenreich in the role a year prior! Nevertheless, when it comes to capturing Ford's radiant on-screen presence, one actor who comes to mind is Richard Madden. He can play dashing and dangerous in equal measure, and he would have what it takes to play the scoundrel.
Runners-Up: Joe Keery, Ryan Gosling
Laurence Fishburne As Obi-Wan Kenobi
As the gentle, guiding mentor who serves as the father figure for Luke Skywalker to realize his known destiny, Obi-Wan Kenobi plays a pivotal role in the ongoing legacy of Star Wars. Once played by thespian Alec Guinness, Obi-Wan Kenobi is a thoughtful, looming presence throughout the series. You need a wise sage to play the part justly. Sure enough, Laurence Fishburne is a well-accredited actor who has excelled at playing roles where he guides the protagonist into their appointed prophecy. Notably, The Matrix showed he could provide the guiding force needed to make this series work.
Runners-Up: Bryan Cranston, Russell Crowe
Simon Pegg As C-3PO
As the prissy robot who often serves as the bumbling comedic relief in the original trilogy, C-3PO is the clumsy and fearful, but persistent droid who was one of the first characters we saw in this fantastic universe — and ultimately one of the most iconic and recognizable in its still-growing legacy. Anthony Daniels certainly made the role his own, and his voice talents matched with his mime capabilities allowed the character to come alive. When it comes to candidates for taking over the part, Simon Pegg is a well proven comedic talent who has the wide voice range and firm, as well as fine persistence to prove himself to be a noble fit for the supporting part. No need to reconsider.
Runners-Up: Tom Kenny, Hank Azaria, Bill Hader
Morgan Freeman As Darth Vader
An imposing and intimidating dark ruler, Darth Vader is one of the most instantly recognizable villains in cinematic history. A lot of that comes down to the signature look and smooth voice provided by James Earl Jones. The actor's pipes are among the best in history, and it's hard to find someone who can fit in those lofty shoes. With that, we can only turn to one of the other most famous voices in cinematic history: Morgan Freeman. While James Earl Jones is still alive and could theoretically still provide his voice to the part, much like he did with The Lion King (2019) earlier this summer, getting another actor involved would be a little easier. Therefore, when you need someone with a striking baritone voice, you turn to Morgan Freeman.
Runners-Up: Ralph Ineson, Ving Rhames, Tobin Bell
Khary Payton As Lando Calrissian
As one of the smoothest, coolest players in the galaxy, Lando Calrissian is an immensely charismatic character who developed a sizable fanbase upon being introduced in The Empire Strikes Back. Thankfully, Billy Dee Williams will be reprising the role in Star Wars: The Rise of Skywalker later this year, but when it comes to the possibility of casting someone else in this part, it's worth mentioning a slight out-of-the-box choice. Specifically, Khary Payton from The Walking Dead. The actor has the smile, the charm and the mustache-growing capabilities to pull off the part. While it's hard not to say Donald Glover, since he played the part quite well in Solo: A Star Wars Story, it's easy to see Payton providing the goods in the role.
Runners-Up: Michael B. Jordan, Chadwick Boseman, Michael Ealy
Naturally, it is a bit of a losing battle to try to figure out who could play the part by modern standards. It's a difficult endeavor doing the mental gymnastics of trying to figure out whether or not any of these actors would be who they are today if it were not for the impact of Star Wars' success, and in turn speculating on whether there would be any major butterfly effect-esque changes to their careers should Star Wars not be what we know Star Wars to be today. It is hard to know if the movie and, subsequently, the characters we love today, would be anywhere near what we know if it weren't for the brilliant ensemble.
In any case, this is simply a fun way to imagine what the cast of Star Wars might be like if it were made today. And you most certainly have your own thoughts on who should and shouldn't be in these iconic roles. If you have your own personal picks, be sure to sound them off in the comments below and explain why you landed on them.
We're Partnering With Disney To Offer Free Disney+ Trials
You can return to a galaxy far, far away when Star Wars: The Rise of Skywalker opens in theaters on December 20, or do so even earlier when The Mandalorian premieres on Disney+ November 12. Stay tuned to CinemaBlend for all the latest news on what the Star Wars franchise has in store. Don't forget you can also plan our your trips to the theater for the near future with our 2019 release schedule and 2020 release schedule.
Will is an entertainment writer based in Pittsburgh, PA. His writing can also be found in The Playlist, Cut Print Film, We Got This Covered, The Young Folks, Slate and other outlets. He also co-hosts the weekly film/TV podcast Cinemaholics with Jon Negroni and he likes to think he's a professional Garfield enthusiast.
Your Daily Blend of Entertainment News
Thank you for signing up to CinemaBlend. You will receive a verification email shortly.
There was a problem. Please refresh the page and try again.