9 Big Holiday Movies Hitting Theaters Around Thanksgiving And Christmas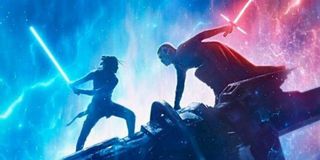 The holidays are almost here, which means that there's going to be a lot of big holiday movies hitting theaters looking to bring whole big crowds in from the cold. Not only are studios going to be putting out their biggest and brightest awards contenders, but they'll also be releasing those blockbuster movies that they expect families, kids on break from school, and those home from college will all be able to enjoy.
To that effect, there's nine specifically awesome options that provide something for everybody. We've got musicals, biopics, tentpole blockbusters, and kids' movies, with a mystery-comedy to round off that bunch of genres all on display for your holiday moviegoing needs. Break out your calendars, and prepare to make room for the following films being released between Thanksgiving and Christmas!
Thanksgiving
A Beautiful Day In The Neighborhood
It's pretty wonderful that the Mister Rodgers-inspired film A Beautiful Day In The Neighborhood would find itself released in the vicinity of the Thanksgiving holiday. Starring Tom Hanks as the world's favorite neighbor, director Marielle Heller's film feels like a perfect offering at a time of the year where folks are most thankful. Not to mention, seeing this one with your family could bring back only the best memories of both Tom Hanks movies and Mister Rogers Neighborhood.
Release Date: 11/22/19
Frozen II
Disney and Thanksgiving are a traditional pairing that have worked well for quite some time now. The latest example of that fruitful relationship is none other than the long-awaited sequel, Frozen II. Much like its legendary predecessor, a late November drop gives its studio a chance to give the return of Elsa, Anna, Kristoph, and Olaf a pretty wide margin when it comes to box office success. Kids have been waiting for this one for some time, and you can bet that their parents will be flocking to flood the theaters not only on opening weekend, but also on the subsequent weeks that follow.
Release Date: 11/22/19
Knives Out
Writer/director Rian Johnson's "whodunnit like nobody's dunnit" Knives Out might be the perfect film for the Thanksgiving holiday, as it almost functions like a dramatized argument at the dinner table. Of course, this approach is layered with a murder mystery that twists and turns in such a manner that even if you figure the film out on your own, you'll still be surprised how certain aspects tie things together. If your kids have aged out of Frozen II, or you can get someone you trust to take the kids to their big ticket holiday movie, you can allow yourself to enjoy this hilariously twisted mystery as a true holiday treat.
Release Date: 11/27/19
Between The Holidays
Playmobil: The Movie
It's surprising that there's only roughly three movies specifically aimed at young kids coming out in the final weeks of this year. While Frozen II is a Thanksgiving release, Playmobil: The Movie is a perfect option to help keep kids occupied when they've finally let Elsa and her friends go, as it's dropping two weeks after that film makes its debut. In an adventure that sees people zapped into the world of the famous LEGO-adjacent brand of building blocks, this feels like something aimed at those who want another dose of something similar to The LEGO Movie 2: The Second Part, right down to Daniel Radcliffe's secret agent character feeling like a more suave Emmett. So if your kids want some more playtime, this is definitely a movie you're going to want to keep in mind.
Release Date: 12/6/19
Jumanji: The Next Level
Jumanji: The Next Level takes the fun and the characters of Jumanji: Welcome To The Jungle and takes them… exactly where the title suggests. Dwayne Johnson, Kevin Hart, Jack Black, and Karen Gillan are back as the video game avatars to the younger cast members in control of part of their ranks. Though with new cast members like Danny DeVito and Danny Glover taking over the roles played by Johnson and Hart, respectively, there's new comedy blood in this four quadrant thrill ride, and it looks to be an absolutely hysterical choice.
Release Date: 12/13/19
Black Christmas
Horror movies released during the holidays are a bit of a rarity, or at least they seem to be in any widely released context. Leave it to the folks at Blumhouse Productions to not only take a chance on stealthily remaking Black Christmas for a new generation, but also doing so in a way that seems to reinvent the classic plot so that a modern audience can dig into it much easier. While the trailer is supposedly so spoilerific some OG fans are warning against watching it, that just feels like all the more reason to take a chance on big horror and see this one in the theaters.
Release Date: 12/13/19
Christmas
Cats
Some see Cats as a nightmare, while others see it as a potentially hysterical nightmare. Putting the internet snark and reaction aside, big ticket musicals love a holiday release around Christmas. Not only are those who are familiar with the show more likely to go see this one, but families just might make an outing of director Tom Hooper's latest cinematic musical. That is, if they aren't already at the movies for another film that dares to open its doors on the same day.
Release Date: 12/20/19
Star Wars: The Rise Of Skywalker
Star Wars is a perfect example of a mass appeal, family friendly franchise that corners the market on holiday release dates. With the final entry in the Skywalker Saga approaching, fans of all stripes are going to line up to see Star Wars: The Rise of Skywalker close out the famed series' main plotline in grand fashion. Though the future of the franchise is in question, especially when it's still slotted in its usual holiday release window for quite some time in the future to come, this just might be the cinematic event of the year.
Release Date: 12/20/19
Spies In Disguise
There are some kids that won't be into Cats, and might not see the appeal to Star Wars: The Rise of Skywalker. As such, something's gotta give for those folks in the audience, doesn't it? Well, Disney/Fox provides again, as the Will Smith/Tom Holland animated comedy Spies In Disguise will be debuting for those who have children that aren't feeling either of those previous movies. With Smith playing a debonair spy accidentally turned into a pigeon, and Holland acting as the geeky scientist who needs to change him back, this is exactly the sort of movie that young kids eat up around this time of year.
Release Date: 12/25/19
While these films and their release dates are pretty set at this point, it's always a good idea to consider these movies subject to change. You never know when the next release date delay will come around, and you don't want to be left in the cold. But provided all goes according to plan, there's a lot to be seen out there throughout 2019's holiday season.
Even better, if you're trying to see what's on the horizon outside of that particular margin, take a look at our 2019 release schedule, to see what the rest of the year will be bringing in the coming weeks.
Your Daily Blend of Entertainment News
Senior Movies Contributor
CinemaBlend's James Bond (expert). Also versed in Large Scale Aggressors, time travel, and Guillermo del Toro. He fights for The User.