Why Maggie Smith Keeps Coming Back To Downton Abbey, According To Elizabeth McGovern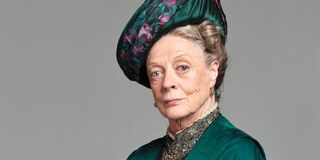 It's a known fact Maggie Smith has been a little reticent to return to Downton Abbey over the years. Yet, Smith keeps coming back to Downton and her co-star Elizabeth McGovern thinks she knows why.
According to Elizabeth McGovern, Maggie Smith always comes back because she likes to work and not working means she's "bored." According to the actress,
While she hasn't sat down and had a heart-to-heart with the veteran actress about why she keeps returning to the period drama, it's a known fact Maggie Smith has had to be convinced to return to Downton Abbey year after year. In fact, apparently, from what Elizabeth McGovern told Pop Culture, she likes to toy with the idea of quitting, but ultimately would rather be dressing up in period costumes than doing nothing.
To give you some idea of Maggie Smith's reticence, when news the show would finally be ending cropped up, she cracked some jokes about how her character Violet, The Dowager Countess, would be far too old at this point for the series to run on any longer. (Surprise, we got a movie after this!) Another time, she suggested that perhaps a movie could start with her character's funeral.
Ultimately, when fans finally saw the movie in theaters, Julian Fellowes and co. did potentially give Maggie Smith an "out" moving forward. Her character in the movie – and yes, we're getting into spoilers – took a mysterious trip to London, during which a doctor revealed to her she does not have much time to live. She shared the news with Lady Mary later in the movie in a revealing heart-to-heart conversation.
Still, given Maggie Smith has hemmed and hawed before ultimately returning in the past, her other co-star Lesley Nicol has given 50/50 odds that the martriarch of the Crowley clan may return for one more on-screen appearance. She also mentioned it does ultimately depend on what Julian Fellowes might write in a sequel. There's always the possibility of a "misdiagnoses" as well.
Since the likelihood of a sequel has grown as Downton Abbey's theatrical box office has grown, there's a very good chance we could be looking at another movie coming up. In fact, those involved with the first movie are currently moving forward as if a sequel has already been greenlighted.
I still think Downton Abbey could definitely get away with a Violet Crawley prequel – aka a movie featuring the popular character in her youth and featuring her famous romantic past that would not need to involve Maggie Smith. Yet, Smith is certainly one of the more delightful components of the series, so I see why she is in demand.
Even if she has one foot out the door every single time she's asked. We'll keep you apprised of any Downton Abbey details that do come down the pipeline in the coming weeks.
Reality TV fan with a pinch of Disney fairy dust thrown in. Theme park junkie. If you've created a rom-com I've probably watched it.
Your Daily Blend of Entertainment News
Thank you for signing up to CinemaBlend. You will receive a verification email shortly.
There was a problem. Please refresh the page and try again.