When A Downton Abbey Movie Sequel Might Start Filming, Per The Producer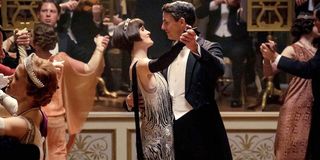 Downton Abbey fans waited for years for the ITV series to get its day on the big screen. And now that it's proven its might at the box office, fans can't help but wonder when they'll get a chance to see another installment. While nothing seems to be concrete yet, one of the film's producers has dropped some hints about when filming for a sequel might start.
Gareth Neame served as executive producer for Downton Abbey during its six season run. And during a recent discussion of the origins and success behind the franchise, he made it clear that while they are still in the early planning stages, the team behind the series is ready to take the next step. He told Forbes:
That might seem discouraging to Downton Abbey superfans. But given that creator Julian Fellowes never even thought it would be made, and that it took almost four years for the first film to hit theaters, it's actually a pretty encouraging timeline. In the meantime, fans can keep busy trying to figure out what drama the Crawleys and their crew could get up to next.
And there are plenty of loose ends and juicy storylines for the Downton team to delve into. We haven't seen the fallout of the Dowager Countess' revelations about her health -- and what it might mean for the Crawleys' future. Tom and Lucy's burgeoning love story is still unfolding. Elizabeth McGovern, who plays matriarch Cora, has hinted that she thinks there's more to explore where her relationships with her daughters are concerned. And in the film's closing moments, the Carsons hinted that there are at least a hundred more years of stories to tell about the estate and its inhabitants.
Even though the cast is still reeling from the series' unexpected, and long-lasting, popularity, many of them seem keen to continue telling their characters' stories. Though the Downton Abbey team will likely face challenges in reassembling the series' large ensemble once again, there are ways for the story to continue no matter who is, or is not, available. Because there are so many characters, with such rich histories, any number of Downton spin-offs or prequels could delight fans just as much as the most recent installment.
Your Daily Blend of Entertainment News