How Having Prior Stephen King Adaptation Experience Helped Doctor Sleep's Director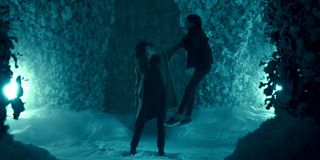 In taking on the job of adapting Stephen King's Doctor Sleep, writer/director Mike Flanagan committed to an impressively daunting task. After all, not only is the movie a sequel to what is widely regarded as one of the greatest horror films of all time, Stanley Kubrick's The Shining, but the project came to him fully loaded with a crazy amount of baggage courtesy of King's well-publicized hate of the beloved classic.
Because of this, you might wonder why any filmmaker would want to expose themselves to that kind of pressure – but Mike Flanagan had a particular advantage going into the production: he had taken on the challenge of adapting the work of Stephen King before. The writer/director had tremendous success making a movie version of the author's 1992 novel Gerald's Game back in 2007, and as I learned during a recent interview, that gave him an important confidence boost while tackling Doctor Sleep.
Last month I traveled to Estes Park, Colorado for a special press event at The Stanley – the hotel where Stephen King originally found inspiration to write The Shining – and during a one-on-one sit down with Mike Flanagan one topic we discussed was the influence of his experience making Gerald's Game. He started by explaining that a significant part of the formula is that it created a kind of trust between the filmmaker and the author, which proved to be an important foundation in the pursuit of making Doctor Sleep:
Continuing, he added that much like his sequel to The Shining, turning Gerald's Game into a movie was not exactly an easy task. However, having had gone through the making of that film helped him deal with the natural anxiety that comes from being a Stephen King fan trying to translate his work into a different medium.
Not personally being a film director, I can't say this with absolute authority, but I do get the general impression that time spent doing basically anything is made a lot more pleasurable and relaxed when anxiety-induced nausea isn't part of the equation.
Knowing that he had the capacity to make a well-received Stephen King adaptation was a big back pocket experience for Mike Flanagan, but there was also the other side of the coin to acknowledge: that he was far from the only director to ever try and take on such a project. Including Doctor Sleep, there have now been 46 feature films based on King's stories – not to mention 12 miniseries, seven television movies, and seven television shows.
Having seen all of those adaptations made, Stephen King has developed a "hands off" philosophy once a project really gets moving, but as Mike Flanagan explained, that wasn't necessarily something that helped him from a psychological perspective:
Understanding Stephen King's approach, Mike Flanagan still felt the need to get approvals for the alterations he wanted to execute in the making of Doctor Sleep… but that's where the aforementioned baggage was a considerable issue. According to Flanagan, King initially bridled at the idea of the adaptation featuring a direct link to Stanley Kubrick's film – which sense when you consider that parts of the source material novel were written to further highlight the deviations between King's The Shining and Kubrick's.
That didn't exactly create the most welcoming atmosphere when it came to proposing some of the significant changes that Flanagan wanted to make in his script. Said Flanagan,
To go into any further detail about that point would obviously involve serious spoilers, so you'll just have to wait until Doctor Sleep is released later this week and we post my spoiler-filled conversation with Mike Flanagan about the film.
As heavy as the entire experience was, the writer/director was left comfortable knowing that the work he was doing would ultimately stand on its own in addition to being a part of a larger legacy. The side benefit is that it acts as a fascinating pop culture mediator in a Hollywood conflict that has been swirling for 39 years, but the book is always going to be the book, while the film is the film:
You can watch my interview with Mike Flanagan and our discussion of his experience adapting the works of Stephen King by clicking play on the video below:
Written, directed, and edited by Mike Flanagan, Doctor Sleep is a continuation of the story first begun by Stanley Kubrick's The Shining, and catches up with Dan Torrance (Ewan McGregor) as an adult. He has spent years trying to suppress both the memories of his horrific childhood and his special telepathic/psychic abilities – regularly turning to the bottle to do so – and it turns him into an alcoholic mess. When he finally begins getting his life together, he starts makes contact with another person who shines, a young girl named Abra (Kyliegh Curran), but simultaneously discovers that she is in danger because of a group of monsters that feed on their powers.
Also starring Rebecca Ferguson, Cliff Curtis, Bruce Greenwood, and Zahn McClarnon, Doctor Sleep arrives in theaters everywhere this Friday – and be sure to stay tuned here on CinemaBlend for a lot more coverage from my interviews with the director and cast!
Assistant Managing Editor
NJ native who calls LA home and lives in a Dreamatorium. A decade-plus CinemaBlend veteran who is endlessly enthusiastic about the career he's dreamt of since seventh grade.
Your Daily Blend of Entertainment News
Thank you for signing up to CinemaBlend. You will receive a verification email shortly.
There was a problem. Please refresh the page and try again.