Doctor Sleep: An Updated Cast List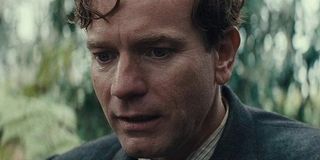 The Shining sequel Doctor Sleep has wrapped production and it won't be long until the world gets to see the next chapter of a story that's been lauded with high acclaim over the years. The legacy of Stephen King's novel and its adaptation by Stanley Kubrick will ensure many eyes are on Doctor Sleep when it hits theaters.
Though audiences today seem to love a Stephen King adaptation, it's understandable if Doctor Sleep's development got lost among the sea of various projects currently in the works in Hollywood. For those who don't know, this movie has a cast to be excited about, so hop on down below and see who all is involved, and what roles they'll be playing in this latest adaptation. First up here's Danny!
Ewan McGregor As Danny Torrance
Iconic actor Ewan McGregor is stepping into the shoes of Danny Torrance decades after the events in The Shining. Danny is now Dan, and while he's survived his childhood, he's inherited some of his father's worst traits in adulthood. Dan eventually conquers his demons, and uses his regained psychic abilities to comfort patients. This earned him the nickname of "Doctor Sleep," and eventually intertwines his fate with that of a girl with powers similar to his.
Rebecca Ferguson As Rose The Hat
Mission: Impossible Fallout and The Girl On The Train actress Rebecca Ferguson is back in Doctor Sleep, and playing a very important role opposite of McGregor's Dan. Rose The Hat is the leader of a group called The True Knot, which is comprised of a group of individuals with unique abilities. Without getting too deep into spoilers, this group is bad news and will cause some problems for Danny boy in the movie.
Kyliegh Curran As Abra Stone
Kyliegh Curran is a relative newcomer to Hollywood set to take on a key role in Doctor Sleep. Curran plays Abra Stone, a young girl who psychically links with Dan and, unfortunately, becomes aware of The True Knot. With the group setting her in its crosshairs, Dan will do all he can in order to protect the girl? Will he succeed? Remember this is a Stephen King work, so the safety of children is never guaranteed.
Bruce Greenwood As Dr. John Dalton
Not long after he played a key supporting role in the Stephen King adaptation of Gerald's Game, Bruce Greenwood is again a part of the author's film universe in Doctor Sleep. Greenwood portrays Dr. John Dalton, one of the people in the novel to whom Dan first reveals his connection with Abra. The quiet intensity Greenwood can bring to roles is great for King works in general, so he should be an excellent addition to the cast.
Zahn McClarnon As Crow Daddy
Zahn McClarnon was a great enforcer in FX's Fargo, so it's no surprise he's found his way into Doctor Sleep as another dangerous man to look out for. McClarnon plays Crow Daddy, right hand man to Rose The Hand and lover in the novels. Given this work is supposed to be a faithful novel adaptation, there's no reason to believe that will change.
Emily Alyn Lind As Snakebite Andi
If that character name wasn't any indication, Emily Alyn Lind's Snakebite Andi is a member of the The True Knot who will cause some problems for Dan and Abra. Like them and other members of The True Knot, she has a unique ability she can use on others to lull them to sleep. With an ability like that, are we sure Danny is the one who should have that nickname?
Carl Lumbly As Dick Halloran
Prolific film and television actor Carl Lumbly is a part of Doctor Sleep, and will step into the shoes of another character that was around during The Shining. For those who don't recognize the name Dick Halloran, he was the Overlook's chef who also had abilities. Dick has actually appeared as a character in quite a few Stephen King works over the years, so it's possible other nods to King works could happen via him.
Alex Essoe As Wendy Torrance
Alex Essoe will play the role of Wendy Torrance, a role made iconic by Shelley Duvall. The actress is involved in Doctor Sleep's moments in the past, so she'll probably be seen with Dick Halloran. I'm assuming she'll be in scenes with a young Danny Torrance as well. Essoe bears a resemblance to Duvall, and I'd personally love to see one or two of The Shining's iconic scenes recreated in a dream or something just to compare the two performances.
Jocelin Donahue
Jocelin Donahue is no stranger to horror films, and has been in features such as Insidious: Chapter 2, The House of The Devil and others. Donahue's role has not been officially announced, although there are some sites out there listing her role as the mother of Abra, Lucy. Provided that's legitimate, that's a big character who will help bridge the gap between the original film and the sequel.
Jacob Tremblay
One of Hollywood's most in-demand and talented child actors is involved in Doctor Sleep, and will be playing a mystery role. Many have speculated Tremblay will play a young Danny Torrance, which wouldn't be surprising considering that's who 90% of Americans would cast in the role if we were fantasy casting for a reboot of The Shining. If Tremblay does end up playing Danny, let's hope he does at least one finger wag and "redrum" for nostalgia's sake.
*Zackary Momoh *
Seven Seconds (opens in new tab) standout Zackary Momoh has been added to Doctor Sleep in a role that has yet to be revealed. With his role undefined, there's really no clear guess as to who he may be playing. Whoever he's playing, expect an emotional performance and this role to potentially be the start of a much larger career in Hollywood.
*Carel Struycken *
Famous character actor Carel Struycken is a part of Doctor Sleep, with some outlets alleging he'll play the role of Grandpa Flick. In Doctor Sleep, Flick gets his nickname for being the oldest member of The True Knot. His presence more or less is the catalyst for the The True Knot to spring into action, although his role is ultimately not that large.
As mentioned, Doctor Sleep has wrapped production, and is expected in theaters November 8. For more on the film, be sure to read up on Ewan McGregor's thoughts on the project, and the one person he's hoping is pleased with he and the cast's effort.
Your Daily Blend of Entertainment News
Mick likes good television, but also reality television. He grew up on Star Wars, DC, Marvel, and pro wrestling and loves to discuss and dissect most of it. He's been writing online for over a decade and never dreamed he'd be in the position he is today.