Holy Cash Cow, Batman: Joker Is Now The Most Profitable Comic Book Movie Of All Time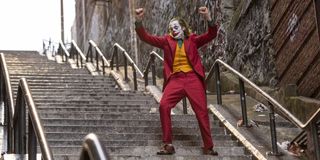 For a while, it seemed like Avengers: Endgame and the MCU were poised to completely dominate the cinematic landscape this year -- at least as far as comic franchises were concerned. That changed this October, when Joaquin Phoenix's Clown Prince of Crime danced down those now-iconic stairs, and demanded a place in box office history. Now, Joker isn't just one of the most successful films of the year — it's the most profitable comic book film of all time.
It was previously reported that Joker was on track to match Avengers: Infinity War's overall profit. And Forbes confirmed that as of Friday, November 8, Joker will have grossed more than a $304.2 million in North America, and a staggering $957 million worldwide. Against a $62.5 million budget, that gives the Batman villain's origin story an edge over films like The Mask, Venom, Aquaman, and even the Joker's nemesis Batman. And the film hasn't even finished its theatrical run.
Joker has been racking up records since its debut, posting the biggest opening weekend for a film in October, and quickly surpassing Deadpool to become the highest grossing R-rated film of all time. They're staggering accomplishments for any film, but especially one with subject matter that doesn't necessarily have family-friendly appeal. Before it hit theaters, Joker stirred controversy and debate due to its dark tone and unflinching violence. It's divided critics and audiences, who either view it as an unnecessarily dark contribution to the DC canon, or an important film that elevates the entire comic book genre.
Both Joaquin Phoenix and the film's director, Todd Phillips, have defended the film against its detractors. Phillips has credited the film's loyal fans for helping propel it to box office glory. And whether you love the film or hate it, there's no denying that it has become a true pop culture sensation.
There are a few more milestones that Joker could hit. It seems increasingly likely that the film will cross the $1 billion threshold. And despite mixed critical reception, Joaquin Phoenix is poised to potentially earn an Oscar nomination for his captivating performance — which would put the film in rare company with films like The Dark Knight and Black Panther as far as accolades are concerned.
It's unlikely, but not entirely out of the question, that DC will try to further capitalize on Joker's incredible success with subsequent films. The film's star and director have (somewhat jokingly) bandied about the idea of a sequel. And outside of Todd Phillips' vision of Gotham, the villain's potential appearances in The Batman and Suicide Squad franchises are still somewhat up in the air. But it's clear that there's still a long way to go before the Joker has his final say.
Your Daily Blend of Entertainment News
Your Daily Blend of Entertainment News
Thank you for signing up to CinemaBlend. You will receive a verification email shortly.
There was a problem. Please refresh the page and try again.