Joaquin Phoenix Made A Wonderfully Creative Argument For A Joker Sequel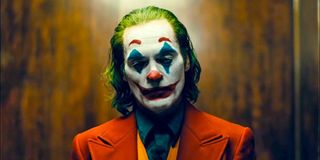 With the global success of Joker, it's only natural to wonder what's next for the character -- and if there's any chance we'd ever see Joaquin Phoenix put on his signature clown paint again. It's hard to imagine how the film's director, Todd Phillips, could pick up from the film's haunting ending and continue the story. But that didn't the film's star from devising a creative way to try to convince him to make a sequel.
Joaquin Phoenix has been one of Joker's staunchest defenders. And it seems that he's always been game to revisit the role. He told the Los Angeles Times:
If it was a joke, it was an elaborate one. During production on Joker, Joaquin Phoenix would leave little hints to Todd Phillips about what the future could have in store for his character.
Joaquin Phoenix's on-set antics may have been enough to get Todd Phillips to seriously consider continuing the Joker's story. Phillips told The Los Angeles Times he definitely remembered the Yentl poster, and one for Forrest Gump, and another for his own previous movie The Hangover. He continued on the topic if a potential sequel:
The director isn't sure it's possible to recreate the unique set of circumstances that made Joker so successful. But he has given it some thought:
In the meantime, fans of the film can still revel in its ongoing success. Joker is now the highest-grossing R-rated film of all time and it's reaching another box office milestone this weekend.
Your Daily Blend of Entertainment News
Thank you for signing up to CinemaBlend. You will receive a verification email shortly.
There was a problem. Please refresh the page and try again.