The Greatest Showman: Every Song From The Soundtrack, Ranked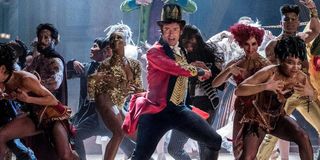 On December 8, 2017, 20th Century Fox released The Greatest Showman -- one of the most successful movie musicals of all time. It is also one of the greatest cult film successes, proving that word of mouth matters in the movie industry. Not only did the movie become the fifth highest-grossing live action musical of all time, but it also grossed over $400 million worldwide. The Greatest Showman soundtrack songs have been even more successful.
The Greatest Showman soundtrack reached number one in the U.K., Japan, U.S., Australia, and other billboard charts. It also sold over 5.3 million copies worldwide, and even inspired additional albums like The Greatest Showman: Reimagined that features some of today's biggest pop artist like Pink!, Kelly Clarkson, James Arthur, and Panic! At The Disco. It is easy to find yourself humming along to many of The Greatest Showman songs, because they are just that catchy. You can also often find them being sung by contestants on reality singing competitions like American Idol, X Factor, and The Voice.
These songs have become a major part of the pop culture lexicon, but which are really the greatest songs on The Greatest Showman soundtrack? Let's take a look at all the songs that have permeated pop culture over the past year and figure out which ones stand out most.
11. "Come Alive" Performed By Keala Settle, Zendaya, Hugh Jackman And Multiple Artists
"Come Alive" is used to highlight P.T. Barnum (Hugh Jackman)'s transition from opening the circus to its eventual success. Hugh Jackman leads the ensemble but this song gets most of its power from Keala Settle's high notes. "Come Alive" is written and performed as an anthem for any misfit who needs some inspiration to embrace thinking and living outside of the box. In that aspect, the song works fine, but the entire The Greatest Showman soundtrack is filled with similar themes and anthems, so among those songs, this one just didn't resonate and standout as much.
10. "A Million Dreams (Reprise)" Performed By Austyn Johnson And Cameron Seely
Austyn Johnson and Cameron Seely, who play P.T. and Charity Barnum (Michelle Williams)'s daughters, sing "A Million Dreams (Reprise)," as they start to dream just like their dad. It inspires Hugh Jackman's character, and he starts to see an even clearer version of his circus dream. In general, the song "A Million Dreams" is designed to inspire the young and the young of heart to go after their dreams "however big, however small." It's a song very much geared toward the dreamers in everyone, and who are bigger dreamers than children? The reprise has a sweet touch thanks to featuring the innocent voices of children, but it's not necessarily a song that needs a reprisal to get the message across; the other "A Million Dreams" is not enhanced with this version.
9. "Tightrope" Performed By Michelle Williams
Charity sings "Tightrope" to highlight her devotion to P.T., but the scene also shows how his absence thanks to being on tour with Jenny Lind (Rebecca Ferguson), effects the circus and its performers. It also highlights Lind falling in love with P.T. Barnum. "Tightrope" is Michelle Williams' only solo in The Greatest Showman, and she gives an excellent performance, but it's one of the songs that doesn't make much of an impact on the album. The lyrics and music don't quite have the same oomph as the visuals.
8. "A Million Dreams" Performed By Hugh Jackman, Michelle Williams, And Multiple Artists
Young P.T. Barnum and Charity sing "A Million Dreams" to highlight all the obstacles that they must overcome to be together. It also highlights P.T.'s big imagination even at such a young age. Eventually, "A Million Dreams" transitions from young P.T. and Charity to their adult counterparts, who have reunited and can start a life together. The song is a sugary sweet song about first love, imagination, and perseverance. "A Million Dreams" also works to setup P.T.'s background and the start of his imagination and ambition. It's memorable, but not the best this soundtrack has to offer.
7. "From Now On" Performed By Hugh Jackman
Every great story needs the hero to lose everything, and then win it back after doing some soul searching and seeing the error of his ways. "From Now On" is that moment and song for The Greatest Showman. Surrounded by his friends and circus performers, including a tender moment between Zendaya and Zac Efron's characters, P.T. Barnum realizes where he lost his way and his family. Hugh Jackman starts the song off with an honest sincerity in his voice, as it goes on, "From Now On" and his voice gain an upbeat tempo. The song delivers it aim of showcasing P.T.'s regret and epiphany about his life, but it might have been more powerful if it had kept to the ballad format.
6. "Never Enough" Performed By Loren Allred
In The Greatest Showman, Jenny Lind performs "Never Enough" as she stands onstage showcasing her talent. Her singing mesmerizes everyone watching her, including P.T., which leads to him somewhat abandoning his family and friends to help her career. The entire scene is breathtaking, and it makes easy to see why P.T. Barnum finds himself overtaken by her beautiful performance. This is one of The Greatest Showman's most popular songs, rightfully so, because of its message and Loren Allred's wonderful singing abilities (although that's actress Rebecca Ferguson in the role). It's a song that powerhouse singers like Kelly Clarkson perform to emphasize their exquisite voices.
5. "The Other Side" Performed By Zach Efron And Hugh Jackman
P.T. and Phillip Carlyle (Zac Efron) perform "The Other Side" at a bar as P.T. tries to convince Philip to join him in his circus venture. Philip is reluctant and doesn't want to face the shame from his upper-class colleagues for being part of the circus business. P.T convinces him that partnering with him will let the Philip get the adventure that he desires. The song is one of the most fun to watch as it's plays out like a dance battle between P.T. and Philip, almost similar to a "Make 'Em Laugh" style. "The Other Side" gives us another example of why Zac Efron and Hugh Jackman are two of the most sought after performers currently.
4. "Never Enough (Reprise)" Performed By Loren Allred
Jenny Lind performs this version of "Never Enough" after being rejected by P.T. and having her heartbroken. She then decides to end her tour early, which could ruin his career and his life. As great as the original "Never Enough" is, it gets a little too repetitive. This version is short, so it allows you to hear the emotion behind Loren Allred's performance. "Never Enough (Reprise)" makes it easy to understand Lind's feelings of hurt, anger, and not being good enough for someone she loves. Allred giving a mesmerizing vocal performance helps too.
3. "The Greatest Show" Performed By Multiple Artists
"The Greatest Show" highlights P.T. at his best: flashy, theatrical, and a showstopper. It's the scene that gets fans the most out of their seats, clapping and singing along to the lyrics. "The Greatest Show" highlights all the extraordinary performers at the circus as well as the main cast. It's also the scene where P.T finally understands what's important and gives the circus to Philip. The song not only highlights everyone's vocal prowess, but it's such a big production number that it highlights everything great about the film: the songs, costumes, performers, story, etc. So why is it in third? Because there are a few more marketable songs below.
2. "Rewrite the Stars" Performed By Zac Efron And Zendaya
Philip (Zac Efron) and Anne Wheeler (Zendaya) perform "Rewrite the Stars" as Philip is trying to confess his love for Anne, but she lets him know that it will be impossible for them to be together because of the prejudice surrounding their interracial romance. The scene involves acrobatics, and "Rewrite the Stars" showcases the stellar chemistry between Efron and Zendaya. The Greatest Showman gets you invested in the romance between Philip and Anne, and the song does a great job of highlighting how much they want to be together but it might be too complicated due to this time. The song is the overall most marketable one as a pop hit.
1. "This is Me" Performed By Keala Settle
The bearded lady and the other circus performers feel rejected by P.T, because of his new association with the upper class. Instead of accepting this rejection, the bearded lady, played by Keala Settle in The Greatest Showman, leads them back into the party, showing that they will not be pushed into the shadows again. This is one of the most well-known songs from The Greatest Showman. It's the anthem to everyone who wants to say this is who I am, accept it or not, I'm not changing "This is Me" gets most of its power from the showstopping vocals by Keala Settle, who gives it her all.
The reason The Greatest Showman became one of the biggest soundtracks and films during the holiday season last year is because it is a feel-good movie that has really good pop music. No matter where they rank, these eleven songs make you want to sing them all night as you put on the greatest show in your own living room.
Your Daily Blend of Entertainment News
Spent most of my life in various parts of Illinois, including attending college in Evanston. I have been a life long lover of pop culture, especially television, turned that passion into writing about all things entertainment related. When I'm not writing about pop culture, I can be found channeling Gordon Ramsay by kicking people out the kitchen.