The Rock Got To See Jumanji: the Next Level Early, Is Pumped For Release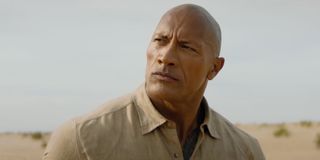 Among the many ways that Dwayne "The Rock" Johnson has maintained his iconic big screen status in recent years is by being one of the main stars of the Jumanji franchise. We saw his debut as Dr. Smolder Bravestone in 2017's Jumanji: Welcome to the Jungle, and he'll be back for another round of pandemonium in Jumanji: The Next Level.
While the public is still a month away from getting to see the third Jumanji movie, Dwayne Johnson has already watched and can't wait for everyone else to take it in. See for yourself!
While most of you who will check out Jumanji: The Next Level will do so in a crowded theater, but due to being one of the threequel's main stars, Dwayne Johnson shared on Instagram that he had the privilege of getting to see it an empty theater… well, mostly empty if he was accompanied by a few guests. Regardless, the movie played out just like it will to the masses, and it won't be too much longer before the common folk get to see the efforts of Johnson's hard work with the rest of The Next Level's cast and crew.
Along with receiving a lot of positive reception, Jumanji: Welcome to the Jungle was a surprise commercial success, making over $962 million worldwide during its theatrical run. With a performance like that, it was understandable that talk of a sequel started circulating, and sure enough, it was officially announced in early 2018 that Jumanji 3 was in development, with the full title not being revealed until this past July.
Dwayne Johnson is just one of the many actors who are reprising their Welcome to the Jungle roles for Jumanji: The Next Level, with the others including Kevin Hart, Jack Black and Karen Gillan. All four of those actors appear as avatars within the Jumanji video game, but this time around, most of these avatars will behave differently than they did in the last movie.
With the exception of Karen Gillan's Ruby Roundhouse, all of the main avatars in Jumanji: The Next Level will be controlled by different characters. In Smolder Bravestone's case, he'll be the avatar for Danny DeVito's Eddie Gilpin, the grandfather of Spencer Gilpin, who has gone missing at the start of the movie and has since been revealed to be occupying the avatar of Nick Jonas' "Seaplane" McDonough.
Other switch-ups for Jumanji: The Next Level include Anthony "Fridge" Johnson playing as Professor Shelly Oberon, Danny Glover's Milo Walker playing as Mouse Finbar and Bethany Walker… well, temporarily playing as a horse before being moved back into Shelly Oberon, her original character.
We'll have to wait and see if audiences respond to Jumanji: The Next Level the same way they did to Welcome to the Jungle, but recent estimates place it at earning between $66-76 million domestically opening weekend, approximately twice was its predecessor pulled in during its first days. That's even more impressive when you consider that while The Next Level won't be opening opposite of a Star Wars movie like Welcome to the Jungle did, it does have a lot of competition that weekend, like Black Christmas, Bombshell and Richard Jewell.
Jumanji: The Next Level hits theaters on December 13, so keep checking back with CinemaBlend for more coverage in the weeks ahead. For now, figure out what you plan to see next year with our 2020 release schedule.
Connoisseur of Marvel, DC, Star Wars, John Wick, MonsterVerse and Doctor Who lore. He's aware he looks like Harry Potter and Clark Kent.
Your Daily Blend of Entertainment News
Thank you for signing up to CinemaBlend. You will receive a verification email shortly.
There was a problem. Please refresh the page and try again.