Fans Get 'Release The Snyder Cut' Trending On Justice League's 2-Year Anniversary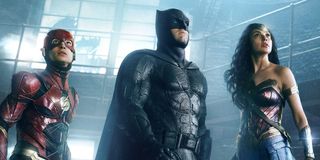 Twitter has become a gathering place for fandoms of all kinds. And on November 17, it also became a bit of a battle ground for fans of Zack Snyder's DC films. To mark the two-year anniversary of Warner Bro.'s Justice League, fans trended a hashtag with a singular goal: To get the studio to release the 'Snyder Cut' of the film.
It may seem like a peculiar request, if you haven't been following the DC fandom over the past few years. But the #ReleaseTheSnyderCut movement has been a long time coming. In short: Zack Snyder's abrupt departure from Justice League left the film a bit of a mess. And on the whole, it was not well-received by fans, who felt it didn't do its characters justice, especially after a lot of footage was cut. In the years since, Zack Snyder has made it clear that he has an extended version of the film that fans are eager to see.
The hashtag project is only part of the push for a Snyder cut release. And fans were definitely ready to get it trending. CinemaBlend's own Sean O'Connell added his voice (and a snazzy t-shirt) into the mix.
Fans called the #ReleaseTheSnyderCut push the "Day of Justice," and announced that they hoped to get 214,000 tweets attributed to the hashtag. It was immediately clear that they were taking the challenge seriously.
The hashtag became a way for fans to vent two years of frustrations with Warner Bros. And the reactions ran the gamut -- and showcased the fandom's fighting spirit and creativity. Unsurprisingly, some fans used memes to air their grievances.
Other fans stuck to the basics, reminding the Twitter sphere why the hashtag was needed in the first place.
Enterprising fans shared enticing set photos and unused footage to show everyone what they were missing with Justice League's theatrical cut.
Many fans also tagged Twitter handles for Warner Bros. and the company's upcoming streaming service HBO Max.
The #ReleaseTheSynderCut hashtag wasn't just a place for fans to air their grievances, though. They also took the time to celebrate not only Zack Snyder, but also the characters and actors they've grown to love.
In the days leading up to November 17, some other important figures weighed in. Several celebrities tweeted in support of the hashtag. And Zack Snyder himself used social media to release some stills from his extended version as a part of his ongoing Snyder Cut series. Thus far, the only major player who hasn't responded is Warner Bros.
Your Daily Blend of Entertainment News