Why Didn't More Fans Watch The New Charlie's Angels Movie?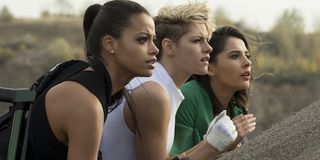 Why didn't more fans turn out for the new Charlie's Angels movie? There's always more than one reason why any movie disappoints at the box office. There have been some major highs in 2019 -- Avengers: Endgame, Joker, Captain Marvel, Aladdin, The Lion King, Hobbs & Shaw -- and a string of underperforming movies like Hellboy, Men in Black: International, Dark Phoenix, Rambo: Last Blood, Terminator: Dark Fate, and Doctor Sleep.
See any common denominators there? Fans love sequels. They hate sequels. They love remakes. They hate remakes. You have to get more specific to understand why fans avoid certain movies, so let's get specific on Charlie's Angels.
No One Wanted Another Charlie's Angels Movie
Sometimes a movie can get past a "Who Asked For This?" complaint by surprising with strong word-of-mouth reviews. I'm thinking of Jumanji: Welcome to the Jungle -- 'cause no one asked for another Jumanji movie. Then one showed up and it was awesome and it kept making money. So we're getting another Jumanji movie, which may or may not continue the success. Jared Leto and his fans would tell you we didn't need a new Joker movie, but then one showed up looking very different from what we're used to and fans made it the first R-Rated movie to hit $1 billion.
Charlie's Angels isn't technically a reboot, but it looked like one, and it left fans wondering why we were doing this again. It's a continuation of the Charlie's Angels film series started in 2000 and continued in 2003. But it's in the same boat with Men in Black: International in that it's not giving fans more of what they liked before, it's giving them something they did not ask for. Who is this movie for? On that note...
Charlie's Angels Didn't Have Enough Star Power
When the first trailer came out with Kristen Stewart's new look, showing off her comedic chops, there was a lot of interest on the internet. But you can't just launch a movie using niche social media reactions. Stewart has a loyal fan base she's been building since Twilight, and it's possible they did all turn out for Charlie's Angels' $8.6 million opening, but the movie needed a lot more.
The 2000 Charlie's Angels had the combined star power of Cameron Diaz, Drew Barrymore, and Lucy Liu, plus Bill Murray and Tim Curry. The new Charlie's Angels has Elizabeth Banks, Patrick Stewart, and Djimon Hounsou, but it mostly seems to be trying to establish new stars. That's a worthy goal -- new stars have to start somewhere -- but it's risky for a big-budget movie.
Charlie's Angels Needed To Be A Better Movie - Or At Least Get Good Word-Of-Mouth
If you're going to pull a Jumanji: Welcome to the Jungle, you need people on your side. You don't always need the critics, but you DO need the public. Charlie's Angels has a B+ CinemaScore, which is good but not wowza. The Good Liar is there with a B score, which may be part of why that movie tanked even harder in its opening this weekend. Charlie's Angels has a meh 60% rating from critics on Rotten Tomatoes and an 80% rating from users, but there are only 592 verified reviews up now. It has a very low 4.3/10 rating from 4,403 users on IMDb.
Charlie's Angels Had Stiff Competition
You know who did get the great reviews and fan scores? Ford V Ferrari. First of all, that title! It also has an ecstatic A+ CinemaScore and a 99% rating from RT users. Plus, it has the star power of Christian Bale and Matt Damon. It's not a sequel, remake, or reboot, but it proves The Golden Rule -- a good movie will find an audience. It doesn't always find them opening weekend at the box office, but when it has two A-listers and a title like that, well, no shock it raced to victory.
Charlie's Angels -- which moved around on the release schedule several times before landing here -- was also slightly edged out by Midway, which surprised in a good way for a second weekend. Midway ended up #1 last weekend for Veterans Day, shocking everyone who expected Doctor Sleep to win. Midway is also riding an A CinemaScore and very high fan scores.
Charlie's Angels Couldn't Find Its Audience
According to Deadline, Sony knew Charlie's Angels was a one quadrant movie aimed at girls/women 13-39. That's a very social demo. However, many of the stars (like Kristen Stewart) aren't on social media themselves, so they didn't get that free marketing boost to reach more potential viewers. The movie was tracking for a $12-$13 million opening, and didn't get there, which Deadline deemed a marketing fail. The studio was going to spend $100 million on advertising but now that is being halved.
Charlie's Angels Alienated Another Potential Audience
I'm seeing a lot of "go woke go broke" gloating out there, but it's not that simple. Plenty of people would consider Captain Marvel and Black Panther "woke," and the older female demo made a hit out of the Downton Abbey movie, which blew both Rambo V and Ad Astra out of the box office water. But when the word came out that Charlie's Angels would be "woke," that set off alarm bells for some action movie fans. Kristen Stewart tried to assure fans it would still be fun and funny -- and Charlie's Angels has always been about "girl power" -- but the idea that the film would be preaching some kind of agenda ended up making some moviegoers root against it.
Ford V Ferrari may have kicked Charlie's Angels' butt at the box office, but the thing people seem most passionate about commenting on this weekend is the failure of Charlie's Angels (and Terminator: Dark Fate). So that tells you a little bit about what people are really interested in.
Did you see Charlie's Angels or Ford V Ferrari or any other movie at the theater this weekend? Or did you watch Earthquake Bird on Netflix, like I did, and then wonder what the hell you just saw?
Gina grew up in Massachusetts and California in her own version of The Parent Trap. She went to three different middle schools, four high schools, and three universities -- including half a year in Perth, Western Australia. She currently lives in a small town in Maine, the kind Stephen King regularly sets terrible things in, so this may be the last you hear from her.
Your Daily Blend of Entertainment News
Thank you for signing up to CinemaBlend. You will receive a verification email shortly.
There was a problem. Please refresh the page and try again.