Earthquake Bird Spoilers: How The Netflix Film's Ending Is Different From The Book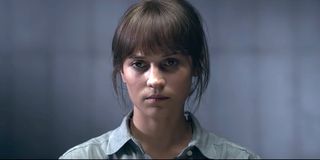 MAJOR SPOILERS ahead on the Alicia Vikander movie Earthquake Bird, which premiered November 15 on Netflix.
Alicia Vikander and Riley Keough star in Earthquake Bird, which just premiered on Netflix. The twisty Netflix film, directed by Wash Westmoreland and executive produced by Ridley Scott, is based on the novel by Susanna Jones, and the endings are a bit different in some key ways. For one thing, Teiji doesn't die in the book. Let's get into it.
How The Earthquake Bird Movie Builds Toward Its Ending
Alicia Vikander stars in Earthquake Bird as Lucy Fly, who is Swedish -- like the actress -- in the movie and works as a translator in Japan. (Apparently it was "a lot of work" for Alicia Vikander to learn Japanese, as she said in a behind-the-scenes video.)
The wildly charismatic Naoki Kobayashi plays Teiji, whom Lucy meets when he takes her photograph on the street. They slowly build a unique relationship that is tested by Lucy's jealousy when she sees Teiji's past photos of a previous girlfriend, and especially when Lucy meets and befriends Lily Bridges.
In the movie, Lily (Riley Keough) is a free-spirited American who just moved to Japan for a fresh start. Lily and Teiji become close -- a little too close -- bringing out Lucy's jealous side. Lily tries to apologize to Lucy, but Lucy turns her away -- even though Lily (who has some psychic abilities) says she feels like something bad is going to happen. She's right!
Earthquake Bird's storyline isn't told in a linear fashion, so when we first meet Lucy she is only just returning to work after taking some time off to grieve her relationship with Teiji and friendship with Lily. She's told by a co-worker that a body that's found was suspected to be her friend Lily. Lucy is brought in for questioning and eventually confesses to killing Lily. But she didn't do it. Turns out, the body they found was not Lily after all. We never even learn who that poor person was.
How The Earthquake Bird Movie Ends
After Lucy randomly tells the police her tragic life story anyway -- that she felt responsible for the death of her brother, and had other deaths follow in her life, so she felt responsible for Lily too -- she goes to Teiji's apartment and breaks into his cabinet with all of his photographs. She finds photos of Lily and eventually sees one that shows Lily is dead. Teiji killed her and took the photo.
Lucy takes the folder of photos and brings them to the police station. The detective she knows is not on duty so, for some reason, she doesn't just give the folder to another cop. She leaves and goes home. Lo and behold, Teiji is waiting for her. He says they could run away together. She rejects the idea and tells him it's over. So he gets violent and tries to choke her to death on the couch. She reaches behind her and finds some glass to break over his head. A shard gets stuck in his head and he pulls it out, staring at her as he dies -- similar to how Lucy described her brother staring back at her as he died, after she jumped down on him in her childhood bullying story.
The Final Scene Of The Earthquake Bird Movie
The Earthquake Bird movie gives a final scene where Lucy goes back to see Mrs. Katoh, her friend and fellow musician. Lucy admits Lily came to see her and asked to come in and Lucy didn't let her. Mrs. Katoh says it wasn't Lucy's fault that Lily died. Lucy insists it was. Mrs. Katoh says perhaps Lily saved her life. Lucy says there are other deaths she also feels responsible for, including Mrs. Yamamoto, who had fallen down Mrs. Katoh's own stairs earlier in the movie.
Mrs. Katoh then confesses her own feelings of guilt over Mrs. Yamamoto's death. She tells Lucy she waxed the stairs two days before Mrs. Y fell, something she only does once every two years. She had been worried the steps were slippery. She meant to warn Mrs. Yamamoto earlier that day when they spoke on the phone, but didn't think of it until they hung up. Mrs. Katoh says it was actually her fault, not Lucy's.
In the final shot of the movie, Lucy reaches out her hand and she and Mrs. Katoh both cry, with Lucy seeming to find comfort in the idea that she isn't the only one carrying guilt.
How The Earthquake Bird Book Ends
In the book, Teiji is still the one who killed Lily and we still find out through photographs of dead Lily. However, Lucy does not kill Teiji in the book. Teiji is still alive, and the book ends with Lucy getting chillls, thinking she hears a camera click in the bushes, with Teiji still out there waiting for her.
The book does have a somewhat similar scene toward the end with Lucy and Mrs. Katoh, but it's before details about Teiji's photos come out. Lucy tells Mrs. Katoh she didn't mean to kill Mrs. Yamamoto, it was an accident. She put her cello in a different place and didn't know Mrs. Yamamoto would fall over it. Mrs. Katoh asks what she's talking about, since everyone knew Mrs. Yamamoto was always so clumsy and they all knew she'd have an accident one day. That's as far as that conversation goes.
After that, Lucy -- who is English in the book, like Lily -- is cleared by the police with no charges because the cops can't find any DNA on Lily's body. After details appear about Lucy in the newspapers, the police receive an envelope with two photographs. The first shows Lily at a McDonalds near Lucy's place, with the pic taken on the night of the murder, two hours after Lily was seen at Lucy's front door. The cashier recognized Lily and said she and her male Japanese friend had some kind of argument. The second photograph shows a woman squashed within walls, head lolling to one side. There are no fingerprints on the photos, no way to prove Teiji took them, and the police don't know he did. But Lucy does. The photos don't prove that Teiji killed Lily, but they do prove that Lucy didn't, since she is accounted for elsewhere at that time.
The book ends after a bit of time has passed. Lucy considers a trip to England to see Lily's parents, who might like a visit from someone who knew Lily in Japan. Lucy also visits with Mrs. Katoh and another friend at Mrs. Katoh's home in Japan, and that's where Lucy is at the very end of the book. But the final page has her hearing a noise outside the house and thinking at first it's an earthquake bird -- the humming bird sound after every earthquake. She hears a rustling in the trees and then "the unmistakable sound of a camera clicking." She looks around for Teiji but only sees trees and bushes. Here are the final lines of the book:
So the book ends with the idea that Teiji could still be out there photographing Lucy, unless it's just in her mind. In the book, Lucy sometimes refers to herself in third person and there's a similar sense of events getting confused. Throughout the movie, viewers are led to question Lucy as an unreliable narrator, with scenes that suggest Lucy is imagining things, or just remembering something that happened at a different time.
It's like Joker and Netflix's Fractured, and so many other movies with ambiguous twist endings that like to keep fans' guessing (and also, sometimes, confused).
What did you think of Earthquake Bird? Here are more Netflix originals still to come in 2019.
Gina grew up in Massachusetts and California in her own version of The Parent Trap. She went to three different middle schools, four high schools, and three universities -- including half a year in Perth, Western Australia. She currently lives in a small town in Maine, the kind Stephen King regularly sets terrible things in, so this may be the last you hear from her.
Your Daily Blend of Entertainment News
Thank you for signing up to CinemaBlend. You will receive a verification email shortly.
There was a problem. Please refresh the page and try again.