Sienna Miller's 21 Bridges Character Was Originally Written As A Man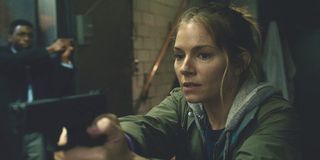 In 21 Bridges, NYPD detectives Frankie and Andre race against time as they hunt down cop killers in New York City. Sienna Miller and Chadwick Boseman, who play the two main characters, were both drawn to the film because it offered high stakes and complex characters. And they revealed exclusively to CinemaBlend that Sienna Miller's Frankie was originally written as a male character.
The actors sat down to discuss why they chose to star in 21 Bridges. And Sienna Miller was quick to explain that she liked the film's balance between action and character development. She told CinemaBlend:
Chadwick Boseman then revealed that director Brian Kirk was open to making changes that would best serve the characters and the story. He even went so far as to make one crucial change regarding Sienna Miller's Frankie before the film even began shooting. He said:
While that may have been the most noticeable difference from page to screen, it wasn't the only significant change. Chadwick Boseman shared that he and director Brian Kirk worked hard to add layers to the characters they'd be portraying:
Chadwick Boseman noted that the core plot elements that drew him to 21 Bridges remained constant. But he seemed pleased that he was given the freedom to explore his character:
21 Bridges is Brian Kirk's first feature film, but he is no stranger to character-driven stories. He's directed episodes of several TV series, including Donovan, Dexter, and Game of Thrones, and directed the BBC's 2011 adaptation of Great Expectations. The film also stars Taylor Kitsch, Stephen James and J.K. Simmons. It's currently playing in theaters nationwide. Here's how much it made in its opening weekend at the box office.
Your Daily Blend of Entertainment News