Is The Cyborg Solo Movie Still Happening?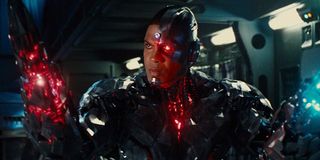 Following in the footsteps of DC Comics' New 52 reboot in 2011, the DC Extended Universe opted to have Victor Stone, a.k.a. Cyborg, be one of the founding members of this continuity's Justice League. So far we've been treated to two appearances from Ray Fisher's Cyborg in the DCEU, and the plan was for him to star in his own movie. However, there hasn't been any significant updates on this project in a while.
So what's the deal with Cyborg? Is it still happening or has it been shelved following the reorganization of the DC film slate? That's what we're here to go over, but first, let's go over the technologically-advanced hero's screen time in this franchise so far.
What Have We Seen Of Cyborg So Far?
Among the contents of Lex Luthor's metahuman files in Batman v Superman: Dawn of Justice was footage of how Victor Stone was transformed into Cyborg. We saw how Dr. Silas Stone was at a loss for how to heal his son after Victor lost most of his body in a terrible accident. Eventually Silas turned to a Mother Box that had been in the United States government's possession for decades to heal his son, and it worked, building new, cybernetic body parts for Victor, though it was an incredibly painful process.
By the time the events of Justice League roll around, Victor Stone had been living in solitude and learning about his Cyborg abilities for about a year, while also being resentful for what his father had turned him into. Although initially hesitant to join Batman and Wonder Woman's crusade to fight Steppenwolf, he eventually aligned himself with the team and proved integral in preventing the villain from using the three Mother Boxes to terraform Earth into a new Apokolips. At the end of Justice League, Victor was seen reconciling with his father and making improvements to his mechanical body.
When Was The Cyborg Movie Supposed To Be Released?
Announced as part of the initial DCEU film slate announcement in late 2014, the original plan was for Cyborg to come out on April 3, 2020. But as most of you reading this already know, the DC films landscape has changed a lot since Justice League's underwhelming performance. While Warner Bros has never come out and outright said that Cyborg has been delayed, after a certain point with no word on its progress, it became clear that was the case. DC still has 2020 covered with Birds of Prey in February and Wonder Woman 1984 in June, but as of this writing, Cyborg still doesn't have a new release date.
What Do We Know About The Cyborg Movie?
No specific plot details for Cyborg have ever been revealed, but along with Ray Fisher obviously reprising the eponymous hero, Joe Morton would also come back as Dr. Silas Stone. Shortly before Justice League's release, Fisher expressed interest in having the Phantom Limbs, a group of cybernetically-enhanced mercenaries, be the Cyborg's antagonists, and in January 2018, the actor said the movie would explore Victor's family and where he came from. Alas, since there was never a writer and director announced for Cyborg, it's possible that the movie's story never moved past the conceptual stages.
It's also worth mentioning that while Cyborg got a fair amount of screen time in Justice League, a lot of his footage ended up on the cutting room floor. Presumably most, if not all of this would be reincorporated into the Snyder Cut, but Joe Morton also speculated in August 2018 that the deleted Justice League material could be reused for the Cyborg movie. Waste not, want not, after all.
Will The Cyborg Movie Still Come Out?
That's the million-dollar question, and while one can't say with 100% certainty way or another what the Cyborg movie's status is, given the lack of updates recently, I suspect that this is one of the DCEU projects that's been shelved. It'd be one thing for Cyborg to be taken the calendar, but still hear word about writers and directors who are being considered or hired to bring it to life. That's what's been happening with the likes of The Flash and Green Lantern Corps, two other movies that were part of the 2014 DCEU slate, but there hasn't been any official news or trade reports about what's happening with Cyborg in a long time.
Let's also consider how DC movies are now moving away from the tight interconnectivity that was present in Batman v Superman: Dawn of Justice and Justice League in favor of standalone character stories. Sure Gal Gadot's Wonder Woman and Jason Momoa's Aquaman have bright futures ahead of them, and every effort is being made to have Ezra Miller reprise Flash.
But Ben Affleck has retired the Batman mantle, and it's been confirmed that Robert Pattinson's Batman is operating in his own world. Although Henry Cavill is eager to play Superman again, Warner Bros is reportedly looking to take the character in a new direction in an effort to make him "relevant to modern audiences," according to Variety. It's possible Ray Fisher could find himself in the same boat and have his incarnation of Cyborg retired.
After all, it's not like Cyborg isn't getting live action attention right now. He's currently one of the starring characters in the DC Universe series Doom Patrol, where he's played by The First Purge's Jovian Wade. Like in Justice League, Wade's Cyborg is part of an ensemble, but Doom Patrol Season 1 managed to effectively explore a lot of Cyborg's backstory, psychology and his relationship with Silas Stone, who's played here by Smallville alum Phil Morris.
All this being said, there's still a chance that efforts are still being made to get the Cyborg movie off the ground, and that the public is just being kept in the dark on what's going on. Ray Fisher's version of Cyborg showed a lot of potential, and since Justice League cut so many of his scenes, it'd be worth providing another opportunity to show casual moviegoers why he's such a compelling character. We'll just have to wait and see if the cards play out that way or not.
Stay tuned to CinemaBlend for any updates concerning Cyborg, but in the meantime, feel free to learn what other DC movies are in development with our comprehensive guide. You can also plan your trips to the theater next year accordingly with our 2020 release schedule.
Your Daily Blend of Entertainment News
Connoisseur of Marvel, DC, Star Wars, John Wick, MonsterVerse and Doctor Who lore. He's aware he looks like Harry Potter and Clark Kent.
Your Daily Blend of Entertainment News
Thank you for signing up to CinemaBlend. You will receive a verification email shortly.
There was a problem. Please refresh the page and try again.