Justice League: Where Each Of The Main Heroes Leaves Off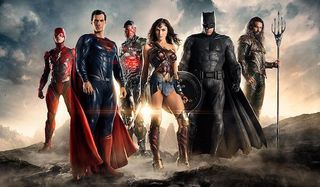 All of Justice League's main heroes had already appeared in the DC Extended Universe before the movie's release, whether they were major players in Batman v Superman: Dawn of Justice or merely cameoed. But it's in the DCEU's most recent entry that Batman, Wonder Woman, Superman, Aquaman, Flash and Cyborg all came together to foil Steppenwolf's plan to reshape Earth in Apokolips' image. Our world is once again safe, and these heroes will team up again should someone or something else threaten humanity. But for now, they've gone their separate ways, and with that in mind, we're going over where Justice League left each protagonist and how that will play into their DCEU future.
Warning: SPOILERS for Justice League are ahead!
Batman
Batman was the driving force to form the Justice League, and he aims to keep the team together to deal with other major threats. With Wayne Manor having spent years unoccupied after suffering major damage from a fire, Bruce Wayne decided with Diana Prince and Alfred Pennyworth to turn his old family home into the Justice League's headquarters, with six dedicated spaces at the meeting table, but "room for more." Batman is in this for the long haul, and since his current residence, the Glasshouse, is on the Wayne Manor estate, he can keep a close eye on this Hall of Justice. Of course, in addition to his new Justice League duties, Batman still needs to keep Gotham City safe, making all the more necessary to keep his alliance with Commissioner James Gordon intact.
Wonder Woman
Wonder Woman told Batman in Justice League that while there have been times over the last century where she's protected humanity (perhaps we'll see one of these instances in Wonder Woman 2?), she's been hesitant to step into the public spotlight. But after fighting Doomsday in Batman v Superman: Dawn of Justice, stopping that terrorist cell at the Paris bank and helping defeat Steppenwolf and his Parademon army, she's finally decided to become the superhero the worlds needs her to be. In Justice League's final minutes, we saw the aftermath of her busting up another gang of criminals, and with her trusty Lasso of Truth, it was easy get confessions from two of the assailants. The general public knows Wonder Woman is out there now, and like Superman, she can serve as a beacon of hope.
Superman
Superman wasn't in the best mood upon being resurrected, but thanks to Lois Lane, he snapped back to normal and flew back to help the other Justice Leaguers defeat Steppenwolf. According to Henry Cavill, Justice League was the introduction of the true Superman, so whenever he returns to the big screen, be it in Justice League 2, Man of Steel 2 or another project, expect the Kryptonian hero to behave more closely to his comic book counterpart. As for his Clark Kent persona, it looked like he'd resumed working for The Daily Planet at the end of Justice League, though given that Clark was also declared dead at the end of Batman v Superman: Dawn of Justice, I would love to hear the excuse he came up with for his coworkers on how he is still alive.
Aquaman
Like Wonder Woman, Aquaman had avoided stepping into the spotlight, preferring to only use his abilities to help a small Icelandic town. Arthur Curry had also turned his back on his Atlantean heritage before the events of Justice League, though he started to change his opinion towards the underwater kingdom when he learned from Mera that his mother, Queen Atlanna, was forced to abandon him as a baby rather than did so maliciously. Following Steppenwolf's defeat, Aquaman traveled back to Atlantis to reclaim his birthright, thus paving the way for next year's Aquaman movie, where he'll balance his new royal duties with battling enemies like Ocean Master and Black Manta. But Arthur is also half-human, so we can count on him protecting the surface world again when the time comes.
Flash
Until Justice League, the extent of Barry Allen's crimefighting had been pushing some people and running away. Dealing with an alien invasion isn't nearly as easy, but after overcoming his fears, Barry transitioned into a full-fledged superheroes, and now he's ready to fight evil as a proper Flash. Assuming this version of the character is also deemed The Fastest man Alive, presumably he also won that race with Superman and won't have to take his teammates out for brunch. More importantly, however, is that at the end of the movie, Barry scored a job in the Central City Police Department, taking him one step closer to proving his father's innocence. We'll get our first taste of Barry's CCPD career in Flashpoint, although we won't be in familiar settings for long, because like the original Flashpoint story, the movie adaptation will take place in a drastically altered timeline.
Cyborg
Victor Stone still has a lot to learn about his cybernetic body, but now that he's no longer in hiding and has reconciled with his father, Dr. Silas Stone, he's ready to take the next step forward. At the end of Justice League, Cyborg was seen with Silas at S.T.A.R. Labs transforming his body to adopt an appearance that more closely resembles his comic book counterpart, which included displaying the 'C' insignia. Assuming the Cyborg movie is still moving ahead as planned, that's where we'll see Victor further explore his abilities, as well as show his first solo outing as a superhero. However, if Flashpoint arrives before the Cyborg movie, than moviegoers will be treated to a different version of Victor Stone, though if he's anything like the original Flashpoint Cyborg, he'll still be a good guy.
Your Daily Blend of Entertainment News
Connoisseur of Marvel, DC, Star Wars, John Wick, MonsterVerse and Doctor Who lore. He's aware he looks like Harry Potter and Clark Kent.