National Treasure 3: A History Of All The Delays So Far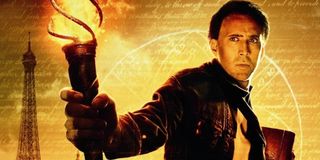 Will National Treasure 3 ever see the light of day? It gets harder to say for certain. The long-promised second sequel to 2004's Jerry Bruckheimer production, which had Nicolas Cage playing a historian who goes around our great nation searching for clues hidden inside national monuments and documents in order to search for lost treasure, was a fun, inventive Indiana Jones-esque premise which allowed audiences to feel the excitement of adventure and peril while also learning a lesson or two about our nation's history along the way. Truth be told, it was genius. The blockbuster had a sequel in 2007 and there were conversations and rumors about a potential third film in the franchise, including some talks recently. Suffice to say, that hasn't happened yet. Things haven't looked good for the looming third installment in the Disney series. Particularly after several delays. But it's not dead yet.
While there have been reports throughout the years hinting at (or promising) the National Treasure sequel's arrival, there has been little-to-no headway made on National Treasure 3. It has been discouraging — to say the least — for fans to see so little progress made on the long-promised sequel. Now, though, there are fresh reports from We Got This Covered claiming that National Treasure 3 is on its way with Nicolas Cage returning to the lead role. It is hard to know if these reports are truthful or simply leading to another false start. It's been hard to muster up enthusiasm knowing that such hopes for the Disney sequel always seem to be fleeting every father away. Nevertheless, if it is actually on its way, then hopefully the wait will soon be over.
If it's another dead-end, however, it'll add another chapter to National Treasure 3's long history of false starts and failed promises. It has been over a decade since National Treasure 3 was first proposed. And so far, nothing concrete has happened. Nevertheless, there have been small signs — like the one posted above — that suggest that the sequel is supposed to happen. So, we'll take this opportunity to look back on this film's many delays.
National Treasure 2 Is Released And National Treasure 3 Is Loosely Promised (2007-2008)
On December 21st, 2007, National Treasure: Book of Secrets makes its way into theaters. It's a bigger, more expensive effort than the previous film, but it wasn't a failure. It became a box office success, earning nearly $458 million worldwide at the box office. Therefore, the possibility of making a third film is floated around. Nicolas Cage, specifically, expresses interest in making the Disney sequel. He also thinks the third film should be an even more international experience, allowing the characters to continue traveling the world and broadening their horizons in their ongoing treasure search.
Adding a nice bit fuel to the fire of the potential third blockbuster was Disney's decision to buy the domain rights to NationalTreasure3DVD.com and NationalTreasure4DVD.com, which suggests that the company not only wanted to make another movie, but they wanted to make two sequels. Alas, as time went on, both of these web domains went unregistered. Though it's probably due to the rise of Blu-Rays and streaming more than anything else. In any case, as the months went on, there were very few developments regarding National Treasure 3. Director Jon Turteltaub admitted that the team was taking their time putting it together, suggesting that everyone involved wanted to make something that was guaranteed to be special. In any case, it was later that year when Jerry Bruckheimer announced that screenwriters were hired to put together the blue print for this blockbuster sequel.
The First Series Of Delays (2012)
There were reports that National Treasure 3 had received its first screenplay in 2010. However, it still took some time for the movie to be shaped up. The film was still in the writing process a couple years later, according to Nicolas Cage. Likely, in this case, to be the re-writing process after a solid two years after the first screenplay was supposedly finished. Nevertheless, Jerry Bruckheimer and his screenwriters were working away on the screenplay.
National Treasure 3 Remains Delayed As The Movie Still Isn't Officially Greenlit (2016)
In 2013 and 2014, there are modest updates about National Treasure 3 from actor Justin Bartha and producer Jerry Bruckheimer, respectively. The former claims that the movie might still happen, particularly with a screenplay written. The latter suggests that the movie is still in the works, but he notes that the first act is completed and it's "exciting," as reported by Collider. Still, even though work is often reportedly underway for this third National Treasure movie, it still doesn't have an official green-light. In 2016, during an interview, Disney's CEO Bob Iger addresses the proposed film.
Bob Iger admits that conversations have been had and work has been thrown into National Treasure 3, but the studio hasn't found the confidence in any particular story to get the engine moving. While Jon Turtletaub doesn't agree with Disney's hesitation in the rumored film, Disney is, nonetheless, the one who pays the bills. Suffice to say, National Treasure 3 is delayed once more as the producers and Disney try to come to some understanding.
There Is Reportedly A Script Finished, But Disney Isn't Happy Yet (2017)
In 2017, there are, once again, reports that National Treasure 3 has a finished screenplay. However, according to rumors surrounding Disney, the studio is still left unhappy with the proposed sequel. The reasons why are left a bit unclear, but it seems that Disney doesn't quite have confidence in the film just yet. And as the proposed third movie moves even farther and farther away from National Treasure: Book of Secrets' 2007 release, it's apparent that Disney will need to hear a pitch that will really get them (and, subsequently, the fans and moviegoers) eager and excited to check out the new movie.
It might not entirely be back to the drawing board, but it's clear that Disney still needs a fair bit of convincing in 2017 to see the potential in National Treasure 3. Nevertheless, it'd seem that the creative forces involved in the process are emboldened to keep working on making the third film a reality.
The Director Claims National Treasure 3 Is "Close" But Disney Still Isn't Quite Sold Yet (2018)
In an interview with Collider in 2018, director Jon Turtletaub talks about the long history of delays for National Treasure 3 and the current status of the long-promised sequel. He confessed that Disney remains hesitant about making this movie since they can't guarantee that it'll be a hit these days. The director doesn't agree with them, believing that fans will come out to see the movie should it finally be made. But as mentioned before, Disney is the studio that ultimately gives the green-light for this third National Treasure, and they're not entirely sold on the power of the property in a new decade.
Still, Jon Turtletaub claimed that National Treasure 3 was "close," yet no cigar just yet. It was still a struggle between the studio and the filmmakers, with the filmmakers trying their best to convince an uncertain Disney that the second sequel has what it takes to make a lot of bucks at the box office.
Disney Still Hasn't Officially Greenlit National Treasure 3, But It's Not Dead Either (2019)
In a press conference earlier this year, the discussion of National Treasure 3 continued. This time, though, Bob Iger was the one who was talking about the long-proposed sequel. When asked what was happening with the new movie, he didn't give a firm update on the film, but he still seemed interested in the prospect of making it. It came down to the story, ultimately, in his view. As noted earlier, there have been several different drafts of the story made throughout the past decade-and-change, but the studio isn't sold on the third film yet — both narratively and in terms of its box office potential.
Still, as noted earlier, there was report that came out a few weeks earlier that claimed that National Treasure 3 was in the works. This information hasn't been confirmed yet by either Disney or anyone involved with the film, but it does give fans hope that the movie might actually, finally be made. Until that day comes, assuming it comes at all, National Treasure super-fans can breathe a sign of relief. For now, the search for the answers that lie on page 47 continue. Of course, we'll continue to keep you posted on the movie's long development and anything else that comes out about the movie.
Your Daily Blend of Entertainment News
Will is an entertainment writer based in Pittsburgh, PA. His writing can also be found in The Playlist, Cut Print Film, We Got This Covered, The Young Folks, Slate and other outlets. He also co-hosts the weekly film/TV podcast Cinemaholics with Jon Negroni and he likes to think he's a professional Garfield enthusiast.
Your Daily Blend of Entertainment News
Thank you for signing up to CinemaBlend. You will receive a verification email shortly.
There was a problem. Please refresh the page and try again.