12 Big Movies You'll Still Have To Wait For On Disney+, And When They'll Arrive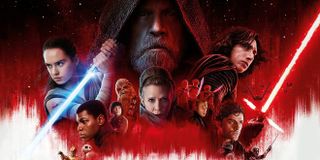 CinemaBlend participates in affiliate programs with various companies. We may earn a commission when you click on or make purchases via links.
We're a week into the launch of Disney+, and while there are a ton of movies from the Pixar, Star Wars and Marvel Cinematic Universe libraries, not all titles from those respective franchises are in the Disney streaming library as of yet. This means it can be a bit of a perilous journey when scrolling through the total listing of movies displayed on the platform, as the odds are good that you could run into a movie that's not actually on Disney+ yet.
As such, the following list isn't a complete inventory of movies that Disney+ has placeholder graphics up for. Rather, this a list of the big titles we can think of indicating if they're available on a streaming subscription platform and when they'll be available on Disney+'s library. Should you want to see a specific title, and you're not sure if it's in Disney's streaming lineup or not, we suggest you directly search that title on the platform.
Just in case you don't have your own Disney+ subscription, and before we get going with our rundown of major titles that are still forthcoming to the platform, a free 7-day trial is being offered! There's still a lot of exciting shows and films that are already included in the service's initial lineup, and a free week to check those titles out certainly couldn't hurt.
2019
Coco (2017)
A majority of the titles unavailable on Disney+ are absent from the new streaming kid's library for one simple reason: the agreement between Disney and Netflix still hasn't run out on those films. Disney/Pixar's Coco is certainly one of those movies, as this heartwarming musical odyssey to the afterlife is still a pretty recent release in the overall studio canon. With beautiful songs, and a memorable story of family and legacy, Disney+ users will be able to sing along with "Un Poco Loco" and sob through certain renditions of "Remember Me" soon enough.
Currently Available On: Netflix
Available On Disney+: 11/29/19
Thor: Ragnarok (2017)
If you were the previous provider of the Marvel Cinematic Universe's streaming home, you'd probably want to keep a movie like Thor: Ragnarok for as long as you possibly could too. Director Taika Waititi's extremely colorful and funny entry in the Thor franchise is another member of the Netflix family that was probably rubberstamped to stay on the platform, up until Disney+ came online. With the studio's proprietary streaming service now fully armed and operational, this Marvel film is now ready to become a Disney+ movie; and just in time to double down on the beautiful weirdness that is Jeff Goldblum.
Currently Available On: Netflix
Available on Disney+: 12/5/19
Star Wars: The Last Jedi (2017)
The deal between Disney and Netflix was pretty far reaching. So far that pretty much any Disney movie would make the big red "N" its' streaming library home months after it was released in theaters. Star Wars: The Last Jedi is, in fact, the last major Star Wars title that is left to be added to the Disney+ library. You just have to wait until the day after Christmas, and you'll get to see the crucial and controversial entry in the legendary sci-fi saga join the rest of the Skywalker Saga's streaming home.
Currently Available On: Netflix
Available on Disney+: 12/26/19
2020
Black Panther (2018)
While we won't be seeing Black Panther 2 hitting theaters until 2022, the majesty of King T'Challa's rise to power in Black Panther is always something to behold. As you probably won't be seeing Chadwick Boseman's kick-ass sovereign and Avenger in a Disney+ series anytime soon, it's going to be only a couple of months before you get to see him anywhere on the Disney+ platform, outside of Avengers: Endgame, of course.
Currently Available On: Netflix
Available on Disney+: 3/4/20
National Treasure (2004)
Somehow, Disney+ has been able to show National Treasure 2: Book of Secrets without getting the rights to the original National Treasure back from Netflix. Though we can totally see why the streaming giant would want to retain the rights to Nicolas Cage's original historical heist as long as the company can, as the theft of the Declaration of Independence is still a fun caper to watch on any given day.
Currently Available On: Netflix
Available on Disney+: 4/1/20
Avengers: Infinity War (2018)
A good number of Disney double features are going to require you to have subscriptions to Netflix and Disney+, as you've seen in some of the entries we've already mentioned. Nowhere is this going to be more harshly felt than when Marvel Cinematic Universe fans want to do a marathon leading up to the one, two punch of Avengers: Infinity War and Avengers: Endgame. The last Avengers movie to be added to Disney+, you won't be able to see Thanos waging war against Tony Stark and company the first time out unless you keep both platforms.
Currently Available On: Netflix
Available on Disney+: 6/25/20
The Mighty Ducks (1992)
One of the few movies on this list that hadn't landed in the Netflix library, The Mighty Ducks trilogy felt like a pretty big absence in a lineup that includes offbeat live-action classics like I'll Be Home For Christmas and First Kid. When it was first discovered we wouldn't be getting this title on day one, it was kind of a bummer. At least now we know that if you want to see Emilio Estevez's journey from self-centered bad boy lawyer to inspirational hockey coach to a bunch of underdogs, you'll only have to wait until next summer. Though if you want to see the complete trilogy, you'll have to wait even longer.
Currently Available On: HBO Now
Available on Disney+: 7/1/20
Solo: A Star Wars Story (2018)
After Star Wars: The Last Jedi makes its way to the Disney+ library toward the end of 2019, there will be only one Star Wars film not available on the studio's native streaming library: Solo: A Star Wars Story. The prequel that details just how everyone's favorite scruffy-looking Nerf herder became the dashing hero he is today is still being held by Netflix, as part of their previous agreement with Disney. Maybe, when Solo becomes a Disney+ movie, it'll help sell the prospects of that sequel better by putting up some serious numbers.
Currently Available On: Netflix
Available on Disney+: 7/9/20
Ant-Man and the Wasp (2018)
At one point, there were a lot of MCU movies that looked like they weren't going to be on Disney+'s platform on launch day. Then, a last minute announcement brought a whole bunch of movies onto the platform as a bit of a launch day surprise. Unfortunately, Ant-Man and the Wasp is one of those movies that didn't make the switch, so Paul Rudd's adventures as the shrinking/enlarging superhero are limited to his initial origin story, as well as his appearances in other team-ups films that are currently on Disney+. There's still plenty of Rudd's ageless charm to go around, but if you're looking forward to this film in particular, we apologize for the long wait.
Currently Available On: Netflix
Available on Disney+: 7/29/20
Incredibles 2 (2018)
As we've just passed the 15th anniversary of director Brad Bird's The Incredibles, Disney+ couldn't have brought the first film to the world of streaming at a better time. However, as of right now, the only way you're going to be able to do an Incredibles double feature is if you start on Disney+ with that first film, and then switch apps to watch Incredibles 2 on the Netflix platform. With Pixar's superpowered Paar family in two places at once, it's going to be a little while before you get to watch both films within the same streaming library.
Currently Available On: Netflix
Available on Disney+: 7/30/20
2021
D2: The Mighty Ducks (1994) / D3: The Mighty Ducks (1996)
By time 2021 dawns on Disney+, you may have had your fill of the original Mighty Ducks film, and will be more than primed to see the next two. Which is good, because both D2 and D3: The Mighty Ducks will officially become members of this new streaming family right at the beginning of the year. After which point, it's presumed all three films will live happily ever after, and still ranked by our previous ordering of their greatness. On the plus side: you'll totally have time to work on your knuckle puck, as you memorize that first film's lines by heart.
Currently Available On: HBO Now
Available on Disney+: 1/1/21
Disney+ is a pretty fantastic platform for those who want a one-stop shop for all their Disney movie needs. That said, there's still some waiting to do before the library includes certain titles. If you're looking for something specific, fire up the Disney+ platform and search for those movies you need to know the status of at any given point. Just be sure to note the potential date of their return, which will be shown right on the title card after you've selected it. Other than that, enjoy the wonderful world of Disney+!
CinemaBlend's James Bond (expert). Also versed in Large Scale Aggressors, time travel, and Guillermo del Toro. He fights for The User.
Your Daily Blend of Entertainment News
Thank you for signing up to CinemaBlend. You will receive a verification email shortly.
There was a problem. Please refresh the page and try again.