Why National Treasure 3 Is Taking So Long, According To Nicolas Cage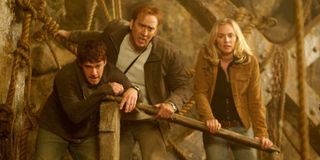 Ok, so the cinematic community might not be crying out for National Treasure 3, but the fact that its two previous installments took in just over $815 million at the box office means that it's understandable that a third has been in development. However, it's now been almost 9 years since National Treasure: Book Of Secrets was released, and the franchise's star Nicolas Cage has admitted that we're still nowhere nearer to it becoming a reality.
During his discussion with EW, Nicolas Cage admitted that National Treasure 3 has been in development for so long because of all the research that's been involved in trying to get the script completely right. Nicolas Cage explained:
While both National Treasure films have only received mixed reviews, with the original scoring 44% on Rotten Tomatoes and Book Of Secrets recording 35%, they were still hugely enjoyable popcorn flicks that were both fun and engaging enough to suffice.
Nicolas Cage's comments suggest that we're not going to get National Treasure 3 for quite some time yet, too. Let's think about it: if the script is still not complete, production on another National Treasure probably isn't going to get started until at least 2017, which means that it would only be released in 2018 or 2019.
However the problem for the franchise now is that the cinematic slate has changed so much, and it's been so long since Book Of Secrets was released that there is absolutely no guarantee that audiences will go and see a third installment in the same way that they did for the originals.
There has been speculation about National Treasure 3 ever since Book Of Secrets clocked up its impressive box office total. Director Jon Turtelaub, who oversaw both installments, admitted that they would take their time with another follow-up. That said, by 2013, Turtelaub had admitted that even though everyone involved wanted to do the film, they were having a really hard time writing it.
While it's very easy to titter at National Treasure's inability to create a third script for a franchise that is deemed more as flippant fun than probing and profound, we should appreciate that everyone involved is striving to make the best film possible and not just rushing something that they know will ultimately be sub-par. Lord knows that enough Hollywood franchises have done that over the years.
Your Daily Blend of Entertainment News