DC's Black Adam Aims To Be A New 'Inventive' Kind Of Comic Book Movie After Joker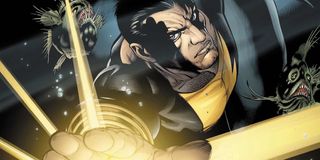 It will be a while before we will understand the full scope of Joker's legacy. A grim departure from typical comic book movie fare, it's proven that fans are willing to accept some pretty bold narrative choices when it comes to their favorite characters. And now elsewhere at DC films, the team behind Dwayne Johnson's Black Adam adaptation seems to see that as an opportunity to make their own film just as inventive.
DC Films has planned to bring Black Adam to the big screen for years, with Dwayne Johnson set to star as the titular anti-hero. Earlier this year, director Jaume Collet-Serra joined the team. And last month, the Black Adam team enlisted the help of Lawrence Sher, Joker's cinematographer. After a recent screening of the surprise blockbuster, Black Adam's new director of photography discussed how he thinks the team will approach the film's aesthetic:
Joker is not the first comic book film to employ a grittier aesthetic. However, the film's nihilistic themes are certainly rare to see in the genre. And the monumental success of the film, in part thanks to its irreverent tone, has certainly widened the spectrum for what narrative approach other filmmakers could take in the future. While a persuasive argument can be made that not every comic book movie needs to be dark-with-a-capital-D, Black Adam is a good candidate to push some boundaries.
Having Lawrence Sher on board will certainly help. The cinematographer played a crucial role in setting Joker's distinctive tone. And since he's fairly new to the comic book genre, he brings a fresh and unique perspective on how to bring these stories from page to screen.
Black Adam likely won't be the only film to follow in Joker's footsteps, either -- especially since DC has announced it will be making more R-rated films. Matt Reeves has made what some consider to be unconventional casting choices for The Batman, particularly where that film's hero is concerned. So there's reason to believe it, too, could take some unexpected turns. And, of course, there's the Joker sequel, which is sure to once again make us rethink the Clown Prince of Crime. Black Adam is due to begin filming in June of 2020.
Your Daily Blend of Entertainment News