The Rock's Black Adam Movie Hired Some Key Talent From DC's Joker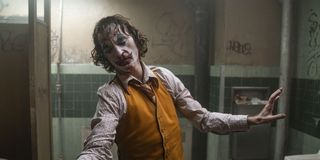 The details surrounding DC's Black Adam feature film have slowly been coming together. We've got The Rock in the starring role, and Jaume Collet-Serra as the director. And we just learned that the Black Adam crew has snagged a Joker alum for a key production role.
On November 16, Dwayne "The Rock" Johnson retweeted an interview between Steven Weintraub and Lawrence Sher, Joker's director of photography. And in the process, he shared some exciting news:
Though DC hasn't officially confirmed The Rock's Twitter announcement, it's safe to say that it's probably a done deal. As Joker has quickly become one of the most talked about films of the year (and one of the most successful movies ever), Lawrence Sher has offered some insights into the collaborative environment on the set. And that, in turn, has given fans some idea of how he works. Black Adam won't just mark his second time working with The Rock -- he will also be re-teaming with Jungle Cruise's director, Jaume Collet-Serra, who thus far is best known for horror fare like Orphan and The Shallows.
The news marks an ongoing shift in Lawrence Sher's career. Prior to taking on Joker, the director of photography built a career working on well-known comedies -- like The Hangover series, with his frequent collaborator, Todd Phillips. He also worked with Zach Braff, on films like Garden State and Wish I Was Here. But he's begun to branch out over the past couple of years with bigger budget fare like Godzilla: King of the Monsters.
Lawrence Sher has plenty of time to get ready for production on Black Adam. The film's producer, Hiram Garcia, recently confirmed that it won't begin shooting until the end of 2020. However, he won't have waited nearly as long as The Rock, who's been on board to play the titular hero for over a decade. In the meantime, he has another project besides Jungle Cruise in post-production -- another comedy-drama, The Starling.
Though the tone of Black Adam will likely be quite a bit different than Joker, Lawrence Sher has already proven that he's capable of successfully bringing a comic book icon to the screen. We're excited to see how he adapts his visual style to yet another unique universe.
There's no official release date yet, but Black Adam will probably be hitting theaters in late 2021. Don't forget: Zachary Levi said he thinks Shazam and Black Adam will face-off in Shazam! 3, which would obviously come out after Shazam! 2, which we're still waiting to see. Until then, we'll be watching for more updates from the production team. You can stay up to date with us, and be sure to browse our DC movies guide, too.
Your Daily Blend of Entertainment News
Thank you for signing up to CinemaBlend. You will receive a verification email shortly.
There was a problem. Please refresh the page and try again.