The 10 Best Horror Movies Of 2019, Ranked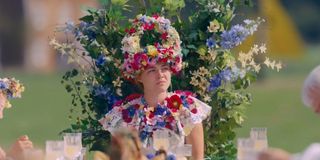 The past few years have seen a horror renaissance, with plenty of quality movies hitting theaters. 2019 was no exception, as unique, critically acclaimed movies were released, and further highlighted what the genre was capable of. As the calendar year comes to an end, moviegoer and horror fans alike might want to catch up on any movies they've missed. Luckily for you, I've compiled a list of the top ten horror movies of 2019, and some of them might have potential for some Oscar legs come awards season.
There were plenty of strong horror movie contenders for this list, so some of your favorites might not have made the cut. What's more, there may be some surprising choices as well. Below I've laid out the 10 best horror movies of 2019.
10. Brightburn
Despite its strong cast and fascinating concept, Brightburn failed to perform at the box office when it hit theaters in May. Director David Yarovesky brought something new by combining the horror and supehrero genres. Brightburn follows a young alien boy named Brandon who has Superman-esque powers after landing on Earth. This is a tense story that shows Brandon's descent into doubt and villainy, and a cautionary tale about how badly Clark Kent could have turned out. Brightburn makes my list of best horror movies for the year mostly because of the grisly way the title character's powers are used throughout its runtime. Seeing super strength, laser vision and flight unleashed with an R-rating and no remorse makes for some truly gruesome kills. Brightburn also has a strong cast, with Elizabeth Banks, Breaking Bad's Matt Jones and The Office's David Denman filling out Brandon's family. It's just too bad the horror movie didn't perform well enough for a dark origin story universe to take shape.
9. Pet Sematary
Stephen King is the mind behind countless terrifying stories. This time of horror renaissance has seen plenty of his works being adapted into new horror movies. While Gerald's Game and In The Tall Grass made their ways to audiences via Netflix, Pet Sematary got a full theatrical release. Directed by Kevin Kölsch and Dennis Widmyer, this new Pet Sematary brought the beloved horror tale to the modern world. It follows a family who unknowingly moves to a small town in Maine which is next to a burial ground with supernatural abilities. The movie is tense, with a strong cast and oodles of jump epic scares. Unfortunately, it failed to compete with some of the upper echelon of horror movies this year, despite having a good run in theaters.
8. Scary Stories To Tell In The Dark
This horror movie was one of the mostly hotly anticipated of the past year. Scary Stories to Tell in the Dark is based off the children book series of the same name. Director André Øvredal (Trollhunter, The Autopsy of Jane Doe) adapted some of the most popular stories into live-action to terrifying results. The movie was produced by visionary director Guillermo del Toro, who had already made his stamp on the horror movie landscape. As such, the images in Scary Stories to Tell in the Dark has a visual language similar to del Toro's-- especially the terrifying creatures that inhabit the movie. It's a fun and scary ride, and one that might gotten overlooked given the genre's embarrassment of riches.
7. Ready Or Not
Ready or Not was another horror movie standout of the year, as it seamlessly mixed horror and comedy. Directed by Matt Bettinelli-Olpin and Tyler Gillett, the movie centers around a bride (Samara Weaving) who is forced to hide and fight her in-laws on her wedding night. The movie is smart and quirky, and pivots between gruesome violence and hilarious one liners. It's a thrilling game of cat and mouse, and the violence and scares are random and shocking. What's more, the movie has a brilliant twist ending that will get one final set of monstrous laughs before the runtime ends. I'd recommend Ready or Not to even the most casual horror fans, as there's something user friendly about its premise and stakes.
6. Crawl
This horror movie might sound like a joke, but that's not the case. Crawl is a classic monster movie, with the villains being a group of deadly alligators. The setting itself makes for a consistently tense horror movie experience, as a daughter and father attempt to survive while also dealing with a Category 5 hurricane. This constantly gives the alligators the advantage and allows for action that never gets stale. The kills are gruesome and epic, and used with specificity by director Alexandre Aja. The first jump scare is a tree coming through the window, an indication that the weather just as much a foe as the gators. Overall, Crawl is one of the unexpectedly great horror movies of the year, and is an example of what Sharknado could have been if it took itself a bit more seriously.
5. IT Chapter Two
This one was perhaps the most highly anticipated horror movie from 2019. A direct sequel to Andy Muschietti's IT, the blockbuster caught up with the Losers' Club 27 years later. Given what a critical and box office hit the first movie was, expectations were sky high for Chapter Two. And while I still might prefer the first movie, I still thought the sequel delivered as one of the best horror movies of the year. With great performances by Bill Hader, Jessica Chastain and James McAvoy, the movie largely managed to stay grounded as the plot got more fantastical. Stephen King himself was happy with this film adaptation, while Muschietti made changes to the story to bring into the modern world-- especially where Richie was concerned. But most importantly of all, Bill Skarsgård was once again the thing of horror movie nightmares as Pennywise the Dancing Clown.
4. Joker
Joker might be a controversial movie to include on a best horror movie list, but I believe it belongs here. Todd Phillips crafted a deeply unsettling moviegoing experience with Joker, perhaps more than most actual horror movies. The movie was bleak and dark, with audiences forced to watch Joaquin Phoenix's Arthur Fleck as he descended into madness and villainy. There are certainly horror elements to the movie, especially related to Arthur's kills in the film's third act. It also looks like Joker will be a favorite come awards season, recently nabbing a handful of Golden Globe nominations. But on top of it being one of the most celebrated film of the year, I think it should also be given props as a bonafide horror movie.
3. The Lighthouse
With just two horror movies, director Robert Eggers has already established himself as an expert of the craft. His debut horror movie The Witch was a bleak and gory tale of witchcraft in 1630s New England. And he followed it up with The Lighthouse, which is even more stylized and cinematic than its predecessor. The Lighthouse stars Willem Dafoe and Robert Pattinson as two lighthouse keepers in the 19th century. The two men's isolation threaten their sanity, with a square black and white frame helping the audience feel that sense of darkness and claustrophobia. The Lighthouse is a unique type of horror movie, largely void of violence and jump scares. Instead it relies on atmosphere and the stunning performance of its two man cast. In some ways, it may be scarier than The Witch, which was perhaps a more by-the-books horror movie experience.
2. Us
Jordan Peele has also become a prolific horror movie director in a relatively short time. His directorial debut Get Out was a massive hit when it arrived in theaters in 2017, earning him an Academy Award in the process. All eyes were on what he'd bring with his sophomore effort, and Peele certainly didn't disappoint. Us is a horror movie that follows a the Wilson family as they're met with home invaders that are their own personal doppelgängers. The flick has plenty of exciting twists and turns, and gruesome scenes involving the tethered killers. It too has one final twist, which allows Us to be a horror movie that is good for at least one re-watch. And Lupita Nyong'o is particularly impressive with her duel role as Adelaide and Red, and some fans were hoping she might get some award nominations as a result.
1. Midsommar
The horror renaissance is largely due to its visionary directors, and Ari Aster is one of them. His feature film debut Hereditary is a master class in what the genre can do, balancing interpersonal family grief with supernatural elements. What's more, many considered Toni Colette snubbed for her lack of award nominations last year. Aster's second horror movie met those sky high expectations, although Midsommar was a vastly different visual experience than its predecessor. The movie follows a couple (Florence Pugh and Jack Reynor) who travel to a commune in Sweden for a special festival. Things soon go very awry, and the couple's relationship issues are exacerbated by the strange and terrifying festival. It's a sensory experience, and provides something unique to the horror movie genre by having so much light present. It just beats out the likes of Us by being able to keep the story relatively contained, and for having a cleaner ending.
Was your favorite horror movie of 2019 on the list? Let us know in the comments below. And sound off on your favorite flick in the poll below. In the meantime, check out CinemaBlend's 2020 release list to plan your next trip to the movies.
This poll is no longer available.
Your Daily Blend of Entertainment News
Corey was born and raised in New Jersey. Double majored in theater and literature during undergrad. After working in administrative theater for a year in New York, he started as the Weekend Editor at CinemaBlend. He's since been able to work himself up to reviews, phoners, and press junkets-- and is now able to appear on camera with some of his favorite actors... just not as he would have predicted as a kid.