Honey Boy: 5 Parallels Between Shia LaBeouf's Real Life And His New Movie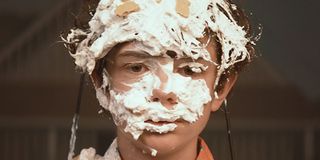 Honey Boy is a deeply personal film for Shia LaBeouf. Written while the troubled actor was in rehab, the acclaimed indie drama finds LaBeouf playing James Lort, a character based heavily on his own father, while Noah Jupe and Lucas Hedges play Otis, based on LaBeouf at the ages of 12 and 22, respectively. It's a self-explorative, emotionally searching tale on the lingering effects of trauma, the impact on abuse from a young age, the hardships that come from being a child actor, and the hard-wrought journey one must take in order to find some sort of personal redemption. It is a fascinating new project for LaBeouf, one that allows the actor to be openly and freely raw and visceral in a way that few Hollywood stars allow themselves to be.
Naturally, Honey Boy carries a number of direct parallels to Shia LaBeouf's own life and career as a child actor-turned-blockbuster star-turned-indie darling with this self-reflective project. Since the life and times of Shia LaBeouf are so well-documented from a media perspective, particularly from all his years of being a target for the paparazzi, it can be easy to see where LaBeouf drew from real-life circumstances in order to inform his engrossing new drama. Let's take a look at a few direct parallels between Shia LaBeouf's real-life and the new, emotional movie he recently wrote and starred in. Also, since we're talking about key details related to both the film and LaBeouf's life, there could be a few general spoilers up ahead for Honey Boy.
Shia LaBeouf Did Perform His Own Stunts In The Transformers Movie
The first shot of Honey Boy shows Lucas Hedges, in the role of adult Otis, performing a stunt where he's flying through the air in a sea of explosions while attached to a rope and harness and hanging in the air until he's let back down again. Honey Boy does not make any direct references to the Transformers movies, but it's apparent that, based on the timeline (2005, to be exact, as seen by the clapboard), this is meant to be around the time LaBeouf starred in the first Transformers. In the Transformers movies, notably the sequels, LaBeouf would do some of his own stunts. This shot serves as more of a visual metaphor for Otis' dangerous life, where reality and drama blur when he indulges in his own self-destructive behavior. But it's also appropriate to LaBeouf's history as a stunt performer.
Shia LaBeouf Lived In A Motel With His Father (And His Father Was A Clown In Real Life Too)
In Honey Boy's flashback segments, we see young Otis (Noah Jupe) and his father, James (Shia LaBeouf), living in a motel together as James serves as the child star's on-set companion. This is accurate to Shia LaBeouf's personal and working relationship with his father, Jeffrey. His parents were separated when the actor was very young, and Jeffrey was often supervising Shia whenever he was working on set. They also lived together in a motel, as seen in the film. Also, as the movie depicts, Jeffrey was a professional clown who never found his break, much like LaBeouf's James. It was also true that Jeffrey had a history of alcoholism. The former child actor would accompany his father whenever he went to 12-step AA meetings.
Shia LaBeouf's Real-Life Father Did Grow Marijuana On The Side Of The Highway
Towards the middle of the movie, it's revealed that James Lort is growing marijuana on the side of the highway. This is apparently something that Shia LaBeouf's father did as well, as revealed by LaBeouf in an interview with Vanity Fair in 2007. Shia LaBeouf also admitted in a 2007 interview that his father was "on drugs" during his childhood. He also claimed that his parents would smoke weed in front of him, as it was reported by Us Weekly in 2009.
Shia LaBeouf Did Get In A Car Crash With A Co-Star And Have A Drunk Arrest
In Honey Boy, the timeline of Shia LaBeouf's life is conflated a bit. The story primarily bounces between 1995 and 2005, when Otis is 12 and 22, respectively. However, in 1995, LaBeouf was actually 9, not 12, and the events that transpire for adult Otis are lifted from Shia LaBeouf's life between roughly 2005-2007 through 2017, when LaBeouf went to rehab and wrote the screenplay. As it is portrayed in the film, Otis goes to rehab in 2005 after a drunk car crash and arrest lands him in the rehabilitation center. While the events themselves are squished together, they do come from Shia LaBeouf's life. In 2008, while he was driving with his Transformers: Revenge of the Fallen co-star Isabel Lucas, the star did get in a serious car wreck.
The car accident seen in Honey Boy direct seems to mirror that car accident, which found Shia LaBeouf with a serious hand injury. While LaBeouf was deemed not at fault for the accident, the actor refused a Breathalyzer test and it was later deemed drunk driving. That said, the prosecutor later claimed that there wasn't enough evidence to charge the actor. Nevertheless, it seems like this incident from Shia LaBeouf's past informed this early scene in Honey Boy. Likewise, the drunk arrest that sent Otis to rehab in the movie is similar to Shia LaBeouf's 2017 Georgia arrest during a break in filming on The Peanut Butter Falcon. After a conversation with his co-star Zack Gottsagen, LaBeouf finally entered rehab, where he wrote Honey Boy as a form of rehabilitation and as a means to find closure after years of trauma and his personal demons — including the discovery that he has PTSD.
Shia LaBeouf Really Did Reconnect With His Father While Writing Honey Boy
Towards the end of Honey Boy, Lucas Hedges' Otis is seen writing about his life and his struggles, which mirrors (in a meta turn-of-events) what Shia LaBeouf did with this film, as he began the process of writing the script while in rehab. At the end of Honey Boy, we see a moment where Otis has reunited with his father, James, and he tells him about this project. James asks Otis to make him look good, which results in the movie's final line. In the movie, this scene has a surreal quality, notably with James dressed as a clown. In real life, though, Shia LaBeouf reportedly did reconnect with his father while in the process of writing the film. But he was living in Costa Rica at the time, not the motel he grew up in. Nevertheless, it was apparently the first time the father and son had spoken to one another in seven whole years, and it was clearly a way for the actor to try and find some closure.
These are only a few of the direct parallels between Shia LaBeouf and the story he tells in Honey Boy. Admittedly, since a number of the details in the film draw from Shia LaBeouf's own personal, intimate history, it's hard to know everything that came from reality and what was created for this semi-autobiographical tale. Nevertheless, it's clear that more than a few key details from Honey Boy were directly lifted and inspired by LaBeouf's real life.
Your Daily Blend of Entertainment News
Will is an entertainment writer based in Pittsburgh, PA. His writing can also be found in The Playlist, Cut Print Film, We Got This Covered, The Young Folks, Slate and other outlets. He also co-hosts the weekly film/TV podcast Cinemaholics with Jon Negroni and he likes to think he's a professional Garfield enthusiast.